THE BEST UBER CLONE SCRIPT
Best Uber Clone Script – Karry was designed keeping the top features from popular ride sharing scripts with additional features inspired from top ride-hailing applications like Uber, Ola, Didi, Lyft & more. Ready-to-use our taxi app script solution allows you to start an Uber-like cab renting service with immediate effect. Power packed with features to bring you the most apt solution for your taxi business. Read the complete technology solutions we use to Build a Uber Like App
Which is the Best UBER CLONE SCRIPT For Businesses?
Karry is the No. 1 best uber clone script with impressive and dynamic features much more than the original Uber app. It is pre-built and business ready product. You can easily kick start your Taxi business saving time & loads of money. Tap into the global taxi market worth $108 billion using this 100% customisable and highly scalable taxi software solution. Available in both iOS and Android platform.
Features of an Uber Clone App
Uber clone has features like Dynamic Destination Feature, Payment Gateway Integration, Real Time Tracking, SOS / Emergency Button, Business Analytics and Reports, Wallet Management, Multi-Currency, Reskinning, Cash Booking Management, Driver Presence Management, Driver Tips, Social Login, Multiple Rides, Toll Management, In-App Calling, Apple Watch Integration, Advanced App Monitoring, Fare setup and much more.
The Karry taxi booking app has been designed to hassle-free taxi booking solution for your customers. Equipped with live tracking, payment gateways, in-app wallets, driver preferences, referrals, ratings, multi-trip booking options, multi-language support & more. For both iOS apps & Android apps
Our uber clone script allows users to book a cab for themselves or for friends and relatives.
An Uber clone script that allows you customized driver choice on.
Book for yourself or for your employees, set the payment details accordingly on our Uber clone script.
BEST UBER CLONE SCRIPT: CUSTOMER WEBSITE
The Karry taxi software includes an online taxi booking website portal for customers to book from. The online taxi booking portal encompasses most of the functionality of the Karry taxi app such as ride scheduling, driver preferences, wallet recharge, live tracking & more.
Register & Login

The online taxi booking script makes registration simpler via usage of social accounts.
Book A Ride

On-demand taxi booking or schedule a taxi ride. Add driver preferences, promo codes, payment methods etc while booking online.
Live-Track

Real-time ride tracking with booking status updates.
Past Trips

View details of all past trips booked on the taxi booking software.
Payments & Wallet Recharge

View all past payments done on the Karry software & recharge your wallet directly on the website itself.
BEST UBER CLONE SCRIPT FOR DRIVER
Empowering Drivers through Technology. Easy for drivers to register, view earnings, update bank accounts, easy in-app navigation. Other Features include: * Driver Customer Text Messaging * Driver Multi-level marketing module * Driver Bonus and Guarantee Module * Driver Acceptance Rate * Driver Plans * Driver Presence Management * Driver Tips
Drivers can choose to accept or deny request on our Uber clone script.
On our Uber clone script, drivers can view analytics of their trips undertaken and earnings.
Drivers get automatically calculated fair on our Uber clone script.
ADD-ONS ON THE BEST UBER CLONE SCRIPT
Karry, our Uber clone script comes with some interesting add-ons at very attractive prices.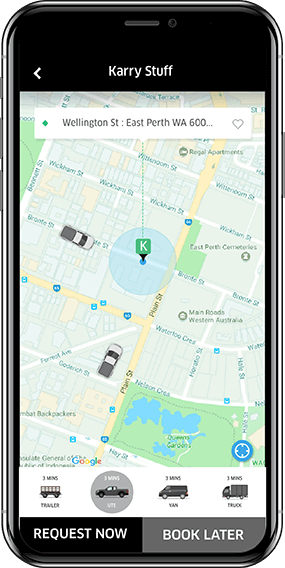 Our Uber clone script has been designed to incorporate both on-demand taxi services & on-demand courier services.
To make this Uber clone script more advanced, add on-demand roadside assistance services solution to it.
Along with booking a taxi for a specific destination, book it for a specific time period and add as many stops as you like.