CAMEO APP CLONE, Build a CELEBRITY SHOUTOUT platform with our pre-built cameo clone script
Our cameo app clone connects celebrities to their fans & allows fans to book video messages from celebrities. Be it a birthday wish, good luck messages, baby gender reveals, job offers or simply pep talks.
The features of StarStruk are based on the popular Cameo app. Additionally this #celebrityshoutout platform has an ecommerce revenue model that opens up monetization avenues for celebrities and gives fans lifetime memories.
What Is A Cameo App Clone?
It is a prebuilt celebrity shoutout platform, where fans can request their favorite celebrities (across entertainment sectors) to record personalized videos for them. The features of this software are based on the famous apps: Cameo, Wysh, Tring, Star Bytes.
What Are The Features Of Cameo App Clone?
1. Users can view daily sneak-peeks from their favorite star's life.
2. Users can request personalized video shout-outs for themselves, friends, and/or family.
3. Users can also request a one-on-one video call with the celebs. They can stay updated about their favorite star's recent endorsements and projects.
4. When a star promotes a brand or product, users can purchase it directly from the cameo app clone.
Can Launching An App Like Cameo Be Profitable?
Wouldn't fans just love if they received customized videos from their favorite celebrities? Of course!
And for celebrities, it's a new way of interacting with fans & building their brand name. It also rakes in the money in the bargain.
In the US, the celebrity and talent industry generates annual revenue of $10B.
Recent data trends predict that this platform has the potential to hit a unicorn valuation- annual revenue of $34M by 2022.
What Differentiates StarStruk
From The Cameo App
VIDEO CALLS WITH CELEBS: Users can book slots for video calls with their favorite stars. This unique feature helps create an authentic celeb-fan moment.
E-COMMERCE MONETIZATION FEATURE: Celebrities can tag and endorse brands, while users can purchase the promoted products, directly from within the app.
SOCIAL FEED: Celebs & Influencers can not only share their shoutout videos in the in-app social feed but also create independent posts. This feature is very similar to that of Instagram's Reels. 
UI FLOW OF Our Cameo App Clone
A simple and user-friendly Home Page. Users can explore the list of stars on the cameo clone, and view their profile. They can also search for a specific celeb on the application.
Users can check out the profile of their favorite celebrities. The profile includes information like no. of followers, people they follow, total no.of videos they have created and shared.
REQUEST PERSONALIZED VIDEO/ ADD INSTRUCTIONS
Users can either choose to request for a personalised video message from the stars, or request for an exclusive video call with them. The one-on-one video chatting will create an authentic fan experience.
BOOK VIDEO CALL WITH CELEBS
Users can schedule a time for an exclusive video chat with their favorite stars, on our cameo app clone. They can record the call and share it with their friends and family.
PAYMENT PROCESS OF CAMEO CLONE
Multiple modes of payment like net banking, debit/credit cards, or other payment channels.
Users can purchase the products that are being promoted by the stars. The purchases can be done in-app by tapping on the item and performing checkout.
HOW CAN CELEBS MAKE MONEY ON THE CAMEO APP CLONE | REVENUE MODEL
EARN FROM SHOUTOUT VIDEOS
Celebs can earn from making the shoutout video for their fans within the specific timeline. They will have the option to accept or reject the request.
A video chat with their fans also brings in the money for the stars on the cameo app clone. After the user makes a video-chat request, celebs can choose a time slot, as per their convenience.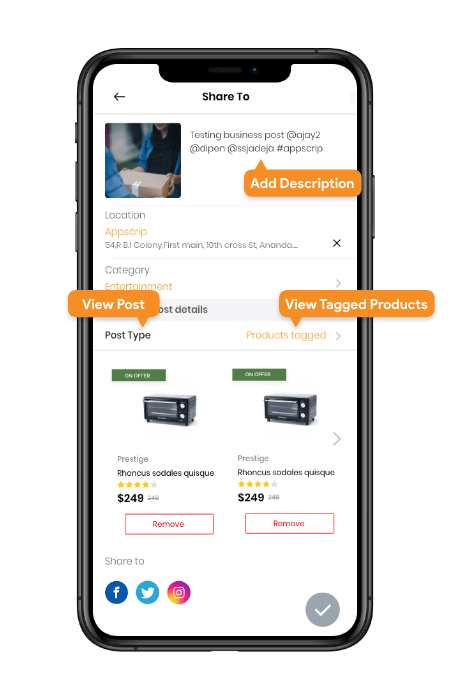 EARN BY PROMOTING PRODUCTS
Stars can tag and promote products in their videos, which will help them earn a commission. They can collaborate with brands and market the products.
Our app wallet ensures the safety of the money earned by the stars. They can easily withdraw money or initiate any transactions within the cameo app clone.
HOW CAN CELEBS INFLUENCE PRODUCT PURCHASE ON STARSTRUK
THE SOCIAL E-COMMERCE FLOW
Celebs can promote products and endorse different brands in their videos.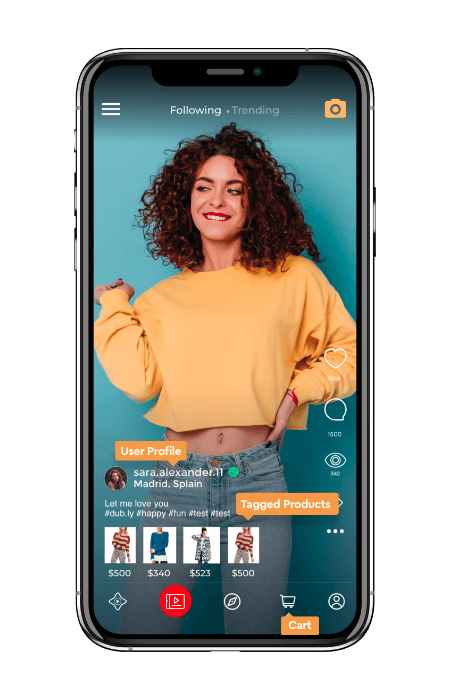 Users can tap/click on the videos to view all the tagged products in the cameo clone.
VIEW DETAILS & ADD TO CART
Users can view details of the products: the material type, sizes, colors & simply add to the cart for purchase.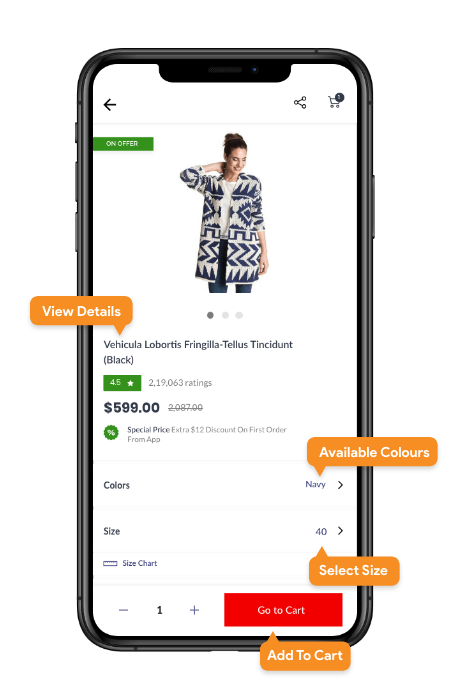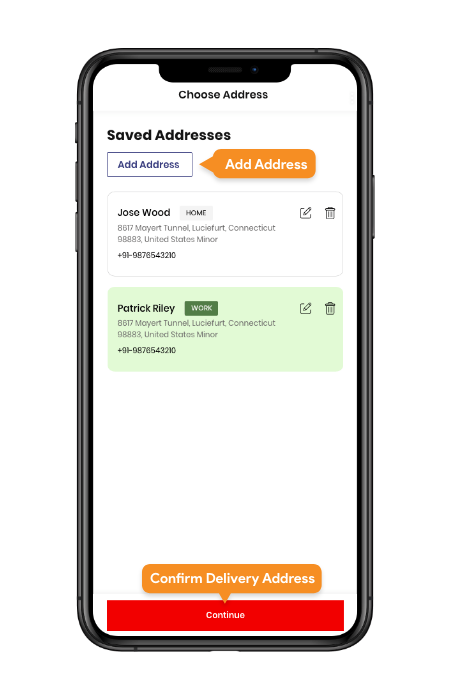 Once they add products to the cart, they can confirm their address for delivery.
Users can choose any payment method before checking out from the cart, in the cameo app.
Once all the processes are done, users can simply confirm the order.