MARIJUANA DISPENSARY SOFTWARE | MULTI-STORE SOLUTION
NO MORE WAITING FOR APPROVALS FROM THE APP STORE & PLAYSTORE
Tired of your marijuana dispensary apps getting rejected while other are making $1000's riding on the legalization wave? BongMe has been designed to help marijuana dispensary owners with our state-of-the-art medical marijuana inventory management & cannabis dispensary delivery service software solution. We've crafted into an easy to use online web portal for customers, store app for dispensary owners and a driver app for delivery agents.
BONGME – THE PERFECT 'UBER FOR MARIJUANA' CANNABIS SHOPPING & DELIVERY SOFTWARE SOLUTION
Cutback Appstore/Playstore Approval Time
Tired of having your marijuana-based shopping/delivery apps being constantly rejected from the Appstore or Playstore? We've crafted a smart business workaround. By developing a business-ready and mobile responsive customer/Uber for Marijuana website with a delivery agent driver app & store app(that can get approved) – You end up saving costs and time to market with our cannabis delivery software solution No more waiting for your custom cannabis apps to get approved!
Super-Fast Deployment
Our Uber for Marijuana scripts is pre-built & business-ready. This helps kickstart your preferred on-demand marijuana dispensary delivery service via BongMe, much faster than hiring an in-house/outsourced development team to build your apps, website & backend software. Leave the technology to us. You focus on your business.
Multi-Store Marketplace Shopping
Your customers can shop for their favorite products using our multi-store checkout options in our cannabis shopping software solution. This gives your custom cannabis dispensary delivery service business more options for dispensary tie-ups. Customers can choose from a variety of both pick up & delivery options, during checkout as well.
Built for Scale
Keeping in mind your custom Uber for Marijuana application could potentially have millions of users requesting cannabis delivery services from a variety of stores and dispensaries, from various cities, at the same time – BongMe was built with a robust & scalable technology architecture that can seamlessly handle all those requests, without a single hitch.
MULTI-STORE MARIJUANA DISPENSARY DELIVERY GRAPHICAL FLOW
SET UP YOUR MARIJUANA DISPENSARY DELIVERY SERVICE IN NO TIME!
Inspired by UI features from top online medical marijuana & cannabis-based dispensary delivery services across the globe, BongMe is a feature-rich and seamless dispensary website where users can select & purchase cannabis products from their favorite dispensaries near them.
100% Customisable Multi-Dispensary Ordering Website
Use responsive & SEO-friendly web design, we can tailor our online website portal for ordering medical marijuana & cannabis-based products, to your particular business, geolocation, language and currency type
Registration & Login
Users can register on the cannabis dispensary delivery software in minutes. For identification security and legal purposes, users are requested to submit their appropriate identification documents. This can be customised based on the degree of legalisation in your state or country
Multi-Store Medical Marijuana & Cannabis-Based Products
Users can search for strains, vape pens, cartridges, edibles from various stores near them on the multi-store cannabis delivery software. Users are displayed the latest trending products which can be customised from the back end
View Nearby Cannabis Dispensaries & Stores
Based on the location input by the user, a list of all nearby and available cannabis dispensaries are displayed
Advanced Filters
We've integrated a detailed dispensary filtering system within our cannabis delivery software. Users can filter dispensaries based on products, brands, manufactures & more. Filters can be customized based on the nature of your cannabis delivery service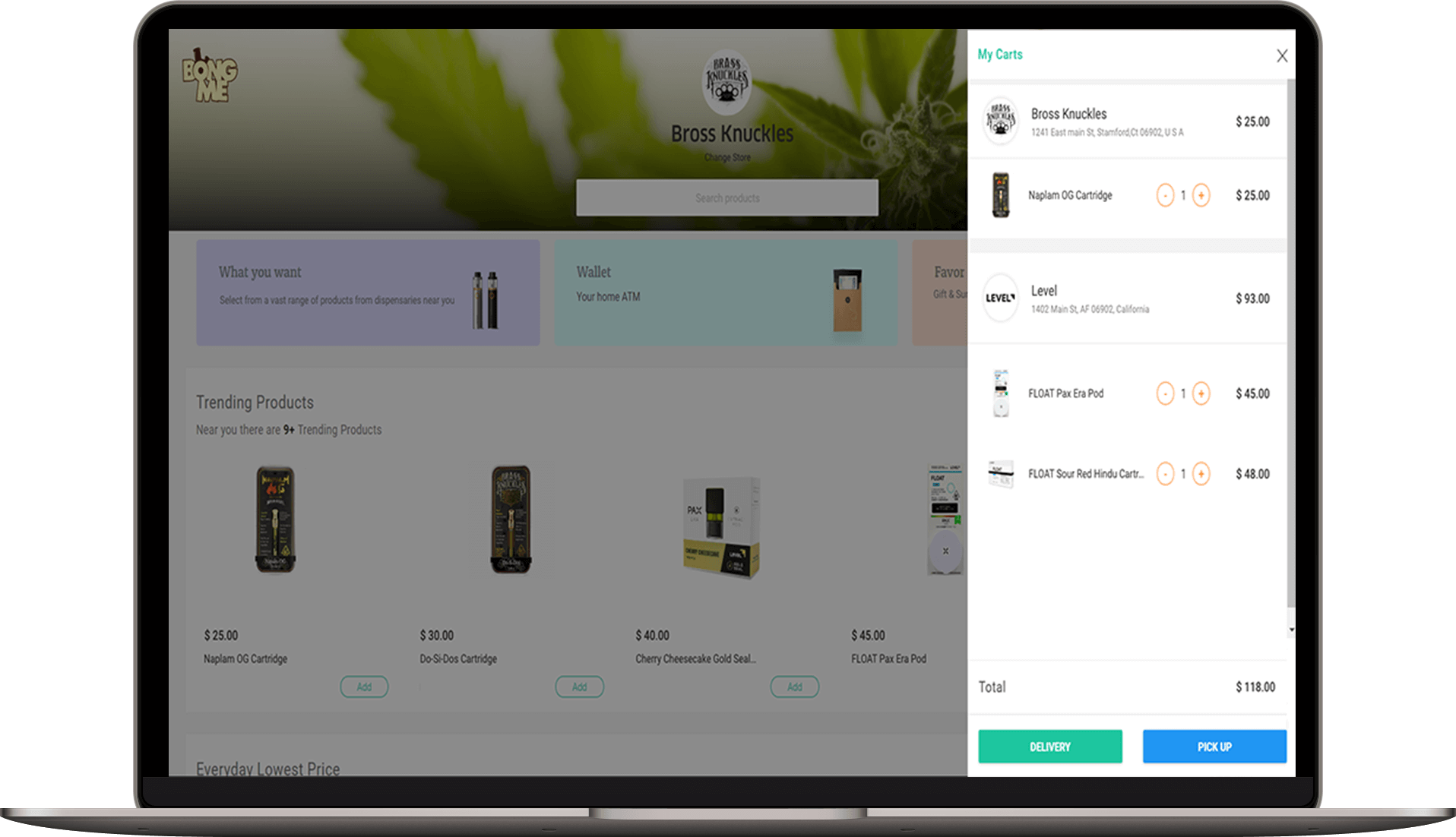 Multi-Store Cart With Pickup & Delivery Options
Our cannabis shopping software includes an advanced multi-store checkout cart. Users can select cannabis products from various stores within a single checkout cart. Furthermore, users can additionally choose to pick up their products or have them delivered via the cannabis delivery service software
Select Delivery Location
Users can select the location to have the products delivered. Users can also save their favorite locations for faster checkouts
Promo & Coupon Codes
Users can easily view a list of all available coupon codes & product promos available to apply, during checkout
Schedule Delivery
Users can schedule the date & time of their delivery on our marijuana dispensary delivery software
View Orders
Users can view all their placed orders on the cannabis delivery service software. Users can view the details of past orders place as well as tacking details of active orders
Live Track Orders
Users can view the status of their placed orders with real-time notifications provided on each status update
Customer Support
Advanced customer support system integrated within our cannabis delivery software. Users can raise tickets with the customer support team regarding issues for their cannabis dispensary purchases
MARIJUANA DISPENSARY DELIVERY SOFTWARE: DRIVER APP
Once registered, delivery agents can view a list of available jobs placed by various customers and dispensaries near them, on the multi-store cannabis dispensary delivery software.
Inspired by Uber for Marijuana services, drivers are notified in real-time about cannabis dispensary pickup or delivery jobs, their details, and price near them.
View Assigned Jobs Details
Cannabis delivery drivers can view their assigned jobs details, addresses, & individual job statuses.
Dispensary delivery agents can easily update the status of the job with a single swipe. Customers are notified with each job status update.
In-app chat module integrated within the cannabis delivery software to let delivery agents and customers exchange information regarding routes or items to be picked/delivered.
To improve quality of service, delivery agents can provide updates of products that were to be picked up or delivered. If an item has been damaged, or was unavailable, the agent can mention it and have the final invoice changed accordingly.
Once delivered, the a final invoice is generated and a customer signature is required. Once signed, the job is considered to be completed.
Cannabis Delivery Service Earnings
Marijuana dispensary delivery agents can keep track of all pickup or delivery jobs undertaken and their earnings so far.
MARIJUANA DISPENSARY SOFTWARE: STORE & DISPENSARY APP
Various cannabis-based & medical marijuana dispensaries and stores can manage deliveries via an easy to use store app. Cannabis delivery store/dispensary app owners can view and assign live requests from the customer website portal to their delivery agents automatically or manually as well.
Manage Orders

Medical marijuana dispensary store app owners can view details of all orders placed on the customer cannabis store/dispensary website portal. View new orders, accepted and dispatched orders.
View Order Details

View individual details of orders placed by customers on the cannabis delivery website portal.
Assign New Orders

Marijuana delivery store app owners can assign new orders from the customer store website portal automatically to delivery agents nearby or manually assign them.
MARIJUANA DISPENSARY SOFTWARE DELIVERY DISPATCH
Bird's View

View an overall look of all the ongoing medical marijuana and cannabis-related pickup or delivery jobs, available & unavailable dispensary delivery agents, individual agent phone battery percentage etc
Manual Bookings

Manually assign medical marijuana and cannabis dispensary pickup or delivery jobs to drivers on demand
Individual Job View

View the status of each individual cannabis dispensary pickup or delivery service in real time
MULTI-STORE MARIJUANA DISPENSARY SHOPPING SOFTWARE & DELIVERY SOFTWARE: ADMIN PANEL
SUPER ADMIN PANEL
Central admin to manage the entire cannabis delivery software. From overall store management to each individual user.
STORE INVENTORY MANAGEMENT
Store-specific inventory & SKU management for admin & store owners to manage the cannabis inventory.
TRACK ORDERS
Track all cannabis & medical marijuana-based orders placed on the multi-store cannabis dispensary & delivery software.
FLEET MANAGEMENT
Manage various cannabis delivery service operators and associated drivers.
FARE SETUP
Option to go for mileage-based pricing or fixed pricing and other associated marijuana deliver fares based on zones or distance.
PROMOTIONS & REFERRALS
Setup and manage promotion codes and referral campaigns on both the marijuana website & app.
BIRD'S VIEW
Track marijuana drivers in real time on a map across cities in real time.
ACCOUNTING
Complete financial accounting system to keep track of cannabis store earnings and driver earnings.
PAYROLL
Manage cash & card earnings for drivers with direct payments to driver bank accounts.
MESSAGING
Push messages to marijuana store owners, drivers and customers directly from the admin.
DISPATCHERS
DISPATCHERS – MARIJUANA DISPENSARY SOFTWARE
STORE MANAGEMENT
Individual cannabis dispensary store setup & management.
SEO MANAGEMENT
Mobile responsive and SEO friendly with sitemap & slug generation.
COMMISSION SETUP
Setup the commission rates for different medical marijuana dispensary software solution
MANAGE MENU
Create custom menus for various cannabis store franchises and stores or import an xls file.
DISPENSARY ORDER ANALYTICS
Detailed analytics reports for individual items, stores or overall multi-store cannabis delivery business performance.
REPORTS & REVIEWS
Review the ratings and reports of various marijuana delivery service or dispensaries to maintain high service quality.
WHY CHOOSE BONGME AS YOUR MULTI-STORE MARIJUANA DISPENSARY SOFTWARE & INVENTORY MANAGEMENT SOLUTION?
Inspired by top multi-store medical marijuana dispensary software & delivery solutions like Weedmaps, Eaze, Nugg, Leafly & more – BongMe is a powerful yet easy-to-use marijuana dispensary management software solution that helps entrepreneurs & business manage their medical marijuana-based business more efficiently. The BongMe dispensary management software consists off
100% Customizable
Our multi-store medical marijuana delivery service software solution is 100% customizable. We've crafted our online cannabis dispensary portal and cannabis delivery driver app to be easily customized and deployed for your business, with the least time to market.
PCI Compliant
We assure PCI compliance so you will have not PCI compliance issues accepting purchases on your customized marijuana dispensary delivery service.
Business-Ready & Prebuilt Scripts
With our proprietary pre-built multi-store marijuana dispensary software, dispensary inventory management software and marijuana dispensary delivery service app – we move your online cannabis dispensary brand from development to deployment faster than any medical marijuana dispensary & inventory management software developers out there.
Scalable & Clean Design
Using state of the art container technology, clean coding practices, use of microservice architecture, responsive web design while simultaneously integrating safety & security features on the app – BongMe is one of the most robust online cannabis dispensary & delivery service software solutions in the market today.
Multi-Language & Multi-Currency Support
Irrespective of your location or currency preference, BongMe can be tailored for any medical or recreational marijuana delivery service around the world.
Referral & Promotions
To improve the growth of the userbase & overall user retention, our online marijuana dispensary delivery software business solution is equipped with promo & referral features for both customers & drivers. Our underlying scalable technology architecture ensures our online cannabis delivery portal can handle the growth of your user base.
SEO Friendly Design
All marijuana shopping & delivery apps built using the BongMe software solution are designed keeping the best SEO practices for apps in mind. This aids in the website & apps overall ranking in search engines & online app stores.
App Monitoring & Chatbots
Our online marijuana delivery software shopping app & software is the only customizable cannabis delivery solutions that provide chatbot-integrated app monitoring services. This ensures you have on-demand app performance updates for your tailored cannabis app.
Security
Our multi-store marijuana delivery business software solution is not only robust & scalable but extremely secure as well. SSL-powered API's, Keychain, JWT, reverse proxy setup etc ensures that security extends all the way from the app to each individual API.