THE BEST CAREEM CLONE APP & WHITE LABEL TAXI APP
Karry is designed keeping the best features of UAE's top on-demand taxi script, online taxi booking app & Dubai taxi booking app. Additional features have been inspired from top ride-hailing apps such as Careem, RTA taxi, Uber & others. This makes the Careem app clone feature-rich and able to be ranked as the next big taxi booking app in UAE, Saudi Arabia, Oman, Qatar, Bahrain and rest of MENA region.
CAREEM CLONE APP BOOKING UI FLOW
CUSTOMER ONLINE TAXI BOOKING APP
Imbibing the best features from top taxi booking apps such as Careem, Uber and RTA taxi, Karry is designed to be an innovative online taxi booking app. The Careem App clone with a seamless UI experience, imaginative features, innovative add-ons can be configured to be the best on-demand taxi App in UAE.
Register with profile details & login via email ID, phone number or social media account.
Pick a date & time for the ride.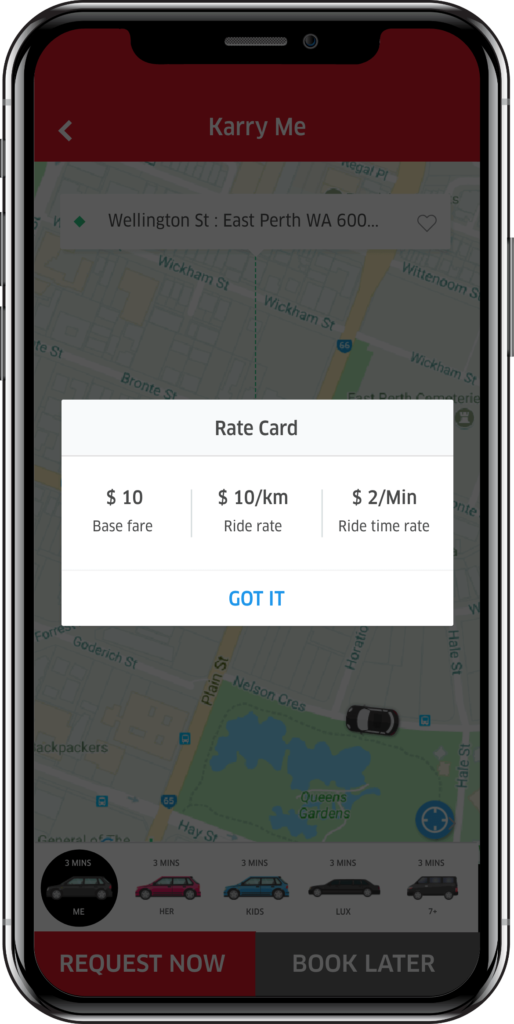 View the rate card for each vehicle type before booking.
Book a ride for yourself or a friend.
View & Update Ride Details
Enter drop location & various other ride details on the Karry taxi dispatch software app.
Choose your preferred mode of payment on your Careem app clone such as cash, card or wallet options.
The updated driver preference feature gives users flexibility during ride bookings. Options provided can cater to an individual and for additional passengers too.
Check for promo codes & offers. Select the code to avail a discount. Promo codes & loyalty programs are managed on the white label taxi management software / Karry admin.
(New) Institutional Module for Tie-ups with Corporates or Hotels
Institutional Module has been integrated in the Careem clone App, to enable tie-ups with corporates/hotels. Hence this can be used as an employee transportation or guest transportation for hotels, resorts, & retreats. Depending on the arrangement, the ride bill is handled either by the customer or the institution.
Users can set up their corporate/hospitality profiles by adding in their corporate email account/room number/phone number. Once approved by the admin, the account is then available for usage during booking.
Users can select their corporate/hospitality accounts during bookings.
After the ride is assigned to a driver, the Careem clone app provides users with both live map tracking & realtime in-app notifications regarding the status of their booked ride.
After customers enter their preferences the Careem app source code searches for the nearest available driver that will match the user's preferences.
Realtime map view of your online booked taxi is integrated into the Careem clone software. Users can additionally view load details, call driver's for additional route or load details.
View a detailed invoice of the booked taxi ride.
Rate your cab driver on various factors. This ensures high quality standards are maintained by the admin & the business as a whole.
Our white label taxi software / Careem app source code assists in setting up emergency contacts, providing referral codes, updating details & favourites, registering corporate profiles thereby increasing user engagement & retention.
Various profile options are available to further enhance user experience.
Enhanse your customised Careem clone taxi app user base by providing referral codes that can be shared among users.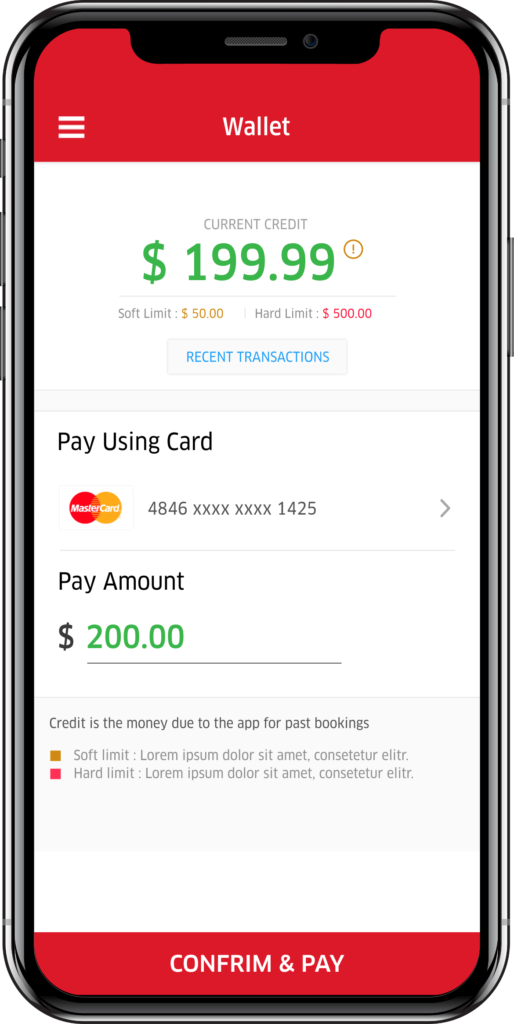 In-app wallet module is integrated in the Careem clone script for quick payments. Soft & Hard limits are set up by the admin to prevent a customer from making cash bookings, when there is credit due to the app.
View all prior bookings & payments done on the Careem clone online taxi booking app.
CUSTOMER WEBSITE : ONLINE TAXI BOOKING SCRIPT
The Careem App clone includes an online taxi booking website portal for customers in UAE to book for taxis. The Careem clone script online taxi booking portal encompasses functionalities such as ride scheduling, driver preferences, wallet recharge, live tracking & more.
Register & Login

The online taxi booking script makes registration simpler via usage of social accounts.
Book A Ride

Book a ride via the online Dubai taxi booking service & schedule a ride. Add driver preferences, promo codes, payment method, etc while booking online.
Live-Track

Realtime ride tracking is possible with booking status updates.
Past Trips

View details of all past trips booked on the Careem clone software.
Payments & Wallet Recharge

View all past payments done on the Careem app source code & recharge your wallet directly on our Careem clone website.
BEST APP FOR RIDE-HAILING/TAXI DRIVERS IN UAE
The Karry cab management software enables drivers to register on the app, start accepting booking requests, track their earnings, integrate their bank accounts, refer other drivers & more. Drivers need to be approved by the admin before receiving booking requests.
Drivers need to enter vehicle details in the Careem clone app.
Upload Necessary Documentations
Before submitting your registration for admin approval, drivers need to upload valid licenses & certificates. Detailed background check ensures that safety standards are maintained before the process.
The Karry taxi booking script enables drivers to locate customers nearby looking for an on demand taxi. Drivers can either accept or deny requests unless manually assigned by the Careem clone taxi dispatch syste
Live-Tracking & Trip Status Updates
The Karry taxi script comes with live-tracking features powered by Google Maps or Waze. Drivers can update the status of the booked trip with a single swipe.
We've integrated the Karry source code in a similar fashion to the careem app source code / Uber app source code with a manual booking feature, in here drivers can set up trips manually by themselves.
(New) Manual Bookings: System Calculated Fares
Fares are automatically calculated by the Careem clone script & displayed to the driver. The driver can then mail the invoice to the UAE based clients by email.
View a detailed invoice of the trip undertaken on the Careem clone taxi driver app.
Drivers can rate their passengers on the customised Careem clone taxi driver app.
A detailed Driver Portal on the Karry Driver app assists drivers to view analytics of all trips and earnings.
Karry taxi drivers can add their bank details so as to directly receive payments from their business owner.
In-app wallet account is provided to ensure drivers cannot make any further cash bookings if there are dues towards app commission.
Support section provided in case drivers have any issues during their service.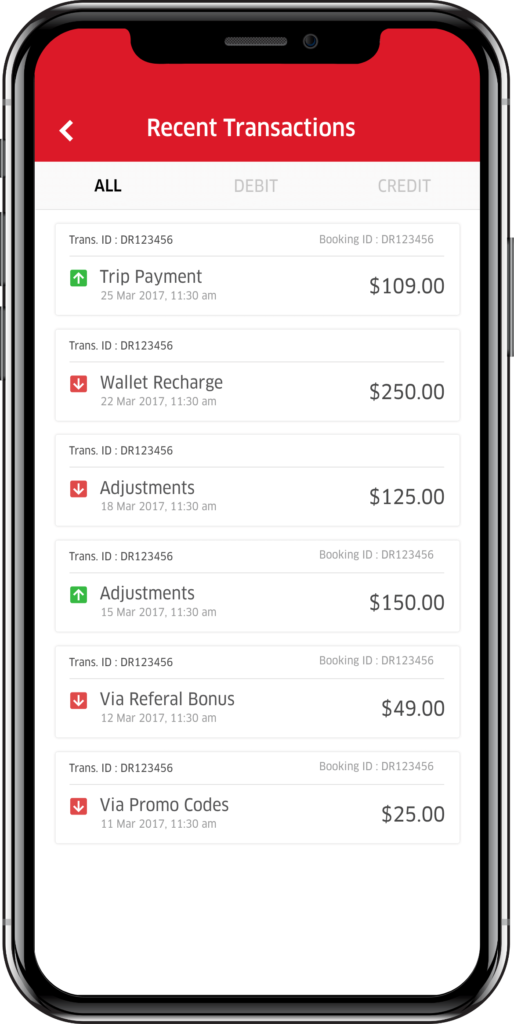 BEST ONLINE TAXI DISPATCH SYSTEM
Holistic View

Overall view of all on-demand & scheduled taxi rides in UAE, online & offline drivers, individual phone battery percentage, etc.
Manual Bookings

Manually assign bookings to cab drivers on-demand. Enter details such as destination, payment method, vehicle type etc on the taxi dispatch system.
Individual Job View

View the status of each individual taxi / booking & their respective job status with in-app notifications on the Careem clone software solution.
DRIVER MANAGEMENT
Manage all drivers on your Careem clone taxi booking app. Accept or reject drivers requesting to register on the Karry driver app.
FARE SETUP
Setup and manage fares for various on-demand ride sharing services based on grade-of-city, vehicle type, hourly rates, surge pricing, etc.
PROMOTIONS & REFERRALS
Setup and manage promotion codes and referral campaigns on your customizable Careem clone software.
TRACK BOOKINGS
View all taxi bookings in Egypt, Jordan, UAE, in realtime as they are being placed on the app. Track the status of each booking.
ACCOUNTING
Complete financial accounting system to keep track of earnings for each driver registered on the Careem clone app.
PAYROLL
Payroll management system integrated with the Karry, the Careem clone script. Manage cash & card earnings of each driver with direct payment into their respective bank accounts.
MANAGE SERVICES
Manage details of various taxi, carpooling, chauffeur booking services present on your customised Careem app clone.
BIRD'S VIEW
View all ride bookings & trips in realtime on a map across the city or manually created zones.
ZONE MANAGEMENT
Create zones for your service by drawing polylines on a map and set rates accordingly.
(NEW) CORPORATE PARTNER MODULE
Our Careem clone taxi booking software now comes with a Corporate module integration. This enables online taxi booking script to integrate various businesses as an employee transportation solution in Oman, Bahrain, UAE, e
(NEW) HOSPITALITY PARTNER MODULE
The Hospitality Partner module enables you to partner with hotels, resorts, retreats etc as a guest transportation solution in UAE, Saudi Arabia and rest of MENA region.
MESSAGING
Push messages to various drivers and customers, registered on the Karry ride-booking software, directly from the admin.
LANGUAGE SETTINGS
Option is available to set up the Careem clone app in diverse languages.
DRIVER ACCEPTANCE RATE
View acceptance rate of all the registered drivers on the custom Careem app clone.
DRIVER REFERRALS
Referral management software integrated in the white label taxi script to manage those who refer according set commision rates.
APP UPDATES
Manage app update settings for all users who've downloaded the customised Careem app source code application.
MARKETING PROGRAMS
Dashboard to manage all referral programs, loyalty programs, promo campaigns etc on the online taxi app management software.
REPORTS & REVIEWS
Keep a tab on the various taxi drivers and maintain high quality standards using ratings and reviews given by customers across UAE, Jordan, Oman, Egypt, Libya.
COMMISSION
Setup various app commision rates based on zone, service type, fares etc on our Careem clone app script.
WHY CHOOSE KARRY AS YOUR CAREEM CLONE APP / DUBAI TAXI APP IN UAE?
Karry's architecture has been designed to be innovative scalable & robust Careem clone software solution. The software comprises of
100% Customizable
Our Careem clone script can be customised for a various taxi booking and ride-sharing applications. Any taxi app idea for Dubai on-demand taxi app / carpooling app / Careem-like ride-hailing solution / transportation booking app etc can be customized into Karry.
PCI Compliant
We assure PCI compliance so you will not have legal issues accepting in-app purchases with our Careem clone app script & online taxi booking script.
Prebuilt Scripts
With our proprietary pre-built Careem clone script, customizable taxi booking & taxi app developer systems and robust & scalable cab management software, we move our customizable Careem clone taxi app from development to deployment quicker than any taxi app developer in UAE, Saudi Arabia or any other MENA region.
Scalable & Clean Design
With state of the art container technology, clean coding practices, use of microservice architecture, integrating safety & security features on the Careem clone taxi booking app – Karry is one of the most robust and user-friendly taxi booking service available in the market.
Multi-Language & Multi-Currency Support
Irrespective of location or language preference, Karry can be tailored for any ride-sharing / transportation need in UAE, Saudi Arabia, Jordan, Oman & MENA region.
SEO Friendly Design
All online taxi booking scripts developed using the Karry taxi software are designed keeping SEO & ASO practices for apps in mind.
App Monitoring & Chatbots
Our on-demand Careem clone taxi app script is the only one in UAE on-demand taxi market to provide chatbot-integrated app monitoring services. This ensures you have on-demand performance updates for your customizable Careem app clone.
Security
The Karry white label taxi booking app & taxi dispatch system is not only robust & scalable but extremely secure as well. SSL-powered API's, Keychain, JWT, reverse proxy setup etc ensures that security extends all the way from the app to each individual API.
Referral & Promotions
We improve overall user base growth & retention, by equipping Karry, the Careem clone app script, with promo & referral features for both customers & cab drivers. Our underlying tech architecture ensures that our Careem app clone can handle the scale of your user base and provide user-friendly solutions to your end users in UAE & MENA region.