CHATROULETTE CLONE - VIDEO CHAT DATING APP WITH PROGRESSIVE WEB APPLICATION
The Chatroulette clone helps you build a social network for pairing random people together. The Random Chat / Chat Roulette facilitates interaction and encourages users to connect and communicate with each other. CME is a super dating app crafted with features that help you launch a popular video dating app. Progressive Web App built on React JS is the differentiating feature among its competitiors.
Random video calling like on Azar, interactive questions asked to better match users like on Hinge, Tinder-like profile view and chat, earn gifts, and make money
CHATROULETTE CLONE|MAKE MONEY
Earn money via coins
Users can give each other virtual gifts which are bought by coins. App earns a commission every time a user sends these virtual gifts to other users. Other users earn these gifts and earn a certain % that can be converted to real money that can be withdrawn to their paypal account.
Chat before getting matched
Everyone knows it's quite tough that 2 users swipe right on each other. So in our app we allow users to impress someone by sending a chat message before they get matched but for this they need to spend coins , and the app earns a % commission every time they spend these coins and the other user earns a certain % as well.

Earn for every video / audio call date setup
Users can spend coins to setup a date with others on the chatroulette clone. In the new normal post Covid-19 it's a great way to connect people keeping the social distancing norms over a video call. App makes a % commission whenever coins are spent to setup a date.
In-app purchases
Users can get premium profiles by unlocking features via in-app purchases. Features like unlimited likes , view prospects ( profile visitors , likers , people you have passed , people you connected with on random video calls ) etc can be unlocked with a premium profile. Coins can be purchased via in-app purchase as well.
CHATROULETTE CLONE | GRAPHICAL FLOW
We have kept a simple registration process so that the users can sign-up their profiles using their social media accounts or phone number quickly and enjoy the video chat dating app. They can also set up their profiles by uploading their preferences, photos and videos on the periscope clone.
Swipe on the screen to connect with random users who match your preferences. When connected over a live video call, the user can:
1) Send messages in real time to the other user
2) Send a friend request for talking more later
FIND OTHER POTENTIAL MATCHES
Tinder like logic here to find potential matches. Grid view of prospects, set preferences, switch to random calls, prospects with video profile, visit your coins wallet, like, superlike or reject.
CHAT BEFORE GETTING MATCHED
Users can spend coins to send a chat message before they get matched. The app and the other user i.e. message receiver earn a % commission every time these coins are spent.
SETUP DATES OVER AUDIO / VIDEO CALL
Users need to spend coins to set up a date with other users on the app. App makes a % commission whenever coins are spent to set up a date.
Search for people using a unique id known as c.me id and send them friend requests. You can also send invites via SMS or Whatsapp.
Chat with other users in real-time. Send Images, gifs, videos, location, and contacts in chats like on Whatsapp.
Chatroulette clone helps send coins to matches and prospects. Write a cool note for them.
Users can spend coins to connect with prospects they are not matched with. A % of the amount goes to the person they are spending the amount on, and the rest of it comes to the admin. A platform for mutual benefits.
C.Me would not pass to be the best video dating app solution unless it has monetization features. Our video dating app script, C.Me comes with many features that can contribute in earnings of the business owner as well as users.
Withdraw earnings and the wallet money directly to your bank account.
Fill up your wallet with in-app coin purchases, spend the coins to access all the cool features.
Help setup premium membership to enjoy the perks and to get everything that sis exclusive on the chatroulette clone.
This feature will label potential matches as top prospects categorized in sections such as online prospects, Likes Me, Superliked Me etc.
Either log in with your facebook id, email id or via your phone number.
HINGE LIKE USER ON-BOARDING
Simple, easy, and impressive. Guides users through setting up a profile.
Set your preferences for your perfect match. Gender, age, height, distance and more.
Allows you to view the details such as name, age, distance, religious beliefs, vitals of other users. You can also like the profile.
Learn more about people you are most interested in. Get real-time updates about what they are doing across their social media networks.  
Lets you upload a video in your profile. Videos can provide a better glimpse of your personality.
THE BEST VIDEO CHAT DATING SCRIPT YET
Discover and Connect
Users can find their potential matches. Get a grid view of prospects nearby. See their name, age and location before clicking on their profiles on the Chatroulette clone
Detailed Profile
View the complete profile details of users such as name, age, height, ethnicity relationships, religious beliefs etc. Like, superlike, reject or match with the profile. Or spend coins to send a message before even getting matched.
Earn and Withdraw
Whenever a user spends coin to either schedule a date or connect to prospects they are not matched with, a % of the coin value goes to that prospect's earnings wallet. They can easily withdraw this amount via channels like PayPal. The remaining value of those coins is the revenue source for app owner.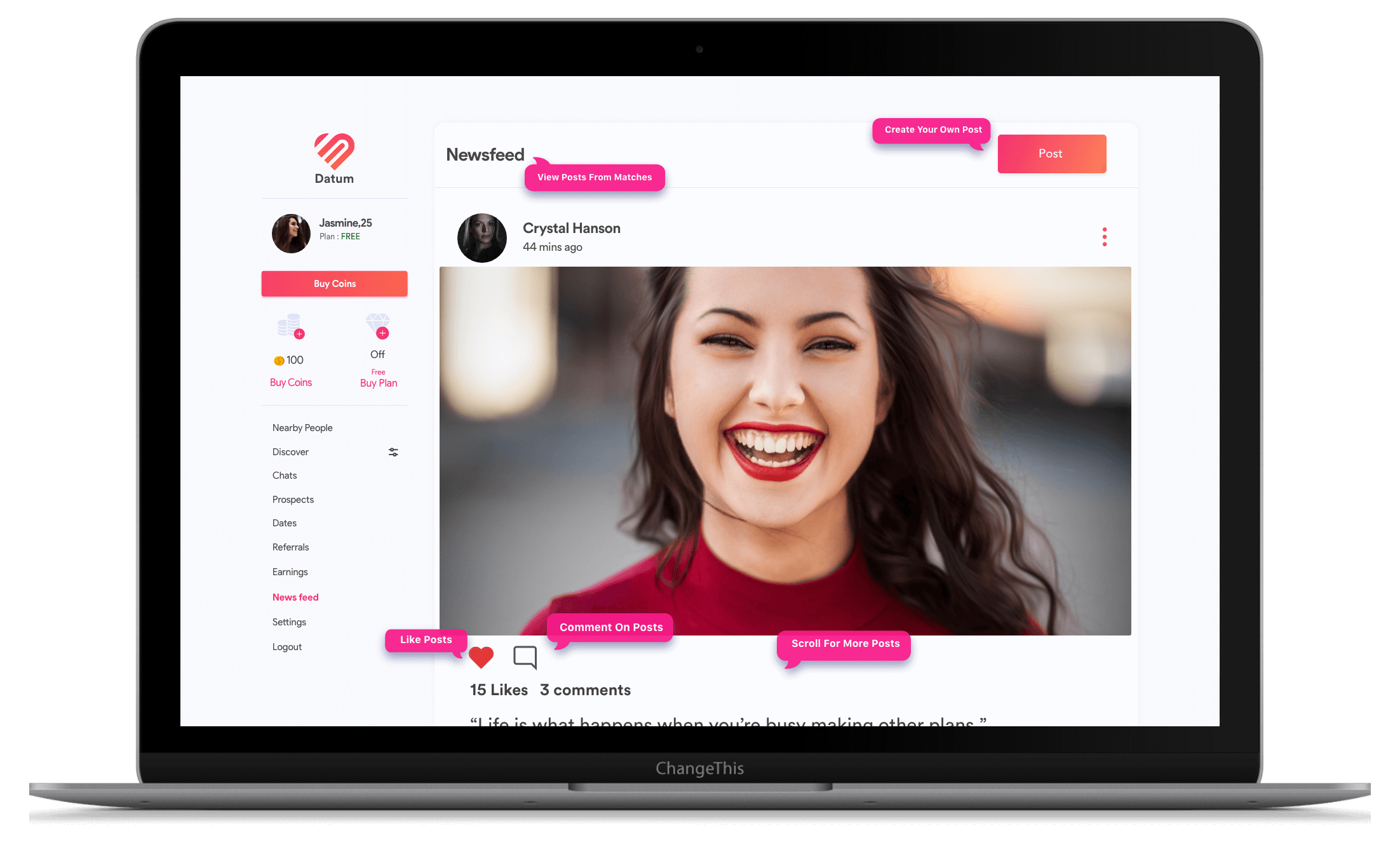 News Feed Chatroulette Clone
Learn more about people you are most interested in. View your matches posts. Like or comment on their posts or create your own post.
Whatsapp Like Chat- Revenue Model
Chat with other users in real-time. Send images, gifs, videos, location and contacts in chats. Spend coins to send a chat message or video call with other users before getting matched. Gift coins to your prospects or Matches.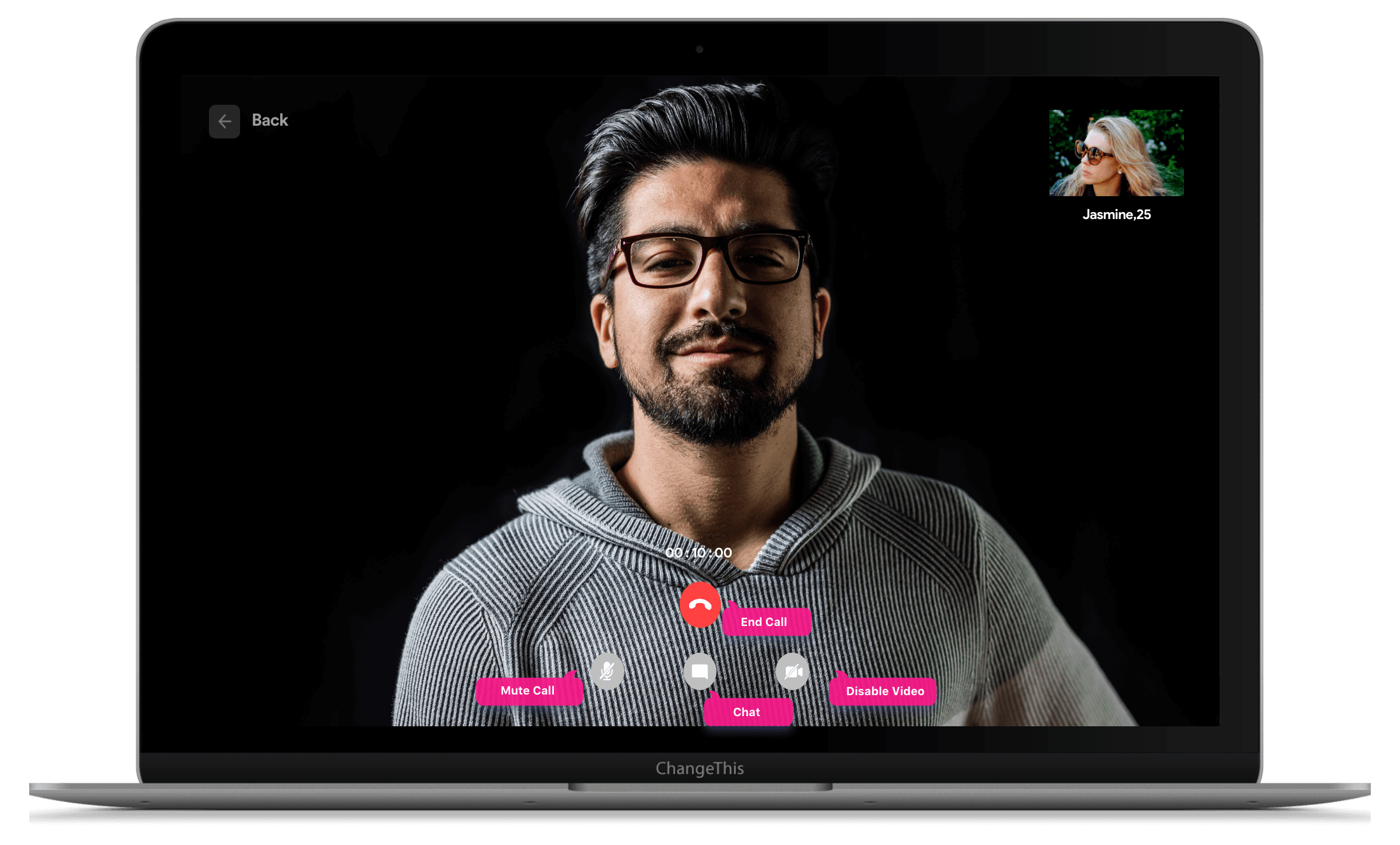 Web to Web / Web to App Video Call
A user can make a web to web or web to app video call. Lets you mute the call or disable video. It even lets you chat during the call.
CHATROULETTE CLONE APP SOLUTION: ADMIN PANEL
Matches

The matches tab gives an insight into who's the initiator of the match. Share the contact and profile details of the opposite user. It also gives the time stamp on when the match occurred.
Friends

This data log is maintained for each user who has initiated or become friends with any other user on the platform.
User Wallet

Gives detail of all the transactions that take place. It includes the coins that the user has bought, spent as well as the coins that he/she has earned.
Users

Provides detail of every user on the platform, including the device and time of their last login.
All Transfer Logs

This section displays the complete transfer logs of the users along with the transaction id and names of the sender and receiver.
Withdraw

Displays the withdrawal details. The users can withdraw the coins they have in their earning wallets.
OVERALL C.ME ADMIN FEATURES
DASHBOARD
You can view the total registrations done for the day, month, year, and lifetime, user-activity, in-app purchases, etc.
PREFERENCE SETTINGS
Preference settings can be configured from the admin dashboard itself. Our dating software dynamically updates these settings on the mobile app.
USERS MANAGEMENT
The easy way to browse all registered users on the video dating app.
PROFILE VIEWS
Easy way to access to see which profile is being viewed by whom.
PROFILE LIKES
Analytics tool in our video dating script to track profile likes to see popular profiles on the dating software.
MATCHES
All the matches on the platform can be identified via the admin panel on our video dating software.
REPORTED LIST
Analyze all the reported users and see who has reported them and why. This feature is required for the app to be displayed on the Apple App Store.
PURCHASES
See the list of users who have purchased datum add-ons via in-app purchases.
Features Users Can Unlock By Spending Gems
Check out the features users can unlock by subscribing to the VIP membership and other in-app purchases on our video dating app script, Chatroulette clone.
Who Liked/Disliked?
Users can view who amongst the people they had video calls with liked or disliked their profile.
Change Gender Preference
Users can change the gender preference from male or female from both (default).
Change Country Preference
Users can also set country preferences, they can choose a country they are not living in currently.
Rear View Camera
Users can also reverse the camera from front view to reverse view via in-app purchases.
Monetization Features In Our Video Dating Script Are Enabled By.
C.Me COINS/GEMS
In-app currency that can be purchased via credit or debit cards, further these are spent on buying gems that lets users to gain access to additional features of our video dating app script, C.Me.
C.Me VIP SUBSCRIPTIONS
User can subscribe to VIP membership to access all the premium features in our video dating app script, Periscope clone C.Me.
Comparison Between Azar and C.me
To know more about business use cases & examples with our dating software & online dating script CLICK HERE