INNOVATIVE OFFERUP CLONE SCRIPT/BUY AND SELL MARKETPLACE SCRIPT
LeOffer – Our OfferUp Clone script is a fully integrated buy and sell marketplace script for your used goods buying and selling business. Connect buyers and sellers instantly on our marketplace software inspired by apps like OLX, LetGo, OfferUp, Wish Local, Shpock, Carousell.
Lower Prices Available Now !
WHY CHOOSE LEOFFER AS YOUR BUY AND SELL MARKETPLACE SCRIPT?
LeOffer is a buy and sell marketplace script inspired by apps like Wish Local, Shpock, Carousell with many additional features of its own. Given below are reasons why you must opt for LeOffer as your OfferUp clone script.
100% Customizable
Our OfferUp clone script is customizable to build a variety of buy and sell marketplace businesses. Whether it's for general buy and sell service or a specialized products buy and sell app.
PCI Compliant
We assure PCI compliance & tokenization so you will have no legal issues accepting in-app purchases on our OfferUp clone script.
Prebuilt Scripts
Using our proprietary Pre-Built IP solution, we move our white-label LeOffer app from tailored development to deployment faster than any other buy and sell marketplace app developers out there.
Scalable & Clean Design
Using state of the art app container technology, clean coding practices, microservice architecture, while simultaneously promoting safety & security on the app – LeOffer is the best buy and sell marketplace app & OfferUp clone script in the market today.
Multi-Language & Multi-Currency Support
You can now start your buy and sell marketplace app in German, Arabic, Chinese or any language of your choice. We ensure LeOffer can be deployed in any language & currency preference.
Referrals, Promotions & Loyalty Programs
Increase your unique Offerup clone user base & overall retention via referrals, promotions & loyalty campaigns.
SEO Friendly Design
Our buy and sell marketplace app is designed to ensure that every tailored OfferUp clone  we make, sticks out in both search engines & app stores.
App Monitoring & Chatbots
Our OfferUp clone solutions are the only ones in the market to provide app monitoring services with chatbot integration. Ensuring you can get instantaneous performance updates on your tailored buy and sell marketplace solution.
Security
Our white label buy and sell marketplace script is not only robust & scalable but extremely secure as well. Keychain, SSL-powered API's, JWT, reverse proxy setup etc ensure that security covers the entire app to each individual API.
LEOFFER Graphical Flow
BUYER UI FLOW
LeOffer, our buy and sell marketplace script is built with diverse features to make the transaction process simple and straightforward for buyers. Our Wish Local/ Shpock/ Carousell/ OfferUp clone script offers multiple filters, options to swap, wallet module, etc.
Signup/Login
---
Login/Signup with phone number, Facebook, Google or Apple ID. Receive/retrieve username/password via phone number or email. For iOS, login with Touch ID or Face ID.
Discover Users
---
Locate friends on the app by sharing your contact list. The phone numbers would be indexed and the user would know which of his/her contacts are on the app.
Explore Products
---
A grid view shows all products in your current location. Access to geolocation is requested to show relevant ads that are in the vicinity of the user.
Central Newsfeed
---
Users can scroll central newsfeed to watch the products sellers are putting up for sale. Our OfferUp clone script lets users like, share, review and comment on these posts.
Select Filters
---
Filters available are: Category, location, price, New/Used, Urgency, Sorting order, and Post time. For vehicles: Brand, Mileage, Colour, etc. And properties: Room, Bedrooms, Bathrooms, etc.
Search powered by Elasticsearch
---
Our OfferUp clone ensures lightning fast search results when users seek products or a seller they are keen to follow. Users can search for ads using relevant keywords.
Swap/Make Offer
---
An ad can be posted wherein the user is willing to exchange for another item. Other users can make a counter-offer with one of their product as in barter system.
Chat Between Buyers & Sellers
---
Buyers can contact sellers via real-time chat and offer a price or a swap. They can exchange: text, images, videos and location. Chats can be deleted or blocked if necessary.
Push Notification
---
Push notifications are sent for: New followers, New comments, Post saves, New offers, Chats, Payment confirmation, New post from whom you follow, etc.
Report Ad / User
---
Users can report posts/ad as in-appropriate from a list of possibilities. Admin can review these and decide to suspend or delete the post or user.
SELLER UI FLOW
LeOffer, the buy and sell marketplace script has been carefully designed and developed with scalable technology to provide an overall marketplace solution for entrepreneurs or businesses looking for customizable marketplace clone scripts.
User Profile
---
Diverse information can be provided on each profile page: Sale items, Urgent sale, Sold items, Deleted items, Saved Ads, Highlighted ads, Reviews, Exchanges, etc.
User's QR Code
---
A unique QR code is generated for each user. This QR code can be scanned to confirm an item sale.
Payment Methods
---
Users can add multiple cards to their profile that can be used to make payments. We have integrated with stripe.com, other payment gateways can be supported.
Paypal Integration
---
Our buy and sell marketplace script comes with support to integrate PayPal.
Upload Advertisements
---
Le.Offer comes with most fields dynamically created based on the category of the advertisement and additional codes need not be written. Add hashtags for easy product search.
Hightlighted Posts
---
Posts that are highlighted are displayed here. Users have to subscribe to a paid plan for posts to show up on this section.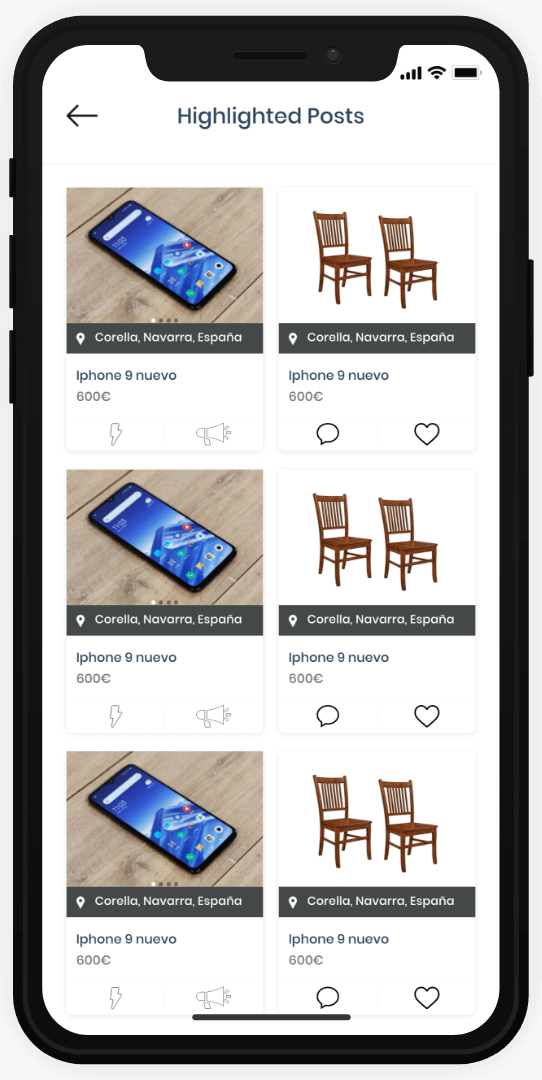 Wallet Module
---
The integrated wallet module is essential for all accounting and has the following core modules: User money wallet, App wallet and Payment gateway wallet.
Order Details Page
---
After the buyer scans the seller's QR Code the transaction is complete. The buyer receives an invoice from the app that can be downloaded from the orders page and the seller gets the sales order.