EVERY ON-DEMAND SERVICE INTEGRATED INTO ONE GOJEK CLONE
ServiceX combines the best features from top on-demand multi- service booking apps into one solution. Whether you want to start an on-demand laundry/taxi/cleaning booking service or even a GoJek-like platform – ServiceX is flexible enough to handle every & all on-demand service provider
A Gojek clone is an app that provides services like that of the multi-service app, Gojek. Clone apps can be considered a replica of the original app that have function similar to the original app. They also have certain advanced features that are missing in the original app. Clone apps are completely legal in the market unless you infringe on other IPs.
What is a Gojek Clone Script?
It is the complete source code of the app functionality that tries to emulate the original Gojek app. The initial stage in the development of a Gojek clone is to prepare a Gojek clone script. Gojek clone script is a plot of how the app must function. Visualizing ideas and jotting them down takes place during the development of a Gojek clone script.
ServiceX | Book a Ride Flow
Along with booking services, ServiceX ride-booking module that allows customers to seamlessly book a ride from the app following these simple steps:
Select Vehicle
Add Pickup & Drop Location
Select Payment Method
Driver & Vehicle Details (Live Map)
Receipt
ServiceX | Courier Delivery Flow
Users can now book courier delivery using the courier flow in ServiceX. Following these simple steps:
Select Vehicle
Add Package Details
Add Pickup and Drop Locations
Confirm Recipient
Live Tracking
Invoice
ServiceX | Book Services Flow
Users can choose and book services from the list of available services. They can book Plumber, Carpenter, Maid Services, Electrician etc. You can book services in the following ways:
Marketplace Booking

You can allow users to select the service provider based on their ratings, availability and pricing.

OnDemand

The service provider is randomly allotted to you.

Select the service
Select Service Provider
Add Job Location, Payment Method & Scheduling
Service Provider Details/strong>
Realtime Job Status Updatesg
Invoice
Valet booking allows your customers to book a trusted valet to drive them home safely.
You can book rides for kids, you can choose the driver based on their availability and ratings (Marketplace Booking) for multiple shifts
SERVICEX CUSTOMER GRAPHICAL FLOW
QUICK REGISTRATION & START EXPLORING
We've made our registration process easy, so users can quickly start using your customised Gojek clone application. Users have the option of social signups/login.
Users can fill up a simple sign up form and register themselves on the app. Users can additionally login via their social media accounts as well
Live Map View of Uber for X Services
Based on the auto-detected location or a manually entered one, users can view a live map view of all available services professionals near them
On-Demand Vs Marketplace Bookings
If an immediate service is required, users will be assigned the closest provider that matches their service requirements without seeing the provider's profile. Once a provider accepts the booking, the associated profile details are shown.
On-Demand Rate Cards & Services
Services listed on the Gojek clone app have individual rate cards, based on each service. Users can hire professionals by the hour and simultaneously select the exact nature of service required under each category.
Users can quickly schedule the date and time of their required service needed.
Scheduled-based Professional Finder
Once the date & time is fixed, the Gojek clone will start searching for service providers available for the given time slot.
Marketplace Professional-based Services
Users can also opt to view a list of available service providers & their ratings available on demand or available at a later date.
Service Professional Profile
Users can view a detailed profile of each service professional. Each professional profile includes, descriptions, previous job photos, ratings and reviews. In order to improve the trust factor on your custom Gojek clone, professional profiles can also include licenses, registration and other validity-based documents for reference.
Scheduling Professional Service
Once a professional has been finalised, users can schedule him/her immediately, at a fixed date or even on a weekly repeat basis.
Payment Method & Coupon Codes
View the payment breakdown for the requested Uber for X service. Users can choose their preferred payment option ranging from cash, card and in-app wallets. Users can additionally enter any promotional or referral codes they have availed.
View Bookings & In-app Notifications
Once the service has been assigned to a professional, users can view their assigned service provider and service details on your customised Uber for X app. In-app notifications are also sent out accordingly.
gojek clone
Our Gojek clone App is integrated with an in-app tracking module that allows users to track the status of their ride or services requested. Users can additionally live map track their booked Uber for X service professional or driver, as well as send in-app messages.
Live Status Updates & Job Timer
View the status of your Uber for X professional booked or ride service requested. In-app notifications are provided for real-time job or ride status updates.
Our Uber for X Platform lets users track their any of their booking in real-time via the app.
We've integrated an in-app chat platform in our Gojek clone. Users can now chat with their on demand service providers or drivers and inform them of specific details of the job or ride service booked.
Users can update their addresses, payment types, refer friends from their profile sidebar.
Post job completion, users can view a detailed bill regarding the service undertaken and rate their service providers accordingly.
View details regarding the Uber for X service booked or ride service provided and details of the amount collected.
Provide ratings for your on demand service providers or drivers.
( NEW )Taxi & Cargo Delivery Services Integrated
ServiceX has been integrated with ride and courier services software features as well. Users can additionally book rides for themselves or for their friends. Registered drivers performing the pickup & drop service can be tracked through the application or via a unique tracking link that can be shared.
With just a simple tap of the button, users can switch between booking services to selecting their preferred ride service. Users can view a live map view of available drivers near them in real-time or schedule a date and time for the preferred ride service.
Add Address & Passenger Details
Update pickup and drop locations. Users can book a ride for themselves or specify a passenger who will be availing the ride. Users can update their 'dependent' details separately within the app.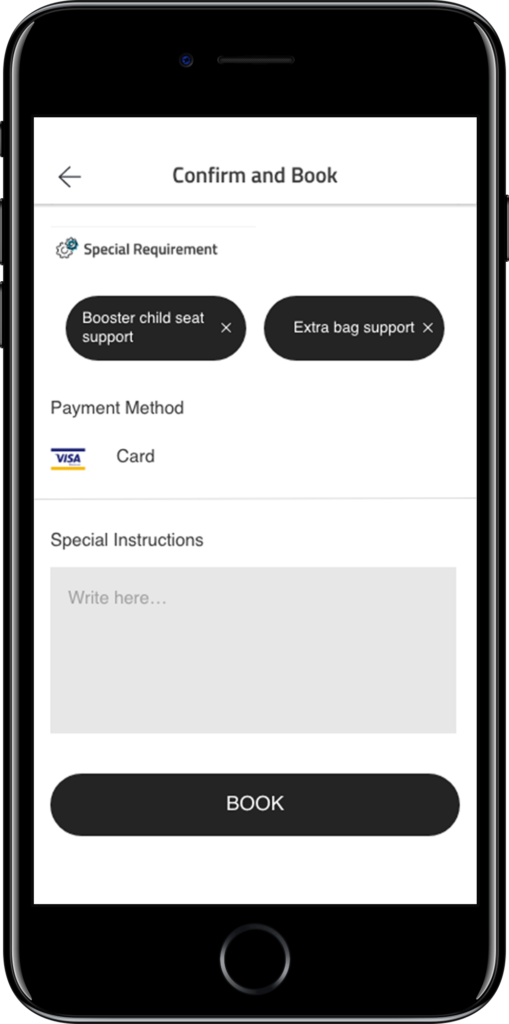 Add Ride Preferences & Payment Details
Specially integrated into our GoJek clone, users can select a variety of driver and ride preferences to improve their comfort levels during the trip. Once decided users can then select their preferred payment methods such as cash, credit/debit card and in-app wallet.
Once accepted users can track their driver in real time. Users can additionally call or chat with their assigned drivers when moving to the pick-up point.
Users can share their trip's live tracking link with friend or family. Participants receiving this link can track the status and journey of the booked ride in real time.
Users can view an invoice of their undergone trip as well as rate their assigned drivers on a number of factors provided on the service booking application.
GOJEK CLONE: RIDES & SERVICES DISPATCHER
Our Gojek clone includes a detailed web dispatcher for the admin or a representative to manage. Manual bookings, job status, Bird's view etc can all be accessed via the dispatcher.
View an overall look of all the ongoing jobs, available & unavailable service providers, battery percentage etc.
Manually assign bookings to providers. Enter details such as service type, on demand or scheduled service, payment methods etc.
View the status of each individual booking & their respective job status.
Book a Ride Like in Uber, Lyft.
Book Uber For Kids like In Zum, Kango
Book Valet Services Like in Oobeo, Vault, Luxe
Book a Courier Like on Lalamove, Porter, Gojek
Book Services Like on Gojek, Airtasker, Thumbtack
SERVICE PROVIDER + DRIVER MANAGEMENT
Manage various on-demand service providers and drivers registering themselves on your custom Gojek clone app.
Setup and manage fares for on-demand services based on cities, service type, vehicle type, distance covered.
Setup various promotion codes, promo campaigns and referral campaigns on your custom Gojek clone platform
TRACK BOOKINGS GOJEK CLONE
View all service bookings and ride bookings in real time as they are being placed on your custom Gojek clone app or Uber for X website.
Complete financial accounting system to keep track of earnings for various service professionals and drivers registered on the Uber for X platform.
Payroll management system integrated into our Uber for X app script, to manage cash & card earning for service providers and drivers with direct payment to their respective bank accounts.
Manage various Uber for X services as well as ride-booking services present on your customized Gojek clone application.
View all service bookings & trips in real time on a map across cities or zones.
Create custom zones for your Uber for X booking service app & website, by drawing polylines on a map and set rates accordingly.
Push messages directly to service providers, drivers and customers directly from the Uber for X admin panel.
Keep a tab on the service providers and drivers registered on the application. Maintain high quality standards using ratings and reviews left by customers.
Setup various service booking and ride booking app commision rates based on zone, service type, fares etc on our customisable Uber for X script.
SERVICEX: CUSTOMIZABLE GOJEK CLONE MULTIPLE SERVICE BOOKING APP SOLUTION FOR BUSINESSES
Inspired by the success of Go-Jek in Southeast Asia and other on-demand services booking apps like Handy, Homeyjoy, Urbanclap etc – ServiceX has been built to provide an 'All-in-One' services booking app and website solution, backed by a robust & scalable software architecture
Our Uber for X clone app can be customized to build a service booking solution for any kind of on-demand service business model or as a replica GoJek clone app solution.
We assure PCI compliance so you will have not legal issues accepting online payments on our Uber for X app script.
Using our proprietary Pre-Built IP solution, we move our ready-made Uber for X platform to your unique on-demand services app, from development to deployment faster than any Uber for X players or developers out there.
Using state of the art app container technology, clean coding practices, Rx programming and microservice architecture – GoTasker is designed to be future-ready for all kinds of Uber for Services.
Multi-Language & Multi-Currency Support
You can now start your unique services booking app or GoJek clone app etc in German, Arabic, Chinese or any language of your choice. We ensure ServiceX can be deployed in any language or region preference.
Increase your unique GoJek clone app user base & overall retention via referrals and promotions features.
SERVICEX: THE PERFECT GOJEK CLONE SERVICE BOOKING SOLUTION FOR ON-DEMAND SERVICE PROVIDERS
ServiceX has been designed to include every on-demand niche within its platform. From food delivery, healthcare, babysitting, tutoring to even taxi-hailing, ServiceX can cater to any on-demand business niche you can think off.
Due to the pre-built nature of our Gojek clone source code, you can kickstart your preferred on-demand business(es) via ServiceX, much faster than hiring an in-house/outsourced development team to build your app, website & backend software, from the ground up. Leave the technology to us. You focus on your business.
Keeping in mind your custom Gojek clone application could potentially have millions of users requesting on-demand services from a variety of service niches, from various cities, at the same time – ServiceX was built with a robust & scalable technology architecture that can seamlessly handle all those requests, without a single hitch.
Taxi & Cargo-Delivery Services Integrated
Inspired by startups looking to create the next big GoJek-like / Dunzo-like / Gett-like clone app, we've integrated ServiceX with an on demand taxi and courier delivery/cargo delivery service module. Users can now additionally book delivery services via the application itself

SERVICEX: CUSTOMIZABLE GOJEK CLONE MULTIPLE SERVICE BOOKING APP SOLUTION FOR BUSINESSES
Inspired by the success of Go-Jek in Southeast Asia and other on-demand services booking apps like Handy, Homeyjoy, Urbanclap etc – ServiceX has been built to provide an 'All-in-One' services booking app and website solution, backed by a robust & scalable software architecture