HEALTHCARE APP DEVELOPMENT FOR ENTREPRENEURS, CLINICS & HOSPITALS
VaidG has been designed to connect customers with healthcare professionals on the digital ecosystem. The customisable healthcare booking app has multi-language and multi-currency support. It has been inspired by top healthcare apps and designed by experts in the healthcare app development domain.
Seamlessly Connecting Customers & Healthcare Services
The VaidG customizable mobile healthcare solution is equipped with the most sought after on-demand healthcare needs in the industry.
Uber For Doctors Graphical Flow
CHOOSING HEALTHCARE SERVICES
Our healthcare app development includes integration of various mHealth-based features inspired by top on-demand healthcare apps. Our customisable mHealth application helps users to select their preferred healthcare service as in mode, location & time.
Preferred Healthcare Mode
---
Users can book a preferred mode of treatment as in Doctor At Home / Visit A Doctor / Tele-Appointments for Telemedicine. They can further narrow down to a particular professional.
Choose A Professional
---
Schedule an appointment with a healthcare professional based on your present ailment. Diverse options are provided as well as provision to add a note.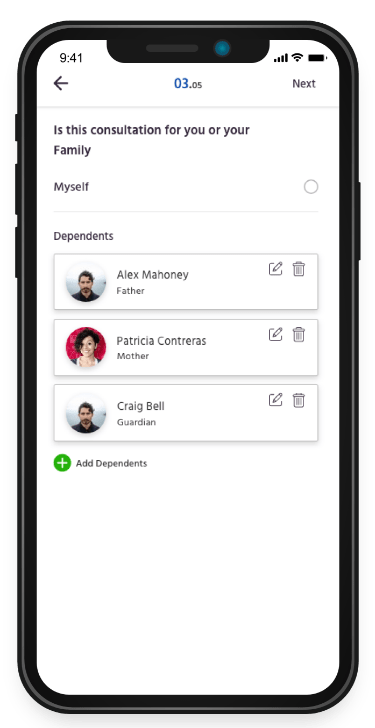 Schedule Consultation
---
Our healthcare software solution lets users schedule appointments for themselves or a dependent.
Include Dependents
---
Include dependents to your account and complete the necessary details.
HEALTHCARE SERVICES BY SPECIALIZATION
Advanced filtering options have been provided during healthcare app development to let your users select a suitable facility based on a variety of factors.
Provide Details
---
From the provided list of symptoms select apt choices and add notes as well.
Details Of Symptoms
---
Provide necessary information on the symptoms and add images as well.
Select A Professional
---
Our on-demand healthcare solution offers advanced filtering option that allows users to select healthcare professionals based on their requirements.
Profile
---
A panel of doctors is displayed with reference to your requirement, opt as per your choice.
Detailed Profile
---
To assist you to decide on a healthcare professional more details are provided such as reviews, ratings, fees, certifications, specialization, etc.
Confirm Appointment
---
A grid view of available time slots for consultation is provided to book with their preferred doctor.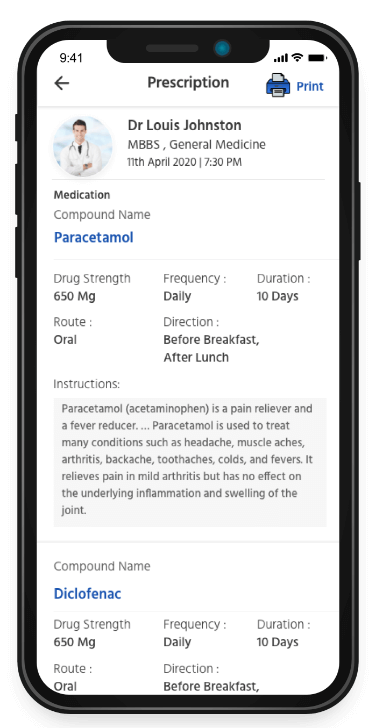 View Prescription
---
The user has the option to either view or print the prescription after the doctor has raised the invoice.
Favorite Doctor
---
Users can save their family doctor / favorite healthcare professional profile for easy access during the appointment process.
PAYMENT & COMMUNICATION
Our customisable healthcare application is efficient to cater to all healthcare needs. Users are equipped with features to track, communicate and share information regarding their healthcare service provider.
Various Payment Modes
---
User can choose a favourite mode of payment with options such as cash, from the wallet or from insurance.
Telemedicine Chat & Media Attachment
---
Doctors can chat with their clients and information can transferred via media attachments such as pictures, scans, prescriptions can be sent.
Video Call Facility
---
Telemedicine consultation with doctors is available via live video facility within the App. The recording is encrypted and stored as per law such that it can be viewed only by the doctor or patient.
Live Track The Doc
---
Users can track the entire process of consultation. The client also has the facility to track the doctor on his way so that both are ready for the appointment.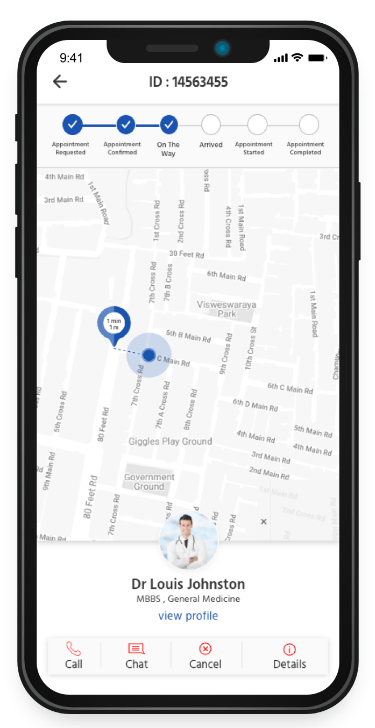 Data Of All Visits
---
User has the data of past, present and open consultations held along with healthcare professionals and invoices raised.
Rating & Receipt
---
Users can rate their experience on various factors. Receipt for the invoice amount is provided.
UBER FOR DOCTORS GRAPHICAL FLOW
CHOOSING HEALTHCARE SERVICES
Our customizable Uber for Doctors application makes it easy for users to select their preferred healthcare service at their own pace, location & tim.
Booking Healthcare Has Never Been Easier!
Users can book their preferred healthcare services with Uber-like efficiency via our intuitive Uber for Doctor's UI.
Few Questions To Get Started
To improve overall user experience, a customizable set of user-related questions are asked. These questions can be customised based on the on-demand healthcare solution required.
Easy Scheduling
Whether its an immediate house call visit, or a scheduled clinic appointment, our healthcare software solution lets users easily schedule their preferred healthcare services.
Confirm Booking Address
In-case of house call doctor visits, users need to specify and confirm their booking address.
---
HEALTHCARE SERVICES BY SPECIALIZATION, LOCATION, TIME SLOTS OR FEES
In order to maximise user experience, we've integrated advanced filtering features to let your users select their 'Uber Doctors' based on a variety of factors.
List View
Users are displayed a list view of healthcare professionals with the option to filter the list based on profession. Individual ratings, availability, avg fees are also displayed to the user.
Live Map VIew
Based on the users location, our Uber for Doctors application provides users a live map view of available health care professionals near them.
Filtered View
For users with specific preferences, our on-demand healthcare solution offers an advanced filtering option that allows users to find healthcare providers based on their exact requirements.
Profile
Once a doctor is selected users are provided with a detailed profile of the doctor to go through before making a booking.
Available Time Slots
Users are also provided with time slot availability for bookings with their preferred doctors.
Certifcations & Reviews
To improve user trust with the service, our on-demand healthcare software solution displays various healthcare-related certifications, ratings and user reviews under each doctor profile.
---
LIVE TRACKING & COMMUNICATION
Our Uber for Doctors application is all about providing an Uber-like efficiency when it comes to booking healthcare services on demand. Users are equipped with features to easily track, communicate and share information pertaining to their booked healthcare service.
Live Tracking & Notifications
VAIDG is equipped with an in-app live tracking features for users to live map track their booked healthcare professionals with in-app notifications sent at each status change. This features is especially useful during house call doctor visits.
Telemedicine - Saving Time & Overhead Costs
We've integrated live video consultations as part of the available healthcare services. This allows Doctors to remotely connect with users thereby saving time and costs for both customers and healthcare providers.
Telemedicine - Chat With Media Attachment
Users can chat with their preferred doctors even during live video consultations. Information as well as media attachments like pictures, scans, prescriptions can be sent between users and Doctors easily.
Reviews
Users are urged to review their booked healthcare providers to maintain high quality standards on your custom Uber for Doctors application.
MHEALTH DEVELOPMENT SERVICE: ADMIN PANEL
HEALTHCARE PROVIDER MANAGEMENT
Manage various on-demand healthcare providers. Accept or reject various professionals registering on your custom developed mobile healthcare app.
FARE SETUP
Setup and manage fares for on-demand healthcare services based on cities, hours or service type.
PROMOTIONS & REFERRALS
Setup and manage promotion codes and referral campaigns on your custom mobile healthcare platform.
TRACK BOOKINGS
View all healthcare service bookings in real time as they are being placed.
ACCOUNTING
Complete financial accounting system to keep track of earnings for various healthcare professionals registered on the app.
PAYROLL
Payroll management system integrated during our healthcare app development process, to manage cash & card earning for service providers with direct payment to their respective bank accounts.
MANAGE SERVICES
Manage various on-demand mHealth service categories present on your customised healthcare application
BIRD'S VIEW
View all bookings & trips in real time on a map across cities or zones.
ZONE MANAGEMENT
We've integrate zone creation & management during our customisable healthcare app. App owners can now create zones on their custom built mHealth application by drawing polylines on a map and setting rates accordingly.
MESSAGING
Push messaging service integrated during our mobile healthcare app development process to allow admins to push messages to service providers and customers directly from the admin panel.
REPORTS & REVIEWS
Keep a tab on the healthcare providers and maintain high quality standards using ratings and reviews left by customers.
COMMISSION SETUP
Setup various app commision rates based on zone, hours, healthcare type, fares etc on your custom built mHealth app.
WHY CHOOSE VAIDG FOR YOUR BUSINESS-TAILORED HEALTHCARE APP DEVELOPMENT?
WIth features inspired from top on-demand healthcare apps like Dr Now, Practo, MeMD, DoctorOnDemand & more – We ensure your custom developed healthcare mobile app would provide a wholesome mobile healthcare solution to users all around the globe.
100% Customizable
Whether it's primarily for clinic visits, house calls, telemedicine or tailored to a particular institution – Our developed healthcare app 100% customizable to be tailored to a variety of on-demand healthcare services business
PCI Compliant
Assured PCI compliance & tokenization so you will have no legal issues accepting in-app purchases on customisable healthcare app
Prebuilt Scripts
Using our proprietary Pre-Built IP solution, we move our customisable VaidG app from institution-tailored development to deployment faster than any other mobile healthcare app developers out there
Scalable & Clean Design
With state of the art app container technology, clean coding practices, microservice architecture, while simultaneously promoting safety & security on the app – VaidG is the on-demand doctor's app & doctors on-demand software solution in the market today.
Multi-Language & Multi-Currency Support
Irrespective of your country, or if your require your developed healthcare app in German, Arabic, Chinese or any language of your choice. We ensure VaidG can be deployed in any language & currency preference.
Referrals, Promotions & Loyalty Programs
Increase your unique healthcare app's user base & overall retention via referrals, promotions & loyalty campaigns features integrated with the VaidG mobile healthcare solution.
SEO Friendly Design
Our mobile healthcare app development service ensures that every tailored healthcare on-demand solution we make, sticks out in both search engines & app stores
App Monitoring & Chatbots
Our on-demand healthcare app development solutions are the only ones in the market to provide app monitoring services with chatbot integration. Ensuring you can get instantaneous performance updates on your tailored doctor on demand solution
Security
Our customisable mobile healthcare app development solutions are not only robust & scalable but extremely secure as well. Keychain, SSL-powered API's, JWT, reverse proxy setup etc ensure that security covers the entire healthcare app to each individual API