LAUNDRY APP DEVELOPMENT FOR ENTREPRENEURS IN LAUNDRY BUSINESS
Our Uber for dry cleaning / Laundry App Development software is perfect for entrepreneurs in the on-demand laundry industry. You can launch an on demand laundry / dry cleaning app with features such as laundry service booking to laundry pickup & drop.
WHY CHOOSE LAUNDRA AS YOUR ON-DEMAND LAUNDRY SOFTWARE?
Laundra has been inspired by industry best on-demand laundry delivery services such as Washio, Zipjet, Cleanly and Rinse app to ensure laundry startups operate efficiently, effectively and profitably.
100% Customizable
Our Laundry App Development software is a complete solution for all requirements in the on demand laundry realm consisting of a dry cleaners app, laundry delivery app & more.
PCI Compliant
We assure PCI compliance so that you will not face any legal issues while accepting online payments on the laundry service app.
Prebuilt Scripts
Using our proprietary Pre-Built IP solution, we move forward your customized on-demand laundry software from development to deployment quicker than any other laundry or dry cleaning software.
Scalable & Clean Design
Using the state of the art app container technology, clean coding practices and microservice architecture – Laundra is designed to be feature rich and advanced for all on-demand laundry needs.
Multi-Language & Multi-Currency
You can launch our Laundry App Development software in any city/country. Laundra can be deployed in any country or language of preference.
Referrals, Promotions & Loyalty Programs
Increase your user base on the on-demand laundry app & overall retention using referrals, promotions & loyalty campaigns.
Explore & Add Various Laundry Services
Our Laundry App Development software allows users to pick from a variety of laundry services that are available and add those multiple categories to their cart.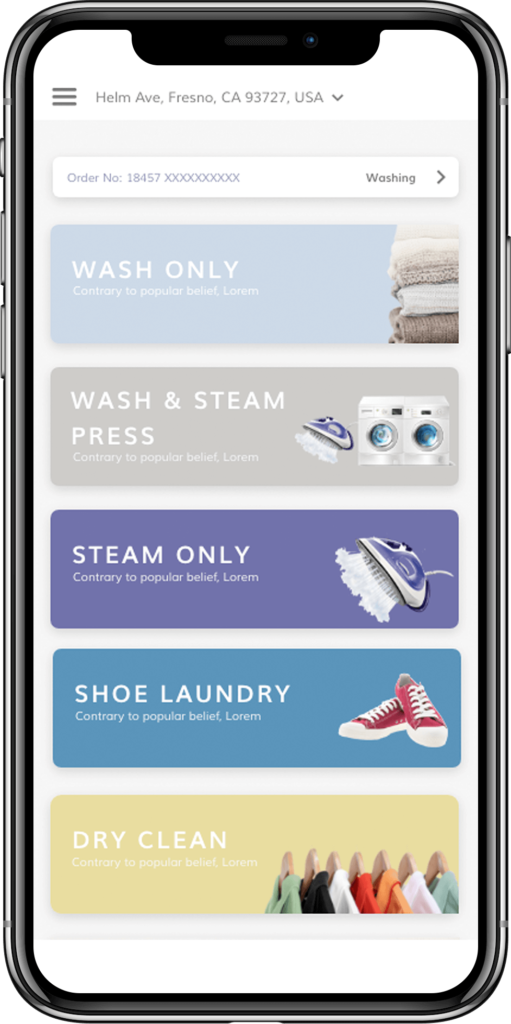 Explore Various On-Demand Laundry Services
Browse to explore various categories of apparels & laundry services that are available.
Enter the number of apparel selected with respect to the service availed on the on demand laundry software.
Payment Options & Card Details
Update the number of items, schedule the laundry service, choose payment options and fill in promo codes.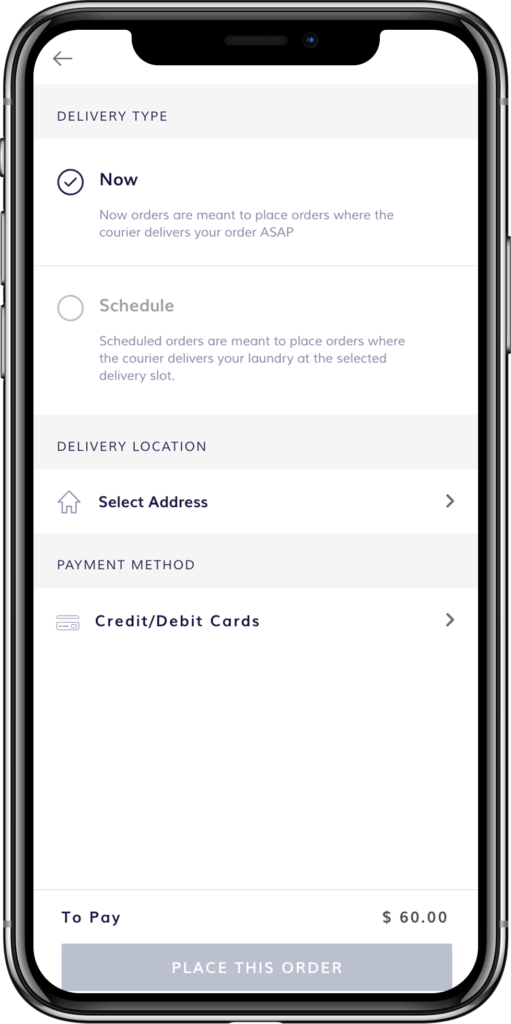 Schedule On-Demand Laundry Service Type
Select your on-demand laundry service type as in express delivery service or regular 24-hour delivery service or schedule the service as per your convenience.
Choose the ideal payment method for your on-demand laundry service and add available promo codes.
View Ongoing & Past Bookings
View and track on-going bookings on your customized Laundry App Development Software.
View details of all the past bookings on your customized on demand laundry app.
Our Laundry App Development app provides tracking & status updates while still giving you all the benefits of the on-demand laundry service it provides.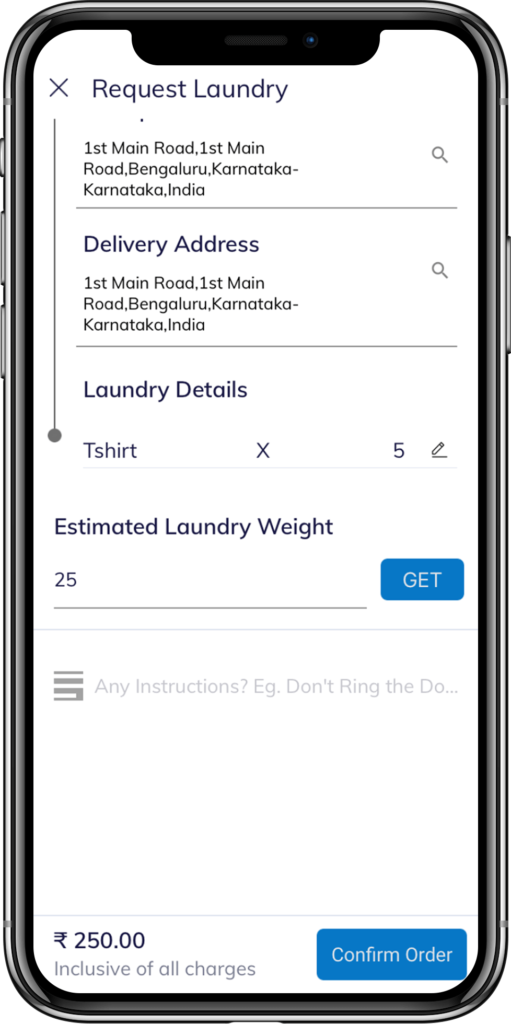 Check details such as verify laundry details, total weight and delivery address while placing your order so that all necessary details are provided.
Using our on-demand laundry software, live tracking is available. Track your Laundry App Development driver live and view the ETA in real-time.
View your invoice after the completion of the work. Then rate both the pickup & delivery of the laundry service provided individually to enhance app performance.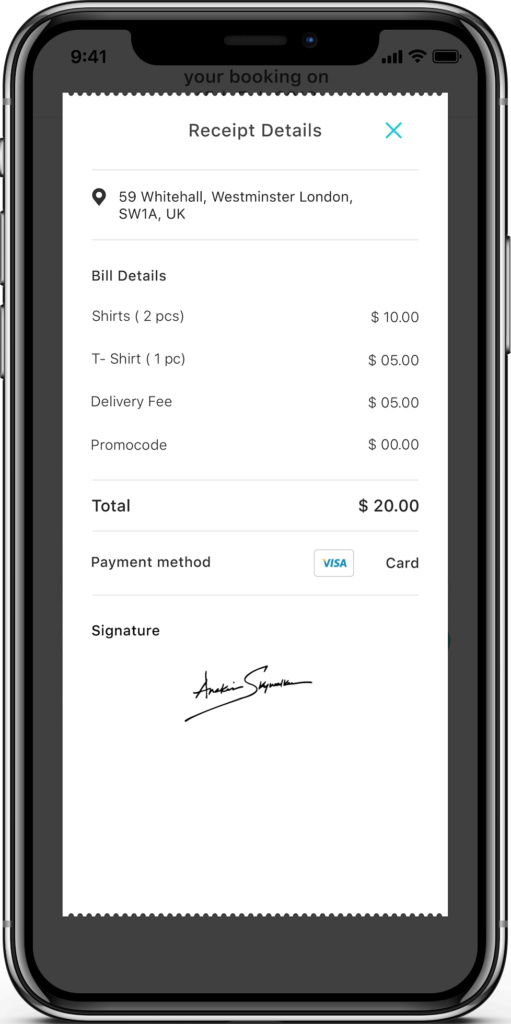 View a detailed invoice the jobs provided to you on the on demand laundry service.
You can rate the launderers and provide feedback as well as reviews on their overall service.
Centralised Control Center

Monitor all trips, manage bookings, offers, routes, and provide live assistance to clients from the centre via the on demand laundry software
Live Data & Alerts

Get notified on each stage & view the status of each laundry app development service, at any time.
Filters & Analytics

Apply filters & view analytics of on demand laundry bookings from various zones.
DRIVER MANAGEMENT
Manage providers, approve / reject drivers who sign up on your app as per your volition
FEE SETUP
Setup and manage the laundry service fees for different cities/zones and various items on the on demand laundry software
PROMOTIONS & REFERRALS
Setup and manage promotion codes and referral campaigns on the on-demand laundry service software.
TRACK BOOKINGS
View all your on-demand laundry bookings in real-time as they are being placed on the App
ACCOUNTING
Total financial accounting system is provided to keep track of the app's earnings and driver commission via laundry app development software
PAYROLL
Payroll management system is provided to manage cash & card earnings of drivers with direct payment to the affiliated driver's bank account
FLEET MANAGEMENT
Manage laundry drivers as independent contractors or as personnel affiliated to other laundry service operators.
GOD'S VIEW
Track the on demand laundry drivers in real-time on the app in various cities/zones on the laundry app development software
ZONE MANAGEMENT
Create zones for your laundry app development software by drawing polylines on a map and set rates
MESSAGING
Push notifications/messages are sent to drivers and customers directly from the admin
Reports & Reviews
Keep a tab on your drivers in the laundry app development software and maintain high fulfillment standards using ratings and reviews.
NOTIFICATIONS
Send out notifications to the registered users on the laundry app