LIVE VIDEO STREAMING SOFTWARE | INDIA'S FIRST INDIGENOUSLY BUILT, LOW LATENCY, HIGHLY SCALABLE (MILLION CONCURRENT USERS) STREAMING APP
Build an app with intuitive UX to help professionals to showcase their talent, reach a broader audience, engage with fans and followers, become popular, and monetize by going Live.
Contains a superset of features from all the popular #livestreaming apps like Tango.me, Nonolive, Bigo among others, which lets you earn online by turning your talent broadcast into a business!
Co-streaming
The Multi-guest feature allows the broadcaster to invite other guests to their broadcast and stay streaming.
Earn Coins
Users can earn coins for their live video performance and convert them into money.
Filters
Users can add beauty, video, and audio effects in real-time to their live videos.
Isometrik SDK
Live streaming enabled by in house developed, feature-rich, completely customizable SDK from Isometrik.
LIVE VIDEO STREAMING SOFTWARE LIKE NEVER BEFORE
What is Live Video Streaming?
Live streaming refers to online streaming media that is simultaneously recorded and broadcasted in real-time. Users interact with the streamers via chat rooms and discuss a variety of topics on social media, video games, professional sports, and participate in live events.
What Are The Features Of The Live Video Streaming Software?
Multi-guest co-streaming option.
Monetize your live-streams
Ability to share the saved stream to social media.
Beauty filters to enhance the streaming experience.
Audio effects to bring out an entertaining live streaming experience.
How can Live Video Streaming Software become a profitable business?
By broadcasting live videos, artists and other streamers are rewarded with digital gifts that their fans buy using virtual currency. With 23 million people live streaming every month and 2 million active users every day, live streaming services earn around $ 40 million each quarter.
THE NEW GENERATION OF LIVE STREAMING
UI FLOW | LIVE VIDEO STREAMING SOFTWARE
Livejet is packed with features to simplify the streaming experience and to make it more interactive. Users can go live, beautify their stream with AR filters and voice change filters, add co-publishers, moderate the broadcast by kicking out misbehaving co-publishers and viewers, remove unsolicited messages sent, and monetize their social community.
User Profile
Viewers
Settings
Friends
Requests
EASY LIVE STREAMING
With our simple UI, users can go live instantly. Followers get informed via push notifications. They can also save a stream for their social feed.
GO MULTI-LIVE | CO-STREAMING | PLAYER KILL
Users can co-stream with another streamer and go live together. They can interact, earn coins, and get increased viewership together. They can also compete and win coins over each other.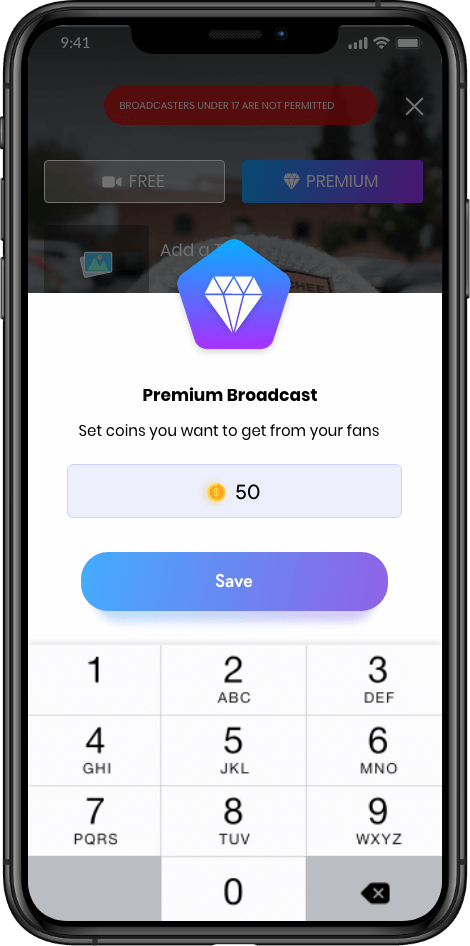 Set Coins
Exclusive Live-Streaming
GROUP CO-STREAM
A host user can add co-streamers on our group streaming feature. They can add up to 6-7 users into single live streaming.
PREMIUM LIVE STREAMING
Users can mark content as exclusive and set a price in terms of the number of coins to be paid to access. A great way for performers to earn money via live video streaming software.
Hide Chat
Mute Other Streamers
Host Control Options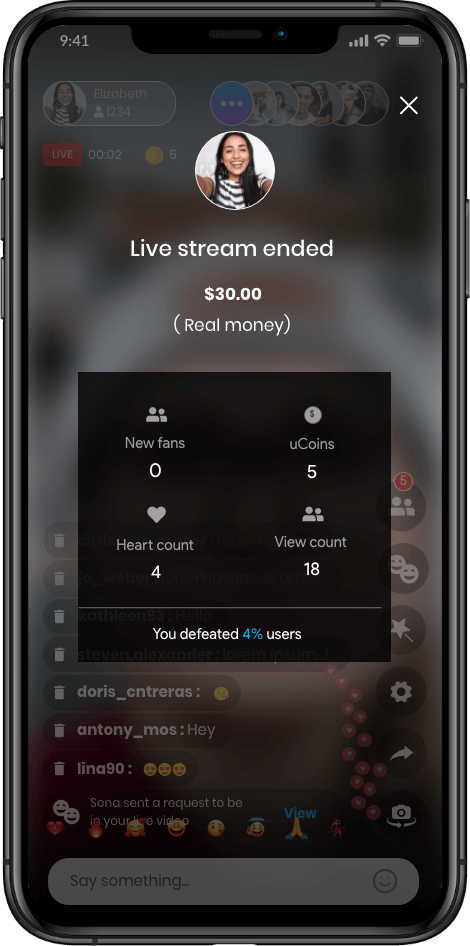 New Viewers
Earned Coins
Converted Money
Total Viewership
TRACK TOP VIEWERS AND GIFTERS
Users can track their earnings and viewership of their top viewers and gifters. They can interact and thank them for their support.
BEAUTY FILTERS TO ENHANCE LIVE STREAMING
Users add beauty filters and video effects in real-time to their live stream. They can add audio effects to enhance the experience on our live video streaming software.
Video Filters
Video Effects
Audio Effects
CO-STREAMING MULTI-LIVE FEATURES | COLLABORATE WITH RENOWNED ARTISTS
The co-streaming feature on our live video streaming software helps users collaborate and create live stream videos. Users can add 6 co-streamers into a single live stream and perform a live video group chat.
Host Profile
Viewers
Individual Live Earnings
MODERATION FEATURES
As a host, the live streamer has control to mute video & audio, hide chat messages, hide control buttons of other streamers. They also can restrict and report faulty viewers if necessary on our live video streaming software.
REQUEST TO JOIN POPULAR LIVE-STREAMERS
Other users can request host live-streamers to collaborate during their live-streaming. The host decides whether to accept or reject the invite.
Chose Co-Streamers
Add New Streamers
Moderation Features
Likes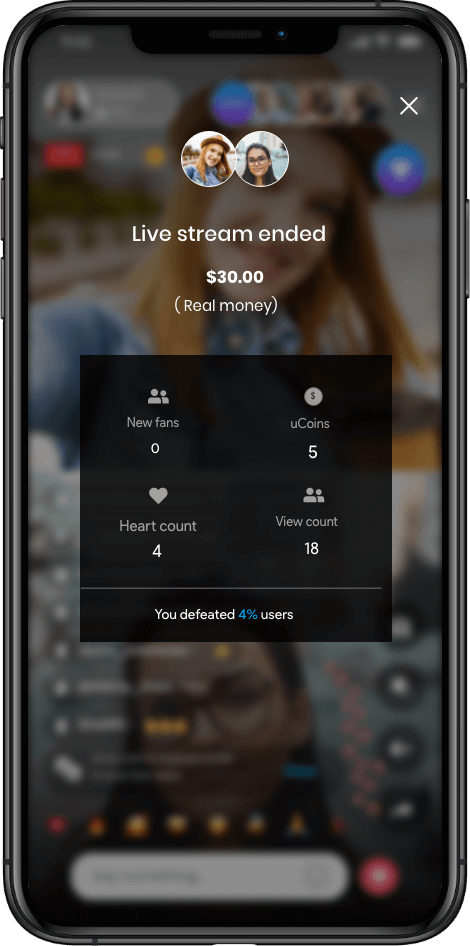 Total Coins
Total Viewership
Total Converted Money
EXPLORE LIVE-STREAMS
Users can search for popular live-streamers and trending broadcasts they like and wish to collaborate.
MONITOR STATISTICS
After ending the live streams users can view the stats of new fans, earned coins, likes, viewer counts, and converted money.
Accept Request
Chose Co-Streamers
Decline Requests
MONETIZATION FEATURES FOR LIVE-STREAMERS
With all the above features users can even earn money from our live video streaming software script. Viewers give them coins and they can convert it to cash. Users can also provide premium paid live video streaming for their exclusive live broadcasts.
Send Emojis
Send Gifts
Send Coins
EARN COINS AND CONVERT TO MONEY
Users can earn coins from their viewers. Viewers send different gifts that value for coins. The earned coins can be withdrawn on the wallet to real money.
UNIQUE LIVEJET WALLET
Our wallet feature ensures the safety of coins and the money earned. Here users can convert coins to money and withdraw using payment gateways.
Easy Withdrawals
All Transactions
Wallet Balance
Previous Transactions
Your Balance
Chose Coin Plans
BUY COINS
Viewers can buy coins to send to broadcasters. They can choose from a list of coin plans and pay them respectively to get coins.
RELIABLE BANKING PROCESS
Users have to add their bank account onto the live video streaming software to withdraw money. They need to specify their banking details and in a jiffy, the bank account adds to the app.
Add Photo ID
Account Holder Details
Add Bank Account
SOCIALIZE WITH VIEWERS THROUGH THE SOCIAL FEED
To further engage the audience we have included social media features into the live video streaming software. Users can create videos and post on their social feed. They can create profiles and publicize themselves.
Likes
Viewership
Chat with Audience
Change Music
MAKE VIDEOS
Users can create videos just like on TikTok or save their live video streams and post on their social feeds.
CREATE ENTERTAINING POSTS
Users can create quality posts by adding background music and effects.
REVENUE MODEL | HOW TO MAKE MONEY ON LIVE VIDEO STREAMING SOFTWARE
Earn Money Via Coins
Users can give virtual gifts that are bought by coins and individual coins to live streamers. App earns a commission every time a user sends these virtual gifts to streamers.
Premium Live Streaming
Performers can make money by marking their content exclusive through our premium live streaming feature. Users can have to pay set coins to access the streaming.
Viewers Buy Coins
Viewers can buy coins to send to broadcasters. They can choose from a list of coin plans and pay them respectively to get coins. The app makes a % commission for each purchase of coins.
In-app Advertisements
Your app earns commission through in-app advertisements by third-party vendors. The commission can be set on the number of clicks or products purchased via referrals.