Shypr is an on demand package delivery software solution. Here is an opportunity for entrepreneurs to launch their movers and packers business with this enterprising package delivery tracking software. This innovative and proven online package delivery software solution is for managing last mile deliveries of shipments.
Shypr: Package Delivery Software
The Uber for Package Delivery is a software solution designed and crafted for entrepreneurs to launch their own package delivery service for hyperlocal delivery at their preferred location.
The 100% customizable, PCI compliant for multi-currency & multi-language support on demand delivery software solution is tailor-made for any region of operation. The Uber for Package Delivery Software Solution with source code, for iOS and Android is a one of its kind & technologically proven package delivery solution that one among the best.
What is Package Delivery App?
The Uber for Package Delivery app serves to deliver packages / couriers / articles that arrive at a local collection center through various means such as road, rail or air. This is then delivered to the addressee with the assistance of a group of delivery personnel. The entire cycle from collection of the package to its delivery is accomplished at the quickest possible time.
What are the features of a Package Delivery App?
Should have an easy And intuitive User Interface, options available for either the shipper or receiver to pay, receiver confirmation before scheduling, easy payment options, and Real-time GPS tracking of delivery.
Shypr – This ideal Package Delivery Software is Robust & Scalable package tracking software solution for entrepreneurs.
This has been inspired by famous courier delivery experts such as DHL Express, FedEx, UPS, Blue Dart, etc. This is a technology backed package delivery dispatch software for shippers and drivers. Our package business software is designed to provide amazing solutions for last mile package/courier delivery. The time from development to deployment is quicker than any other package delivery tracking software in the market.
This package delivery routing software is equipped with features such as:
1) Credit Wallet for shippers to keep track of revenue spent on cash / card.
2) Credit Wallet for drivers to keep track of driver cash collection.
3) This allows shippers to permit the drivers to collect delivery fee and also shipment value. This is very much suited for small merchants wherein drivers collect the charges for the goods shipped. At the end of the day figures are checked and settled.
4) The delivery fee can be paid either by the shipper or the receiver.
5) Shipper has the option to get the receiver's confirmation before shipping the goods.
6) Receivers can confirm the shipment via a link. It can also be paid by adding card details.
7) A link can be sent to the receiver so as to track the delivery.
8) Shippers can track delivery in realtime.
9) There is an accounting system to manage driver pay outs and shipper settlements.
10) Cash / Card accounting integrated.
In addition to these features PCI compliance is assured so that there would be no legal issues to accept online payments on the Shypr. Furthermore, the package software app has multi-language support. Shypr, our package service software is an exemplary solution for package delivery dispatch software in Spanish, Arabic, German, French, etc.
VIEW ACTIVE LOADS ON THE PACKAGE DELIVERY SOFTWARE
Active loads that are awaiting customer confirmation or dispatch is depicted here.
All available vehicles for booking can be viewed on the package delivery management software.
Configure if security code required or not, customer confirmation is necessary & who pays the delivery fee either the shipper or the receiver.
Images and description of the load is included. You can also configure whether the driver has to collect payments for the shipment or not.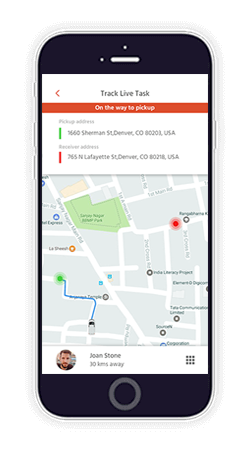 LIVE TRACKING ON THE PACKAGE DELIVERY SOFTWARE
It is possible to have realtime tracking of the driver on route to pick-up loads on the package delivery tracking software.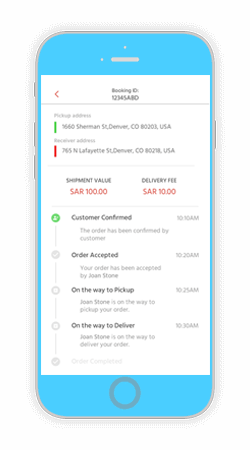 Realtime status updates can be enabled on the package booking software for every order for the driver.
SHIPPER WALLET ON THE PACKAGE DELIVERY SOFTWARE
Online Package Delivery Management software to manage cash / card payments via this shipper wallet.
View all completed loads on the package delivery dispatch software from the booking history page.
INVOICE AND DRIVER RATING
Receive an invoice at the end of the trip. Give ratings and review the driver on the package delivery management software.
The driver app automatically opens on the package delivery management software whenever a new load request is logged.
Swipe to update the status of the job as: I have arrived, vehicle loaded and trip started, vehicle unloaded and invoice raised.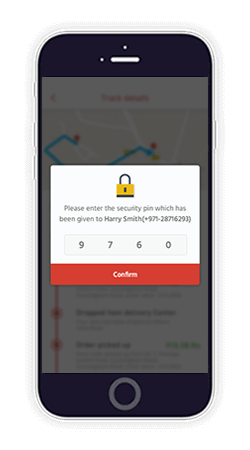 SECURITY SETUP ON THE PACKAGE DELIVERY SOFTWARE
Driver has to enter the security code provided by receiver in the package delivery software.
The receiver puts a signature to confirm the completion of delivery on the Shypr the package delivery tracking software.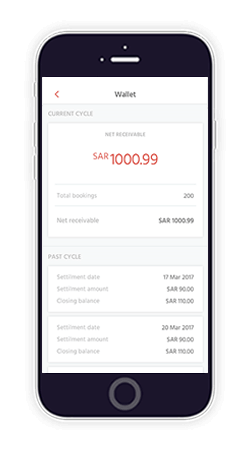 View your current net receivables & past settlements with all details on the Shypr package delivery dispatch software.
WATCH SHYPR, PACKAGE DELIVERY SOFTWARE IN ACTION