BEST SCHOOL BUS TRACKING, ROUTING & FLEET MANAGEMENT SOFTWARE SOLUTION
INNOVATIVE | BUSINESS-READY | 100% CUSTOMISABLE
Track.bus – Our advanced school bus tracking software solution. Don't waste time hiring school bus tracking website developers when you can have our state-of-the-art bus tracking & fleet management solution customized for your educational institution. Inspired by features from top school bus tracking solutions around the world – Track.bus aims to provide a robust, quick to deploy and easy to integrate bus tracking solution.
TRACK.BUS SCHOOL ADMIN DASHBOARD
SCHOOL BUS TRACKING, ROUTE PLANNING, STUDENT & FLEET/DRIVER MANAGEMENT SOFTWARE FOR SCHOOLS
Our school bus tracking developers have crafted an intuitive, easy to use and customisable web dashboard for educational institutions,associated franchises etc to easily manage and track bus routes, stops, drivers, supervisors, students, guardians/parents,weekly schedules & timings, special pickups, real-time bus trips, weekly trip analytics and more.
Intuitive Bus Management Dashboard
We've crafted an intuitive dashboard with analytic features integrated to provide school administrators an overall view of the customised school bus tracking software.
Manage Bus Routes
Add, view or edit the details of each bus route listed such as route type, stops, students etc on the school bus route planning software.
Map View of Each Bus Route
View details of each route on a map including pickup/dropoff points.
Manage Stops
View details for each additional stop listed on the bus route tracking software such as route details, number of students and locations.
Add Stops
Add stops on a map based on the route, school location, students etc.
Bus Fleet Management
View and manage various vehicles/buses listed within the school on the bus fleet management software.
Add New Buses/Vehicles
Add details of new school buses, vehicle images, brand, model, make, and upload other necessary documents.
Manage School Bus Drivers
Edit and view details of various school bus drivers listed on the bus driver management software.
Register New School Bus Drivers
School admins can register new school bus drivers into the bus fleet management software by uploading their details, photos, login credentials, documents etc.
Manage Parents/Guardians
View and manage details of various student parents or guardians associated with the school.
Add Parents/Guardians
Add parents or guardians to be associated with a student along with their appropriate photos and details.
View Supervisors
View details of supervisors in charge of managing a set of buses or for an entire fleet.
Add Supervisors
Designate supervisors on the bus fleet management system to manage a set of buses or the entire fleet for the school.
View & Manage Student Routes & Details
View various details of students registered on the school bus software such as addresses, stops, pickup & drop-off schedules etc.
Register Students
Register students to avail bus transportation facilities by adding their appropriate details and allocating them to a particular bus, route, schedule, and supervisor.
Bus Schedules
View details of various bus schedules registered on the school bus scheduling software.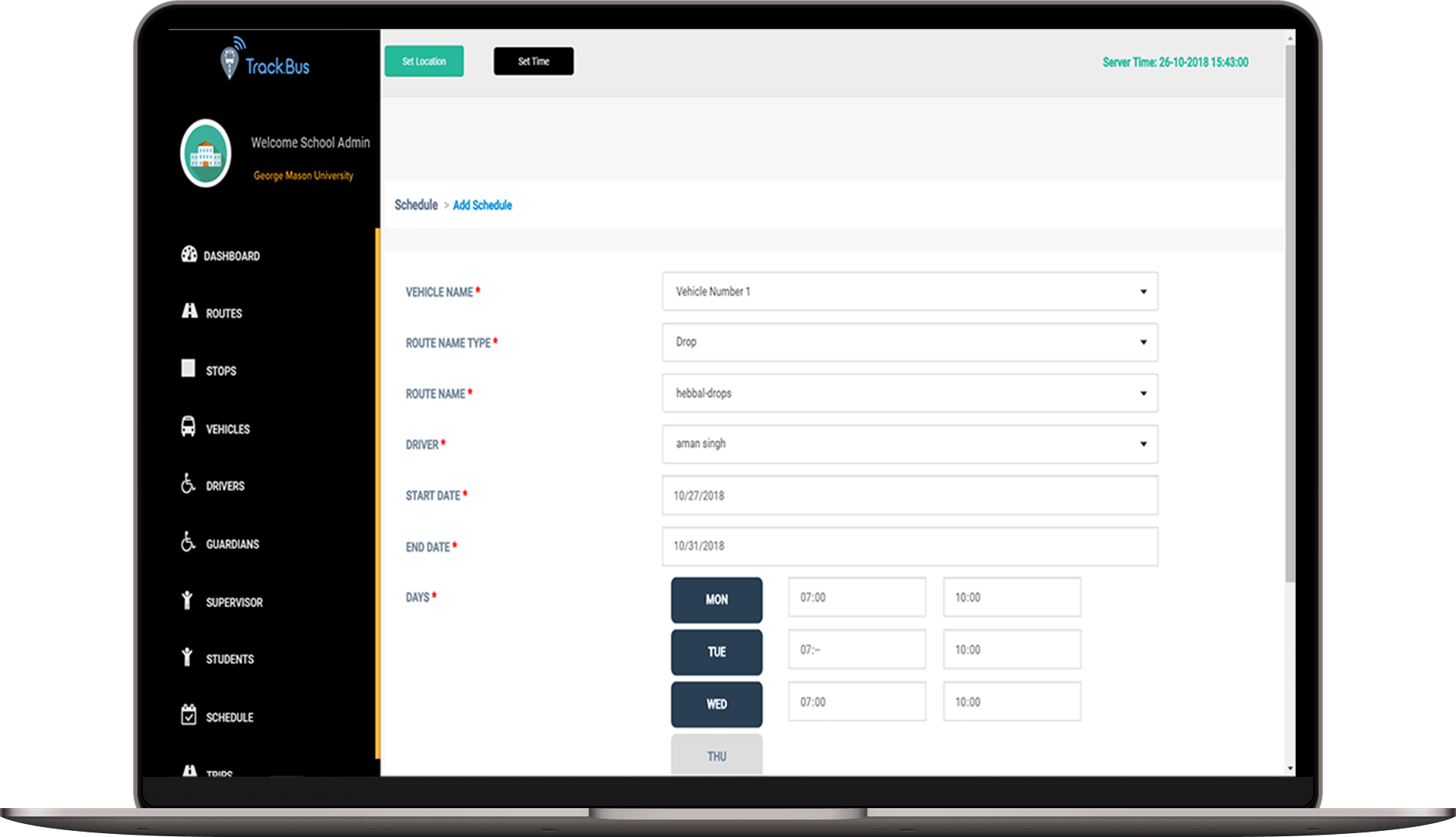 Create New Schedules
Add new bus schedules for the school by adding details such as route types, associated driver, start & end dates etc.
School Bus Trip Details
View details of various ongoing, completed or scheduled bus trips. School bus admins can view details such as the number of used seats, routes, schedules, status, associated drivers, stops and skips to help optimize school bus route efficiency.
Birds View
Live map view of every trip, bus number, driver and stop details in real-time. Admins can view the details of each individual driver as well.
Feedback
Feedback system integrated into the school bus tracking software solution. Feedback between the parent/guardian mobile bus tracking app and the school admin web portal. Parents can raise issues with regards to the bus, trip or driver.
SCHOOL BUS DRIVER APP
School bus routing app for drivers to help registered drivers provide updates regarding students picked up, students dropped off, routes undertaken, stops etc to parents and supervisors directly from the school bus driver app
◇ Bus Driver Trip Status

School bus drivers can mark the status of the bus trip at each stage of the journey. Timer to mark the duration at each stage, integrated as well.
◇ Students Picked Up Status

School bus drivers can take attendance and mark the students picked up at each stop with their appropriate bus seat numbers as well.
◇ Students Dropped Off Status

School bus drivers can mark the students dropped off at each stop.
◇ School Bus Trip Routing

Our school bus routing app also lets bus drivers route to each stop location via Google Maps or Waze with each stop highlighted out.
SCHOOL BUS TRACKING SOFTWARE: TRACK.BUS ADMIN PANEL
Overall Monitoring

Manage School Franchises

Manage School Bus Fleets

Manage Purchasable Business Plans
SCHOOL MANAGEMENT
Manage various schools and school franchises registering on your custom school bus tracking software.
SCHOOL BUS DRIVER MANAGEMENT
Manage all drivers registering on the school bus driver management software from various schools.
SCHOOL BUS
Manage all school buses and associated vehicles registering under each school or 3rd party bus providers, within the school bus fleet management software.
TRACK BUS TRIPS( take Track bookings )
View all school bus trips undertaken, their associated stops and routes under each school on the school bus tracking software.
ACCOUNTING
Complete financial accounting system to keep track of earnings from various schools and franchises registered on your custom school bus management software.
PAYROLL
Payroll management system can be integrated with the school bus management software.. Manage earnings for each driver with direct payment into their respective bank accounts.
PARENT & GUARDIAN MANAGEMENT
Manage various parents and guardians registered by individual school admins from various schools.
STUDENT MANAGEMENT
Manage various students registered by school admins to avail school bus rides.
BIRD'S VIEW
View all ride bookings & trips in real time on a map across cities or manually created zones.
MESSAGING
Push messages to various school admins and supervisors registered on the custom school bus routing software.
PAYMENT GATEWAYS
Integrated with Stripe for quick payment processing on the custom school bus software.
LANGUAGE SETTINGS
Set up the various languages your customized online taxi script will cater to.
LOCATION SETTINGS
Set up location for operations for various buses or school bus fleets registered.
APP CONFIGURATION & UPDATES
Manage app configuration settings and updates for all users who've downloaded the customised school bus tracking app and bus driver app.
PAID SERVICES MANAGEMENT
Dashboard to manage all purchasable bus services plans, referral programs, loyalty programs, promo campaigns etc on the online taxi app management software.
REVIEWS & REPORTS
Manage feedbacks and reviews provided by parents and guardians from various schools.
WEBSITE MANAGEMENT
Manage content for important website details such as FAQ's, About Us, Services etc.
SCHOOL BUS TRACKING APP FOR PARENTS
Easy to use & intuitive school bus tracking app for parents, designed to provide student bus trip updates to parents and associated guardians at all stages during the bus trip.
◇ Parent / Guardian Profile

Parents can set up various details in their school bus tracking app such as basic profile details, children registered, other guardians registered etc.
◇ Realtime Trip Status

Parents can view the trip status details of their child's bus trip. Realtime notifications are provided with each status update.
◇ Live Map Tracking

Parents are provided with a live map view of their child's journey, with each stop mentioned clearly.
◇ Feedback Portal

Parents can raise their concerns on the feedback portal integrated in the school bus tracking app. Feedbacks are handled by the designated school and and supervisor.
WHY CHOOSE TRACK.BUS AS YOUR SCHOOL BUS ROUTE PLANNING & TRACKING SOFTWARE SOLUTION?
Track.bus includes all the top bus software features inspired from solutions all across the globe at lower costs and faster time to market. Based on our proprietary robust and scalable school bus tracking software architecture, Our school bus software development services include:
PCI Compliant
We assure PCI compliance so you will not have legal issues accepting in-app/website purchases with our school bus tracking & route planning software solution.
Prebuilt Scripts
With our proprietary pre-built school bus routing software and bus fleet management software, we move our customizable school bus tracking software from development to deployment faster than the bus tracking software developers out there.
100% Customizable
Our multi-store medical marijuana delivery service software solution is 100% customizable. We've crafted our online cannabis dispensary portal and cannabis delivery driver app to be easily customized and deployed for your business, with the least time to market.
Scalable & Clean Design
With state of the art container technology, clean coding practices, use of microservice architecture while simultaneously integrating safety & security features on the school bus software – Track.bus is one of the most robust and user-friendly school bus tracking software solutions in the market today.
Multi-Language & Multi-Currency Support
Irrespective of your location or language preference, Track.bs can be tailored for any bus tracking solution needed around the globe.
Purchasable Business Plans
To improve the growth of your customized school bus tracking solution, we've included purchasable business plans within the solution to aid in tie-ups with various schools or school franchises.
SEO Friendly Design
All online website and bus tracking apps built using the Track.bus tracking software is designed keeping SEO & ASO practices for apps in mind.
App Monitoring & Chatbots
Our school bus tracking solutions are the only one's market to provide chatbot-integrated app monitoring services. This ensures you have on-demand performance updates for your custom school bus tracking app and website.
Security
The Track.bus routing and tracking software are not only robust & scalable but extremely secure as well. SSL-powered API's, Keychain, JWT, reverse proxy setup etc ensures that security extends all the way from the app to each individual API.
iOS
Native Apps with MVVM architecture via Swift 4 & RxSwift. Declarative coding via ReactiveX enables us to describe complex asynchronous workflows at a high level in a few lines.
Android
Native Apps with MVP clean architecture & RxJava. Perfect for asynchronous data streams. Learn more about the benefits of Rx programming in app development here
Node.js
API's are written in pure Node.JS, following the best clean coding & MVC clean architecture guidelines. We additionally use Node.js for our app performance monitoring services as well.
Scalability
Using Docker for our app containers, you can build, ship & run the app, anywhere. Our app containers are based on shared operating systems and microservice architecture. This makes it much more efficient in terms of system resource utilization and additionally, utilizes the server-worker model for super scale and performance.
Real-Time Functionality
Provided via open source message brokers. Ensuring every function call runs immediately and seamlessly in the app. Perfect for any kind of on-demand service provider.
MongoDB
Distributed database with high availability, horizontal scaling, and geographic distribution that is built in and easy to use. This ensures the application can handle large user volumes during userbase growth.
Angular 5
Used for our admin panel. Angular 5 allows us to build state of the art progressive web applications. Using the build optimizer tool, we can reduce the size of our javascript code as well as remove any unnecessary parts or run time code - This makes our application lighter and faster as well.
Security
Most secure app infrastructure in the market where security extends from the mobile app to the API's. Use of keychain in the iOS to store all credentials, SSL powered API's, use of JWT for the API's, reverse proxy setup on the load balancer, proguard on Android etc.
Support
Using our proprietary Node.js Application Performance Monitoring(APM) service, you can can easily monitor your app as well as detect and react to potential issues beforehand. By monitoring the app on a service/host/instance level - Our APM services ensure that your app is always on the top of its game.
Analytics
We've integrated our APM features with a Slack bot. You and your team can receive immediate updates on the status of the application, at any given time. You can additionally request the Slack bot to give you app performance updates.
Best DevOp Practices
We ensure that the app is completely functional at the end of the day with each milestone depvered to you as quickly as possible and clear communication between you and our team. We implement Jira for project management, Bitbucket for version control, Slack for monitoring and communication, Skype for conferences and quick chats, Scrum board/Sprints for task management and Crashyltics/Fabric.io for bug reporting etc.
ReactJS
Javascript library that combines uses new ways of rendering webpages combined with speed of Javascript. Using ReactJS, developers can re-use code easily making apps easier to develop & maintain. Additionally, the Virtual DOM in ReactJS makes user experience better and the developer's work faster.
For School Administrators
School admin adds students & parents
School admin adds vehicles/buses
School admin creates routes & stops for vehicles
School admin assigns students to routes
School admin creates daily/weekly schedules
Parents login to bus tracking app
Parents can view details of each assigned vehicle, route and stops
Parents can live track their child's trip
Parents are provided push notifications on each stop
Parents can skip a child's trip for a day
Parents can assign app access to guardians