Yelo! – Buy & sell used products quickly, safely and locally on our Letgo Clone , OfferUp Clone , Wish Local Clone , Shpock Clone. Start selling your used stuff today!
Yelo!, our OfferUp Clone Script / Letgo Clone Script for iOS and Android is one of the best used-goods marketplace app out there. Since the OfferUp Source Code uses state of the art technologies like NodeJS, GraphDB, MongoDB, Socket.IO in its core, it is highly scalable, secure, and fully customizable.
Furthermore, we have added an extra zing on our OfferUp App by adding a social element. So, you can now follow your favorite sellers and get informed whenever they post a new product. Offer , Chat , Negotiate , Meet and Buy on our OfferUp Clone Script or LetGo Clone Script for iOS and Android.
Therefore, Yelo! is your answer if you need an OfferUp Clone / WishLocal Clone / Letgo Clone/ Schpock Clone.
EXPLORE
Browse through the list of popular and featured products around you or look for something specific with filters and search.
DISCOVER PEOPLE
Find your friends from facebook or phone contacts on Yelo!, follow them, explore their profiles, and receive real time updates when they post an ad.
CENTRAL NEWSFEED
Follow sellers. Check out product posts in your newsfeed from the sellers you follow. Like, share, add a review for a product or initiate a chat on any product.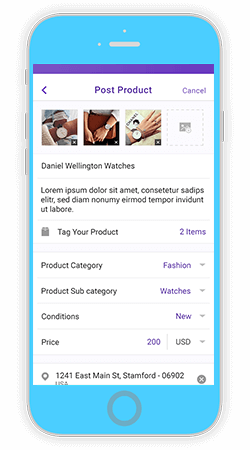 POST AN AD
Post new products with multiple images and product details. Add hashtags for easy product search.
PROMOTED POSTS
   Promote your posts to show up at the top position on people's newsfeed. Buy from the different "pay per x number of clicks" packages available.
MAKE AN OFFER & CHAT
Propose a counter price for a product and initiate a chat with the seller. Exchange offers, text messages, images and location.
PRODUCT DETAILS
View images, description, price of the product and location of the seller for each product. Add a review, share the product or make an offer.
FILTERS
Filter posts based on location, category and distance. Sort the posts on different parameters.
KNOW YOUR FOLLOWERS
   Manage and view all your followers under one roof, and follow them back.
INSIGHTS
Analyze product views, clicks, wishlists, reviews and offers for various demographics in realtime.
SIGN IN/ REGISTER
Register or sign in with Social media accounts like Facebook and Google+ or simply with an email address and password.
PROFILE
Manage user details, and products- Favorites, Currently Selling and Sold.
User Management
Manage user profiles on the app.
Category Management 
Setup and manage categories and sub categories for the advertisements that are used while posting.
Manage Posts
View and manage posts, keep track of all offers made for each product and who the final buyer was.
Super Admin Panel
Panel with all settings, everything on the app can be managed from this section.
Reported Users
View and manage reported users.
Analytics
Keep track of the number of clicks on different posts and user metrics.
Manage Reported Posts
View and manage reported posts.
Push Notifications
Message customers directly using push notifications.
WATCH OFFERUP CLONE IN ACTION
Socket io
Realtime Application Framework
BENGALURU (INDIA)
#54, R.B.I.Colony, Anandnagar,
Bengaluru, India, 560024.
US No. @ +1-415-813-5833
India No. @ +91-9902019342
Skype @ appscrip
Whatsapp : +91-9902019342
Email @ dreamer@appscrip.com
ATLANTA(USA)
8530 Colonial Place,
Duluth, GA, 30097, USA.
US No. @ +1-415-813-5833
Skype @ appscrip
Whatsapp : +91-9902019342
Email @ dreamer@appscrip.com