Swiggy Clone – Innovative Food Delivery Management Software
Our experience and expertise in the App development domain has culminated in the design and development of a comprehensive set of on-demand delivery mobile app solutions. These are technologically proven and commercially feasible products. The latest from our stable Swiggy clone will lead entrepreneurs looking for success in the food delivery realm to garner Unicorn status through their efforts.
Swiggy Clone – Food Delivery Software For Your Delivery Startup
Our Swiggy clone for iOS and Android is a robust and innovative solution for hyperlocal food delivery. This software solution has been inspired from the top food delivery swiggy app. It has all the features of swiggy to provide a seamless experience for all entities involved.
The Swiggy clone app is a powerful food delivery solution especially for entrepreneurs looking to start a food delivery venture in a given target market or group. Swiggy clone script comes from a prebuilt solution that can be customized based on your requirements.
What is a Swiggy Clone?
Swiggy is the best online food ordering system which offers attractive features to customer and restaurants. A Swiggy clone has all the features of Swiggy. Plus it is 100% customisable so you can add your own flavor to its existing features. Because it is pre-built it can be launched in as short time as possible.
What is a Swiggy Clone Script ?
Swiggy clone script is a source code that generates the perfect food delivery app based on the popular food delivery business model Swiggy. The Swiggy clone script can be modified by including other innovative and newer features to the source code.

CUSTOMER APP | THE AMAZING DELIVERY SOLUTION
The Swiggy clone script is designed as an Online Food Ordering System explicitly for businesses into local deliveries. The UI has been created to provide a seamless online food delivery dispatch system inspired by top apps such as Doordash, Swiggy, GrubHub & others. Functionalities such as Search & Filtering & live tracking will make it possible for users to order food from their favourite restaurants with ease
Jump To - Customer Details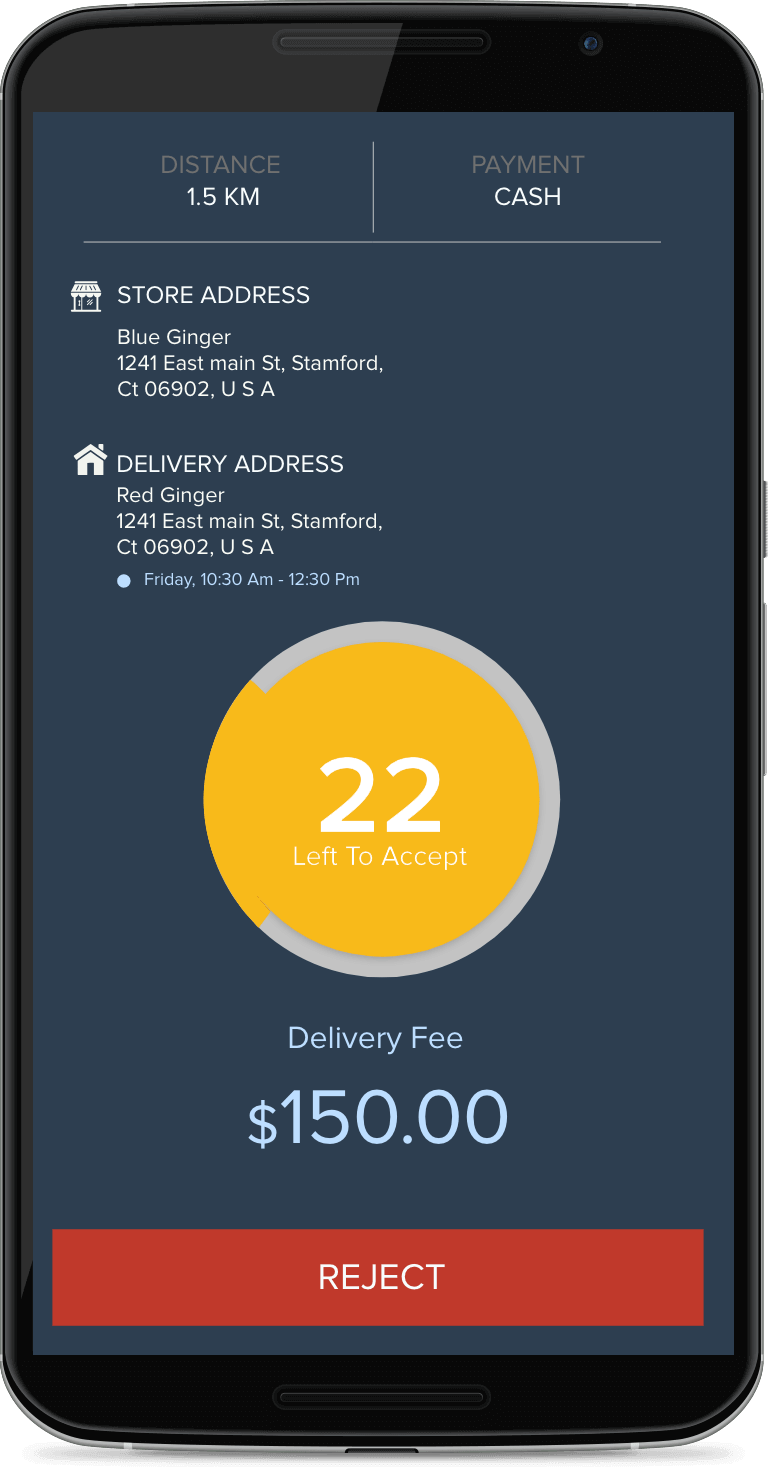 DRIVER DELIVERY APP | MAKING FOOD DELIVERY EFFICIENT
The delivery agent app ensures that restaurant delivery agents can easily on-board themselves on the application and can start receiving delivery requests without delay. The features that make up the driver agent app include in-app chat, immediate job status updates, analytics & earnings reports.
STORE OWNER APP | EFFECTIVE ORDER MANAGEMENT
Our software solution is designed for mobiles & PC's. The store app provides store owners / Admins an easy-to-comprehend and intuitive dashboard to manage all orders that is placed on the customer app. These orders can be either assigned to delivery agents manually or to another agent as per protocol.
RESTAURANT DISPATCHER | FRANCHISEE & RESTAURANT ORDER OVERVIEW
This has been designed for restaurant dispatch personnel to manage orders that get placed on the customer app / website. Dispatchers have the provision to view all active orders being placed in real-time on the app. The orders are assigned automatically or the dispatcher can manually assign them. Dispatcher has editing option too.
CENTRAL DISPATCHER | OVERALL RESTAURANT VIEW & ORDERS OVERVIEW
Central dispatcher is set up on the backend and has access to the web central dispatcher. This makes it possible for them to have an overview of all active restaurants and orders in real-time. Central dispatchers also have to option to either auto/manually assign orders to delivery agents on this software solution
WEB ADMIN PANEL | OVERALL CONTROL & ACCESS
App owners and assigned representatives can use the admin panel to setup and configure cities, zones, pricings, stores, franchises etc on the web admin panel of the food delivery dispatch software solution.
SWIGGY CLONE SCRIPT – RESTAURANT FOOD DELIVERY SYSTEM
Inspired by the success of food delivery and other online food delivery software solutions, Swiggy clone has been designed so that customers enjoy a feature-rich and seamless food ordering system experience.
SWIGGY CLONE SCRIPT | FOOD DELIVERY APP GRAPHICAL FLOW
Your personalized food delivery software will enable customers to order food from nearby favourite restaurants. Restaurants available on the Swiggy clone script can be integrated from the back-end delivery software.
Innovative Home Screen
---
The home screen is intuitive and innovative so as to make the user comfortable to utilize it. Images of restaurants in the vicinity will encourage them to order from the app.
Explore Nearby Restaurants
---
Browse through an array of restaurants in your vicinity. The source code offers a gamut of food delivery options creating a delightful experience for users
Menus Of Restaurants
---
Comprehensive menus of restaurants along with pricing details offer convenience to the user. In depth descriptions on various aspects helps to order food.
Add-Ons Available
---
The provision to include add-ons is available. A list of add-ons in the Swiggy clone offers more choice in terms of food customization.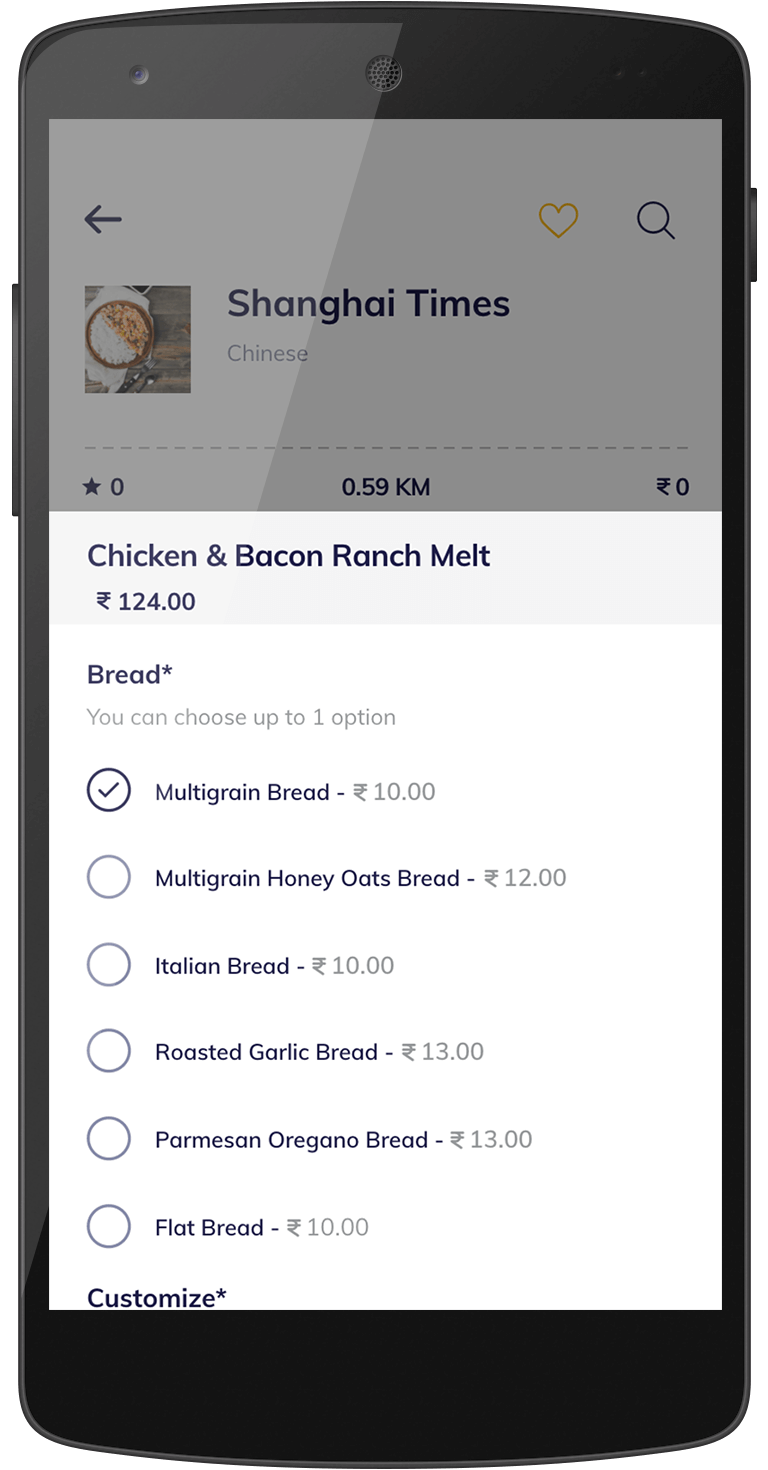 RESTAURANTS DELIVERY SOLUTION
Swiggy Clone Food Ordering System has umpteen features for each and every user. We keep updating our software and integrate amazing features on a regular basis. The Swiggy clone is an outcome of building a software solution that is customer-centric.
Food Order Details
---
This on-demand food delivery app solution features a detailed list of food for users to peruse. They can checkout and pay for orders right here too.
Scheduling & Pickup Options
---
The Swiggy clone gives user's the option to either pick-up the food or opt for delivery through an agent. They can schedule the delivery or pickup as per their desire.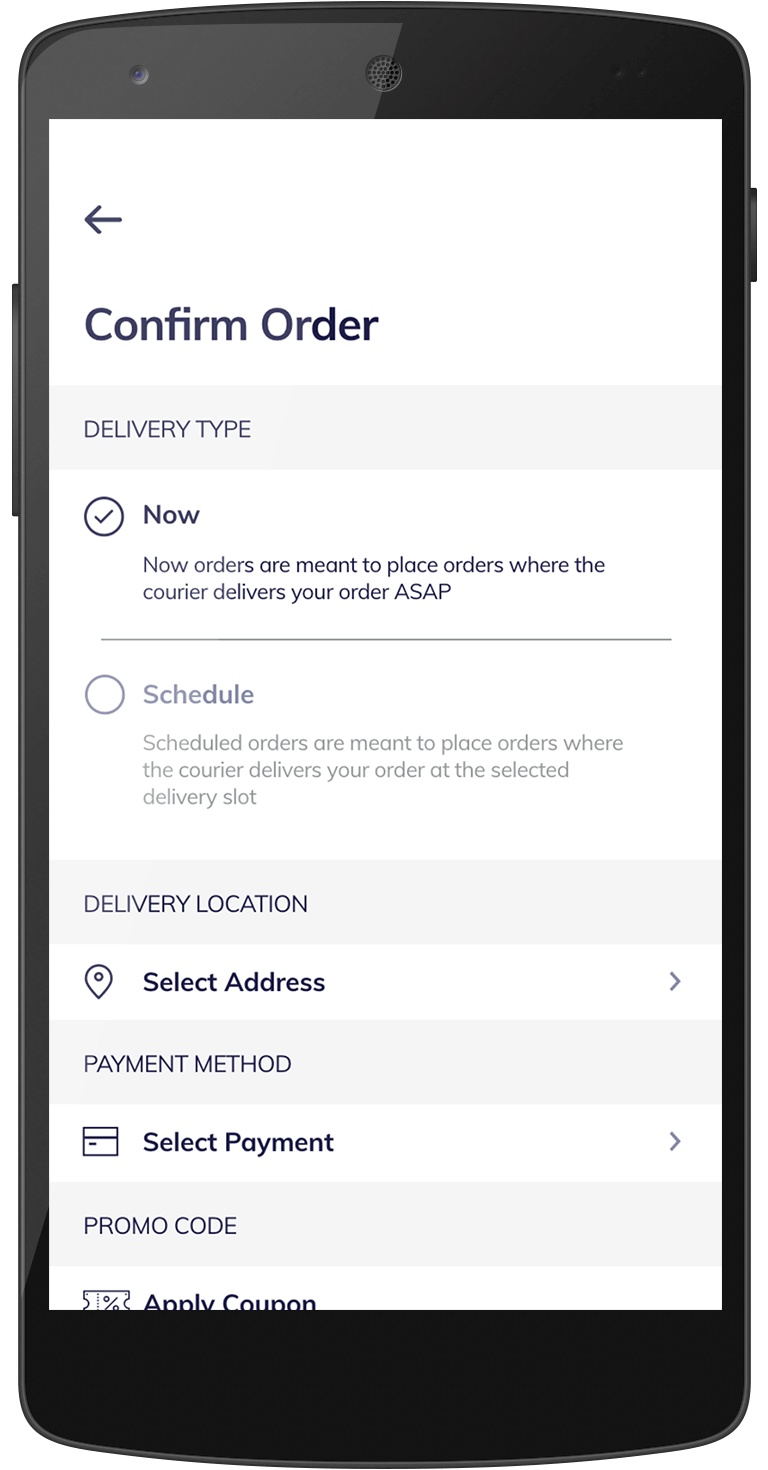 Payment Options
---
The payment can be made via cash, debit / credit cards or in-built wallet.
In-Built Wallet | Swiggy Clone
---
In built wallet is available to process payments. User can also use other options. Several payment options will bring in all types of users.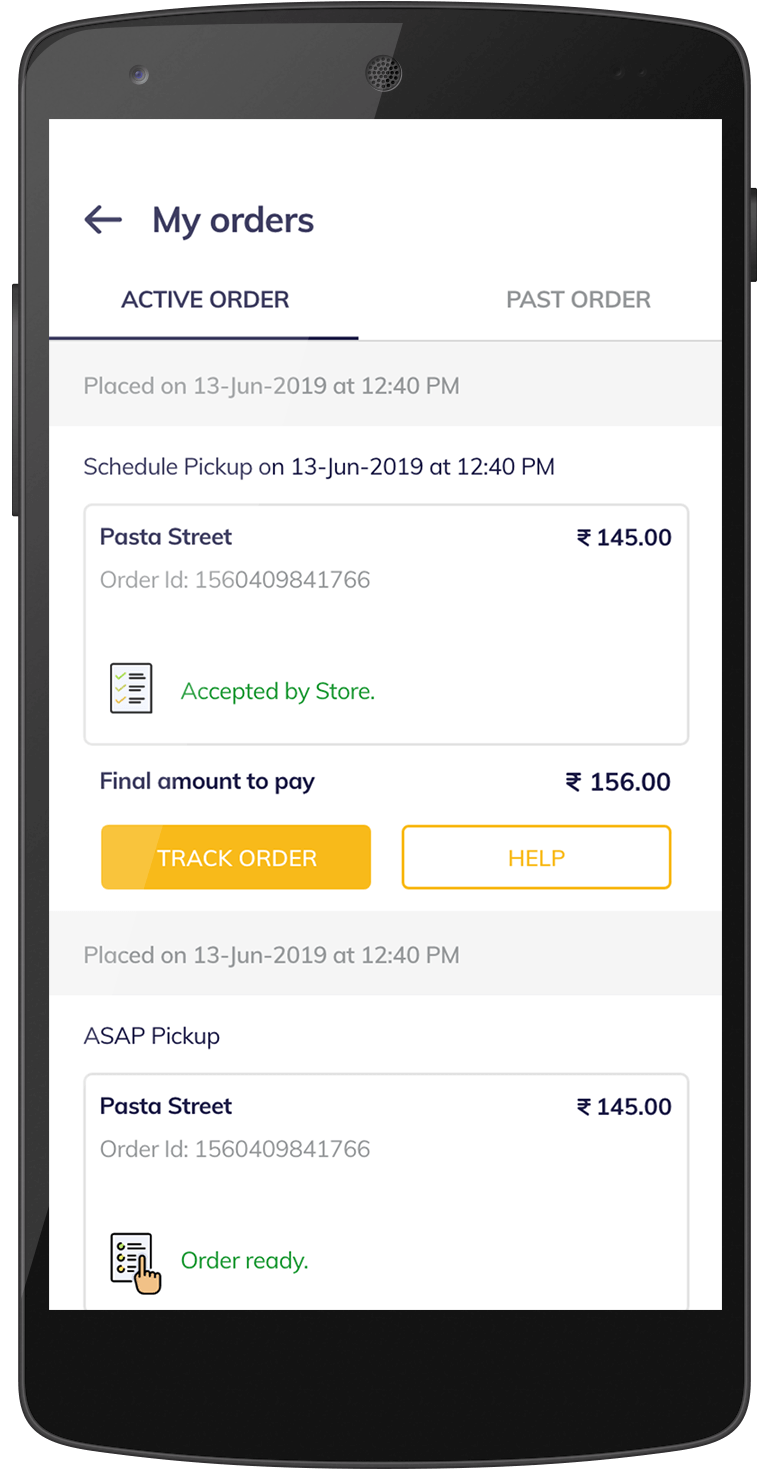 Active & Past Orders
---
View all active orders in real-time and track them. A list of previous orders can also be viewed.
Job Status & Support
---
View the status of all active bookings in real-time. In-app notifications are generated for each status update. Easy support ticket-raising is also integrated in the Swiggy clone.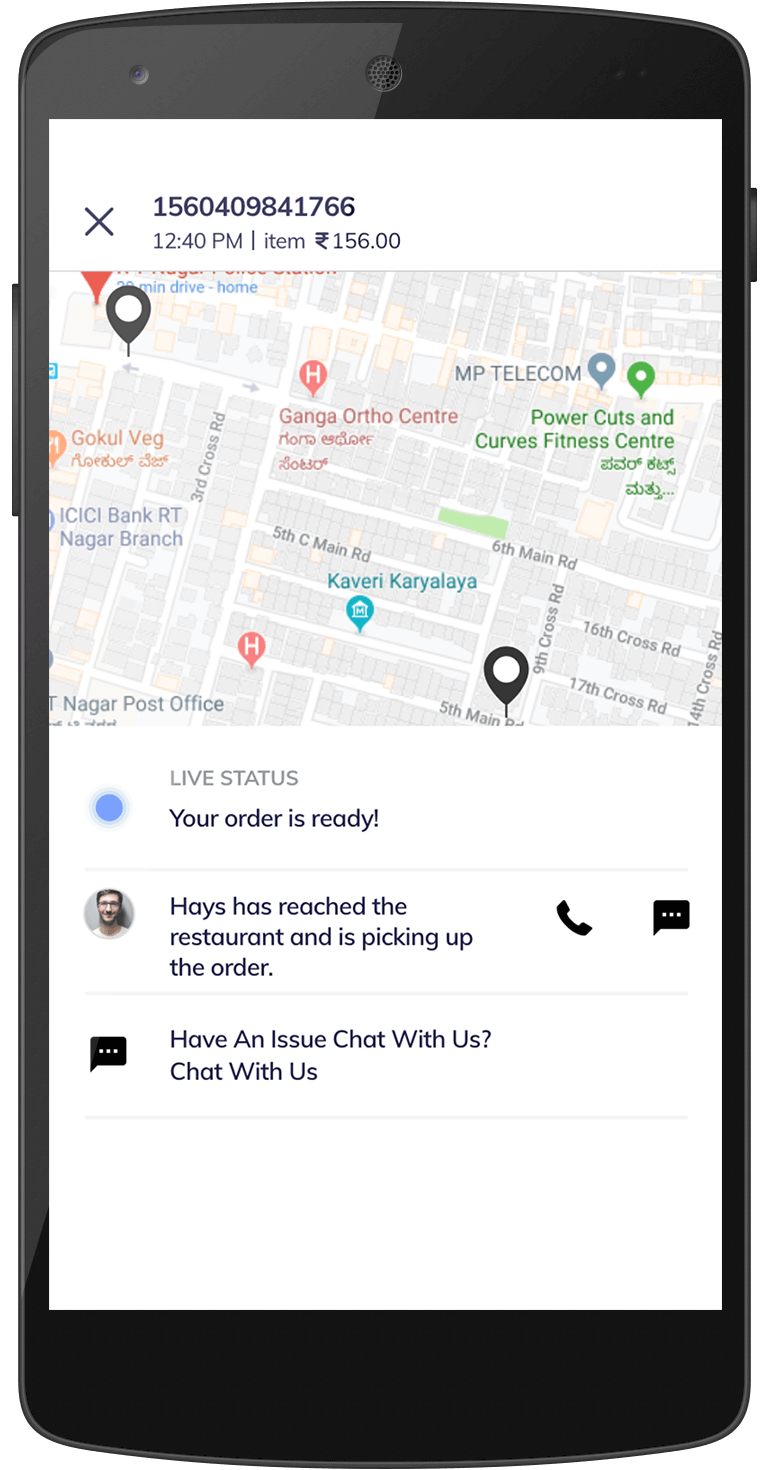 Invoicing
---
A detailed invoice is provided to customers for each order.
Rating & Feedback
---
Users can rate the delivery service of each restaurant order. This will enhance quality and will assist other customers to choose restaurants based on the feedback / rating provided.
Profile Sidebar
---
The Swiggy clone delivery software solution comes with a detailed profile section. Users can update account details, addresses, view on-going offers or discounts on several restaurants.
Referrals
---
Referrals and other promo campaigns can be set-up in the backend of the food delivery business software. Referral programs enhance user-base of each food delivery business.
SWIGGY CLONE – GRUBDASH RESTAURANT FOOD DELIVERY SYSTEM
Inspired by the success of SWIGGY ,and other online food delivery software solutions – GrubDash has been designed to provide your customers a feature-rich and seamless food ordering system experience.
Attractive Opening Screen
Dazzle the user with a rich display of the opening screen. A snapshot of restaurants nearby gives them an idea of what to expect from the app.
Explore Various Restaurants
Browse from a tempting array of restaurants from around the area. The SWIGGY clone offers variety in food delivery making it a delightful experience for the user
Peruse Through The Menu
Provide comprehensive menu of the restaurant. Pricing details make it convenient for the user to decide. Vivid descriptions of the food make it all the more compelling to order.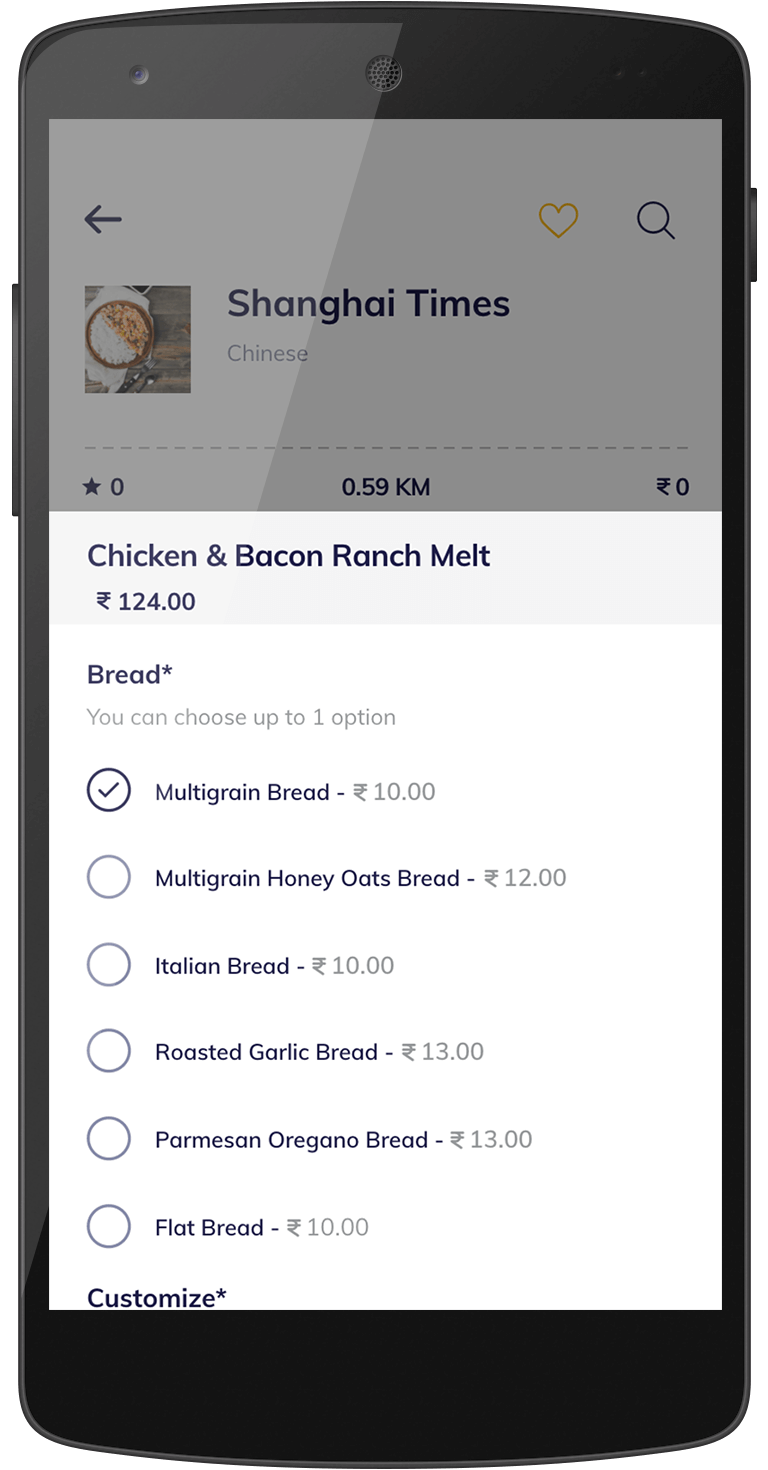 Provide Add-Ons to the Dish
Allow additions to the food item by providing a list of add-ons. The SWIGGY clone gives more choice to the customers in terms of food customization.
RESTAURANT DELIVERY SERVICE SOLUTION
GrubDash Online Food Ordering System is loaded with useful features, each one with its own useful purpose. We listen to our users and integrate their feature requests on a regular basis. This sWIGGY clone is not only built by us, but also by our users, making it completely user-centric.
Food Cart Details
The on demand delivery app development features a detailed listing of the food of the users choice. They can checkout and pay for the food here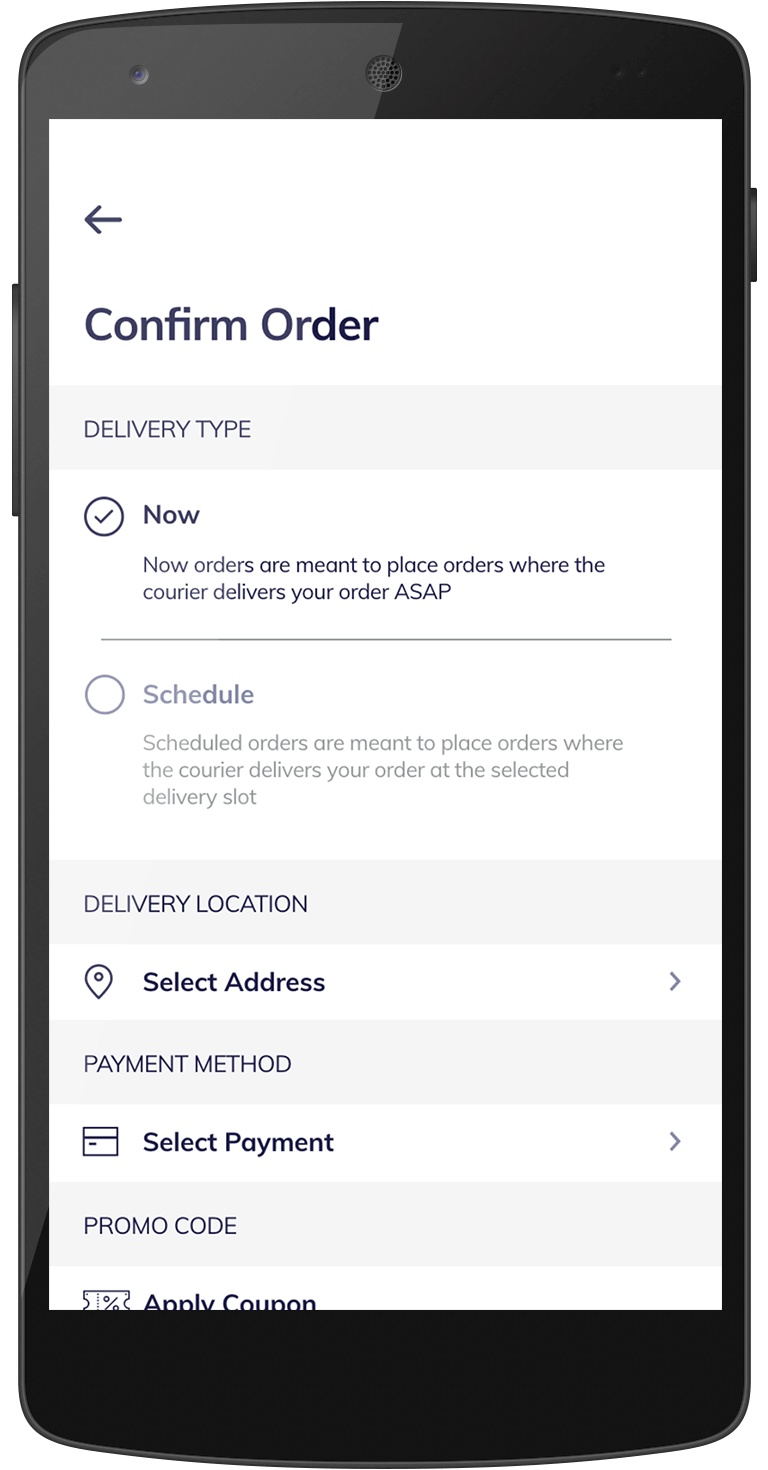 Scheduling & Pickup Options
The sWIGGY clone gives users the options to either pickup the food themselves, or have a delivery agent delivery it. Provision to schedule the delivery or pickup is also provided.
Flexible Payment Options For Delivery
From paying through cash, various debit or credit cards to in-built wallet.
In-Built Wallet | sWIGGY Clone
Build digital version of a real-life wallet. Used instead of debit cards, credit cards or money.Provides more choice for customers to make payments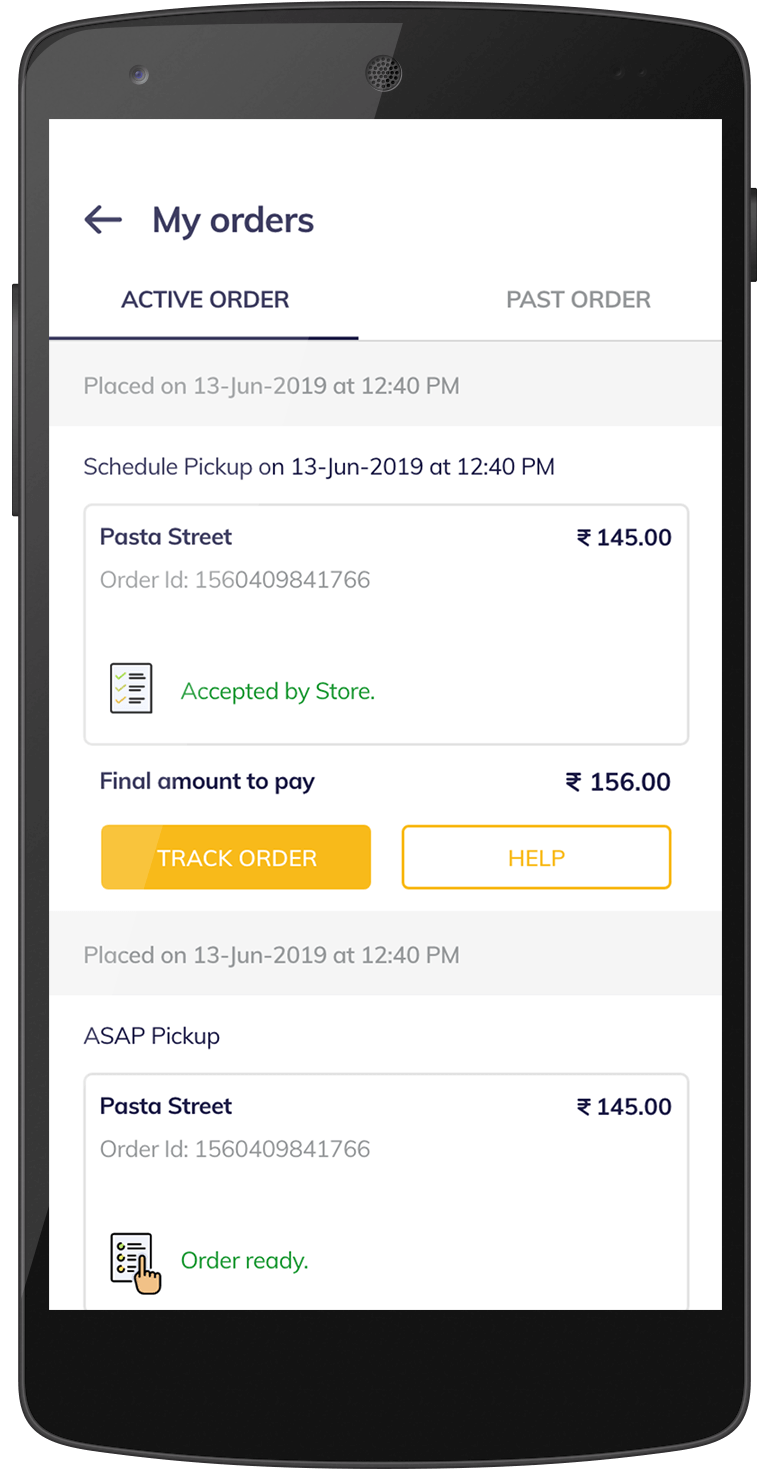 Active & Past Orders
View all active orders and track them in real time. View a list of previous orders as well.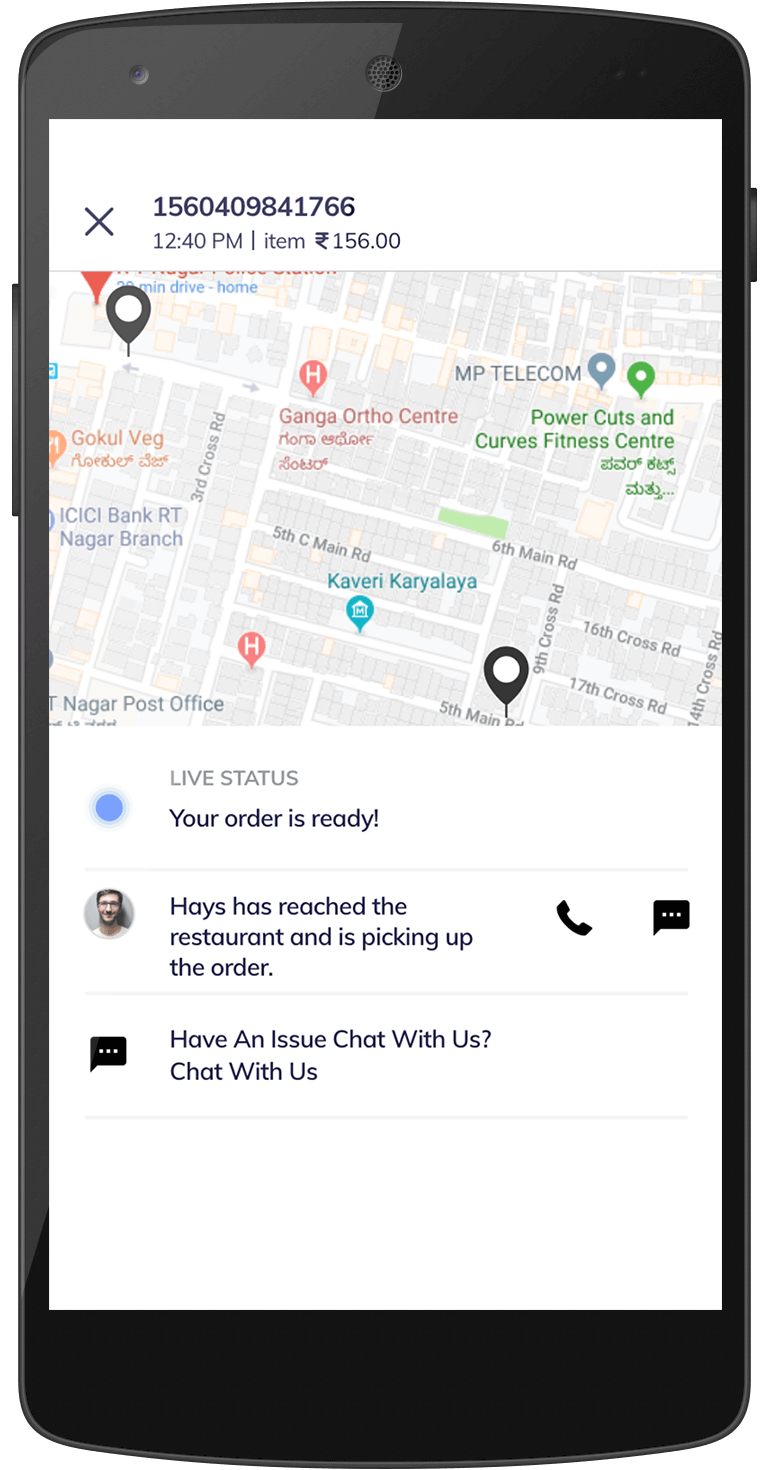 Real-Time Job Status & Support
View the status of any active booking in real-time. In-app notifications are provided with each status update. Easy support ticket raising, also integrated in our sWIGGY clone app.
Invoicing on the sWIGGY Clone
Provide detailed invoice to the customer for his food dispatch
Rating & Feedback
Rate your restaurant delivery service for each order. This helps other customers to choose restaurants and decide based on the feedback ratings
Profile Sidebar
Our customizable online food delivery software app comes with a detailed profile section. Users cab update account details, addresses, view ongoing offers or discounts on restaurants
Referrals
Referral program integrated to increase the userbase of your food delivery service business. Referral and other promo campaigns can be set up on the backend food delivery business software.
DELIVERY MANAGEMENT SOFTWARE: DELIVERY AGENT APP
Our delivery service software development includes an easy-to-use delivery agent app for delivery agents to view and accept live job requests, track to various pickup and drop off locations, edit orders, view earnings and more. Various individual store delivery agents or your own delivery service agents can be integrated via the backend delivery business software.
View Status of Delivery Jobs Nearby
---
Delivery agents can view the status of supermarket or restaurant delivery jobs available near them. If an agent is unavailable to receive job requests, they can switch their status from 'Online' to 'Offline' by simply clicking the associated button.
Live Delivery Job Alerts
---
Delivery agents can receive live job sent by the store app or dispatcher software. Delivery agents can view details of each job such as type of job, payment method etc before choosing to accept it or pass it on. Agents can also be manually assigned delivery jobs via the backed delivery dispatch software.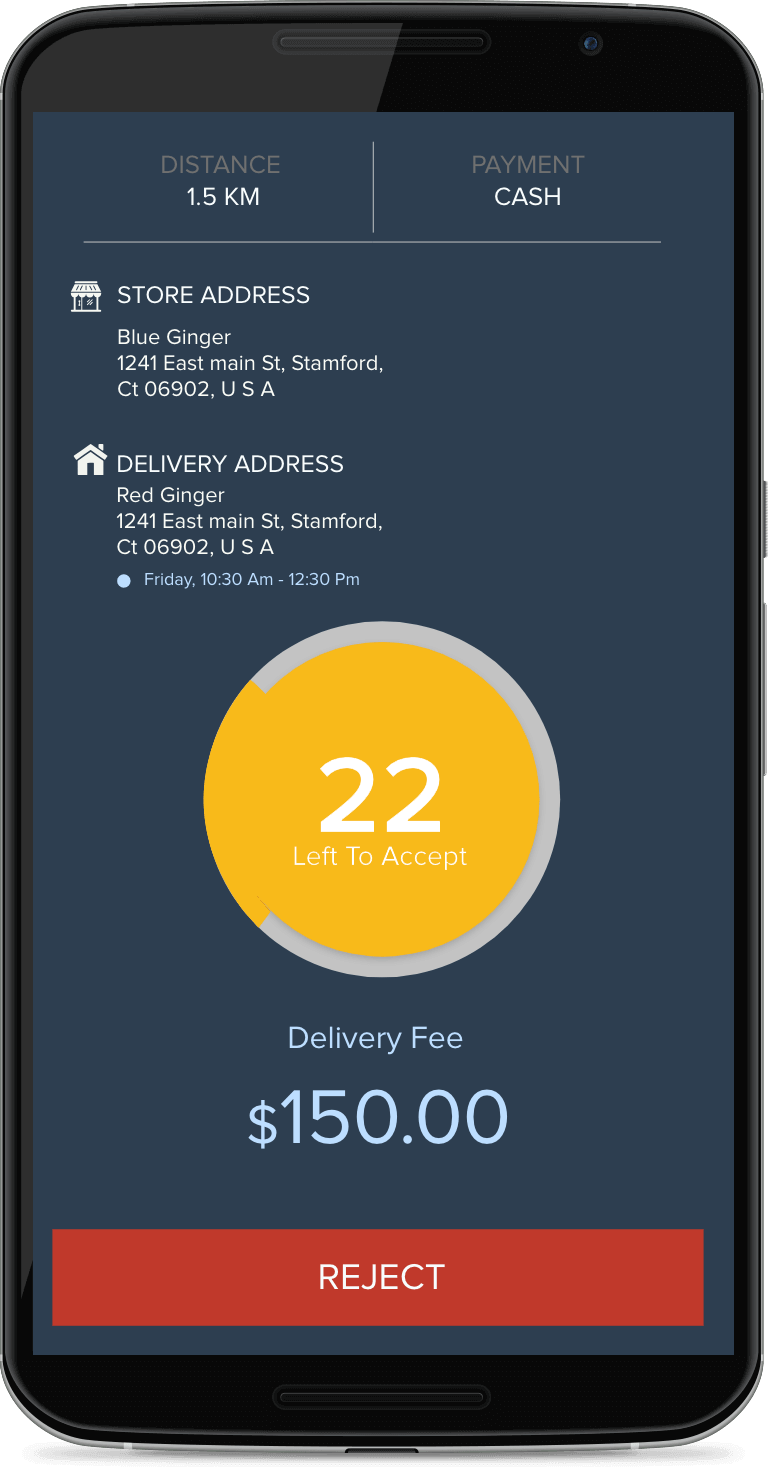 iOS
Native Apps with MVVM architecture via Swift 4 & RxSwift. Declarative coding via ReactiveX enables us to describe complex asynchronous workflows at a high level in a few lines.
Android
Native Apps with MVP clean architecture & RxJava. Perfect for asynchronous data streams. Learn more about the benefits of Rx programming in app development here
Node.js
API's are written in pure Node.JS, following the best clean coding & MVC clean architecture guidelines. We additionally use Node.js for our app performance monitoring services as well.
Scalability
Using Docker for our app containers, you can build, ship & run the app, anywhere. Our app containers are based on shared operating systems and microservice architecture. This makes it much more efficient in terms of system resource utilization and additionally, utilizes the server-worker model for super scale and performance.
Real-Time Functionality
Provided via open source message brokers. Ensuring every function call runs immediately and seamlessly in the app. Perfect for any kind of on-demand service provider.
MongoDB
Distributed database with high availability, horizontal scaling, and geographic distribution that is built in and easy to use. This ensures the application can handle large user volumes during userbase growth.
Angular 5
Used for our admin panel. Angular 5 allows us to build state of the art progressive web applications. Using the build optimizer tool, we can reduce the size of our javascript code as well as remove any unnecessary parts or run time code - This makes our application lighter and faster as well.
Security
Most secure app infrastructure in the market where security extends from the mobile app to the API's. Use of keychain in the iOS to store all credentials, SSL powered API's, use of JWT for the API's, reverse proxy setup on the load balancer, proguard on Android etc.
Support
Using our proprietary Node.js Application Performance Monitoring(APM) service, you can can easily monitor your app as well as detect and react to potential issues beforehand. By monitoring the app on a service/host/instance level - Our APM services ensure that your app is always on the top of its game.
Analytics
We've integrated our APM features with a Slack bot. You and your team can receive immediate updates on the status of the application, at any given time. You can additionally request the Slack bot to give you app performance updates.
Best DevOp Practices
We ensure that the app is completely functional at the end of the day with each milestone depvered to you as quickly as possible and clear communication between you and our team. We implement Jira for project management, Bitbucket for version control, Slack for monitoring and communication, Skype for conferences and quick chats, Scrum board/Sprints for task management and Crashyltics/Fabric.io for bug reporting etc.
ReactJS
Javascript library that combines uses new ways of rendering webpages combined with speed of Javascript. Using ReactJS, developers can re-use code easily making apps easier to develop & maintain. Additionally, the Virtual DOM in ReactJS makes user experience better and the developer's work faster.
LEGAL INFORMATION
Please note that the use of the term "Swiggy Clone" is for marketing purpose only. This is how the web & app development industry refers to building service booking app/website similar to Swiggy or any other entity. Appscrip ensures that the entire design and code is written by our own team of designers and developers. No code, design or graphics has been or will be taken/used from the official Swiggy app/website. Appscrip's custom-built solution enables owners to run an app/website similar to Swiggy based on our standard structure and technological blueprint and it is not an exact copy of Swiggy as we provide our unique features & modifications to our solutions.
Learn more on what is app/website cloning.