OUR URBANCLAP-LIKE / TASKRABBIT CLONE SCRIPT FOR ON-DEMAND SERVICES
Service Genie, our TaskRabbit clone script has been inspired by apps like TaskRabbit, Thumbtack, UrbanClap & other big on-demand service provider apps. Complete with job bidding & multiple bookings – This TaskRabbit clone is the only white label on-demand software solution you will ever need to get into the on-demand gig economy.
In-Call | Out-Call | Tele-Call
Incall:
Customer books an appointment to visit the service provider. Because of the marketplace booking model, customers can choose the service provider of their choice.
Outcall:
Customer books appointment and the service provider visits the customer. It suffices both On-Demand and Marketplace booking model that allows job bidding.
Telecall:
Customer can schedule a video call with the service provider of their choice(Marketplace Booking)
A service can be booked for multiple shifts. You can specify the days and time you want to book a particular service and the service provider.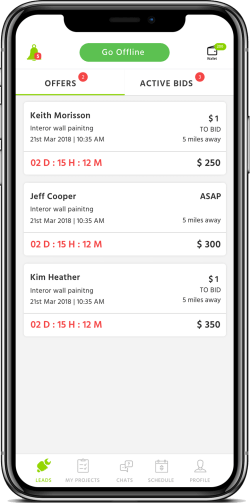 On-demand service professionals can view the list of available service jobs near them & their current bid. If the service professionals wish to not be visible for booking on the customer's app, the provider can select the 'Go Offline' option on the top.
On the dispatcher, you can view all the ongoing jobs, available & unavailable service providers, battery percentage, live map view etc. You can also manually assign the jobs to the service providers. Admin can also view individual service providers and their job statuses.
Customers can book services using the Service Genie website. It allows customers to book incall and outcall appointments with the service providers. They can choose their service providers (Marketplace Model)
UI FLOW WITH BOTH CUSTOMER & SERVICE PROVIDER APPS
ON-DEMAND SERVICE BOOKING (WITH JOB BIDDING)
With our Taskrabbit clone script / Thumbtack clone app, users can then select the type of on-demand service they require, answer few details regarding the service required & place a quote for their job. Service providers can choose to accept the rate or counter bid with their own offer.
Explore a categorized list of on-demand services available in your area. Our Gotasker clone script can be tailored for on-demand services under a particular niche or for various services from various industry verticals.
Certain services(such as an on-demand painter) will prompt users to fill out a questionnaire regarding details of the service required. This has been inspired by apps like UrbanClap & TaskRabbit to ensure better user experience.
Schedule the date & time for your service required.
Enter the price you are willing to pay to service professionals to complete the job.
Once registered on the provider app, on-demand service professionals can view list of available service jobs near them & their current bid. If the service professionals wishes to not be visible for booking on the customers app, the provider can select the 'Go Offline' option on the top
View Job Details - Job Bidding
Basic details including information filled in the questionnaire, on the customer app during listing and job photos as well are available before bidding. In order to apply for the job, professionals need to pay a commision amount to the app.
Once the app commision has been paid, service professionals can enter their own prices for the selected job. When both professional & customer accept on a price, the job is then assigned to the professional. Our bidding feature is exclusive on our UrbanClap clone / Taskrabbit clone script.
View the status & details of assigned, pending and completed bookings.
MARKETPLACE SERVICE BOOKING (WITHOUT JOB BIDDING)
This clone script for Taskrabbit / Urbanclap comes with both kinds of service booking ie with job bidding & without. With a marketplace booking, users can hire certain service professionals by selecting a service type, browsing through a filtered list of professionals, viewing their according rate cards & booking accordingly.
Upon selecting the service, users are prompted to select between an in-call service or an out-call one.
Our Taskrabbit/Thumbtack-like app provides various scheduling options are available for the service in-mind, including repeat booking incase of on-demand maid services, tutor services, massage services, laundry services etc.
Based on the previous inputs, a filtered list of service professionals are displayed to the user with base details such as rate, reviews & distance.
Users can view the rate card of individual service professionals as well as view & add additional services offered by the individual before checking & booking the professional.
View Job Details - Fixed Prices
View details from jobs booked, based on the provider's hourly rates.
Live Tracking & Job Status
Our service booking script comes with a robust & user-friendly live job tracking module. Additionally, an in-app live job timer is integrated for both the customer & provider apps
Customers can view a list of assigned jobs. Once the job is started by the service provider, the customer is notified and can begin live-tracking
On-Demand Service Live Tracking & Status
Live track your service provider for the job assigned. In-app notifications are provided for each job status update. An in-app timer is included as well, to capture the job duration.
View profile details of each service professional bidding, their past reviews, services provided etc.
In-app navigation powered by Google Maps or Waze on our clone script for Taskrabbit.
Chat with your service providers to exchange specific information regarding the job at hand.
In-app notifications are provided during bookings, jobs, earnings etc.
Customer Real-Time Job Status & Timer
Customers can are updated in real-time regarding the assigned job along with a live job timer provided as well
In-app timer integrated into the Service Genie Script. The timer is started once the job begins. Service professionals can pause the job timer during breaks. The timer stops once the job is completed.
Our TaskRabbit clone software comes with a detailed invoice generation module for both customers & service providers. Service providers can generate invoices & receive signatures via the provider app itself. Customers can view detailed invoice & rate their on-demand service providers on a number of categories.
Services professionals can create invoices via the app. Additional services/equipment provided by the professional can also be added in the invoice.
Once the invoice is reviewed by the customer, service professionals can get the customer signature via the app itself .
Service professionals can also rate their bookers on the SERVICE GENIE app.
View a detailed receipt of the completed job
Update various profile details, contact support, share referral codes etc via the profile sidebar
The in-app wallet integrated into our service booking script, serves two functions- To be used for job bidding & the other in case of cash bookings. A Soft & Hard Limit is assigned during cash bookings, to ensure professionals pay the app it's due commision, before being able to bid for jobs again.
SERVICEGENIE DISPATCHER SOFTWARE
Bird's View

View an overall look of all the ongoing grocery pickup or delivery jobs, available & unavailable grocery delivery drivers, phone battery percentage etc.
Manual Bookings

Manually assign grocery bookings to grocery deliverers on demand.
Individual Job View

View the status of each individual grocery trip in real-time.
URBANCLAP-LIKE WEBSITE BOOKING
Explore Various Services

Search & view various on-demand services & offers available.
Schedule Requested Service

Choose your booking type from on-demand, scheduled or weekly schedules.
Add Individual Jobs

Choose from additional jobs under each service category.
View Jobs & Status

View the various service bookings opted & their individual job status.
URBANCLAP IN INDIA, THUMBTACK IN U.S – WE'VE INTEGRATED THE BEST FEATURES FROM THEM ALL!
Whether you want to build an Thumbtack clone / UrbanClap clone in your target region – Service Genie is an all-rounded customizable on-demand service booking software solution that allows entrepreneurs & business take on the big professional service providers in their market & region of choice.
SERVICE GENIE ADMIN PANEL
DRIVER MANAGEMENT
Manage providers, approve / reject drivers who sign up on your app as per your volition
FEE SETUP
Setup and manage the laundry service fees for different cities/zones and various items on the on demand laundry software
PROMOTIONS & REFERRALS
Setup and manage promotion codes and referral campaigns on the on-demand laundry service software.
TRACK BOOKINGS
View all your on-demand laundry bookings in real-time as they are being placed on the App
ACCOUNTING
Total financial accounting system is provided to keep track of the app's earnings and driver commission via laundry app development software
PAYROLL
Payroll management system is provided to manage cash & card earnings of drivers with direct payment to the affiliated driver's bank account
FLEET MANAGEMENT
Manage laundry drivers as independent contractors or as personnel affiliated to other laundry service operators.
GOD'S VIEW
Track the on demand laundry drivers in real-time on the app in various cities/zones on the laundry app development software
ZONE MANAGEMENT
Create zones for your laundry app development software by drawing polylines on a map and set rates
MESSAGING
Push notifications/messages are sent to drivers and customers directly from the admin
Reports & Reviews
Keep a tab on your drivers in the laundry app development software and maintain high fulfillment standards using ratings and reviews.
NOTIFICATIONS
Send out notifications to the registered users on the laundry app
WHY CHOOSE SERVICEGENIE AS YOUR ON-DEMAND SERVICES MARKETPLACE SCRIPT SOLUTION?
The entire UI of ServiceGenie have been inspired by features from the best service booking apps in the industry. So if you were looking to build a Taskrabbit clone or a customizable Thumbtack clone script, Housejoy clone etc ServiceGenie is not only customizable but robust & scalable as well.
100% Customizable
Our pharmacy delivery software can be customised for various deliveries such as medicines, groceries, flowers, food, etc. Med.Me has been developed to provide a unique white-label pharmacy delivery software solution.
PCI Compliant – Netmeds Clone Script
We assure PCI compliance that will ensure no legal issues while accepting in-app purchases on your customised netmeds clone script.
Prebuilt Scripts
Features such as proprietary pre-built medicine delivery solution, store management solution, ensures that the store app moves from development to deployment faster than any other delivery app.
Scalable & Clean Design
Using state of the art app container technology, clean coding practices, use of microservice architecture and simultaneously integrating safety & security features has made MED.ME a robust Online Medicine Software solution available in the market today.
Multi-Language & Multi-Currency Support
Irrespective of your location or currency preference, our software solution can be customized for any medicine delivery business or pharmacy store across the globe.
Referral & Promotions
Our pharmacy delivery software is equipped with promo & referral features for both customers & drivers to enhance user base & overall user retention. Our underlying scalable tech architecture ensures our medicine delivery app can handle the growth of your user-base.
SEO Friendly Design
All pharmacy purchase and delivery solutions are built using the MED.ME software. These are designed keeping the best SEO practices for apps. This aids in the apps overall ranking in search engines & online app stores.
App Monitoring & Chatbots
Our netmeds clone script is the only customizable Online Medicine Software that provides chatbot-integrated app monitoring services. This ensures on-demand app performance updates for your personalized pharmacy app.
Security
Our online pharmacy software solution is robust, scalable and secure. SSL-powered API's, Keychain, JWT, reverse proxy setup ensures that security extends all the way from the app to each individual API.

On-Demand vs Marketplace Booking | Customer + Provider App
Job Bidding | Customer + Provider App
Please note that the use of the terms "Offerup Clone", "Letgo Clone" & "Olx Clone" is for marketing purpose only. This is how the web & app development industry refers to building a(n) marketplace app/website similar to OfferUp, Letgo, Olx or another site. Appscrip ensures that the entire design and code is built by our own team of designers and developers. No code, design or graphics has been or will be used from the official OfferUp/Letgo/Olx app/website. Appscrip custom-made solution enables owners to run an app/website similar to OfferUp/Letgo/Olx based on our standard structure and technology blueprint, however we are not an exact copy of OfferUp/Letgo/Olx as we provide our unique features & modifications to our solutions. 
Learn more on what is app/website cloning.