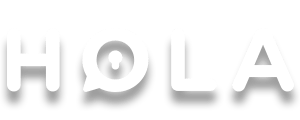 TELEGRAM CLONE APP BEST-IN-CLASS INSTANT MESSAGING/CHAT SOFTWARE SAFE, SECURE, ENCRYPTED
Our Telegram clone app script is ideal for all businesses and can be used as a personal messaging platform as well. It is 100% customizable and highly scalable, thus making it a supreme choice for entrepreneurs who aim to delve into the messaging-app-market.
TELEGRAM CLONE APP | WHAT MAKES IT A WORLD-CLASS CHAT SOFTWARE?
Our script has been created & designed by a team of top-notch developers. The features and technological slack of our software are inspired by famous apps like WhatsApp, WeChat, Line & Signal.
100% Customizable
Our chat software solution is customizable to build a solution for any kind of business chat software, personal chat app, quick medical consultation chat & more.
Prebuilt Scripts
Using our proprietary Pre-Built IP solution, we move your chat app from development to deployment faster than any other chat software or chat app developers out there.
Scalable & Clean Design
Using state of the art app container technology, clean coding practices, Erlang-based servers, microservice architecture – Hola is designed to be future-ready for all your chat platform needs.
Multi-Language & Multi-Currency Support
Whether you need Hola as a white-labelled chat software in German, Arabic, Chinese etc we ensure Hola can be customised & deployed in any language preference.
TELEGRAM CLONE APP SOFTWARE | GRAPHICAL FLOW
Simple, Fast & Interactive Chat Facility
Our software is developed with an ambition to connect people via a unique, distributed network of data centers around the globe.
Users will get a quick update each time they send/ receive a message, and also when a message gets delivered to another person.
Telegram clone app software allows a wide range of media uploads, including photos, videos, GIFs & stickers- without a limit on their type and size.
Users can delete messages instantly for themselves and others involved in the chat
Forward, Reply & Share In Telegram Clone App
In this script, users can forward messages, reply with & without referring to texts, and also share messages to other groups and chats.
Seamless & Undisruptive Audio/Video Calls
Now users can enjoy the perks of our software's audio and video call facilities.
Telegram clone app ensures congestion-free audio calls. Users can simply make and receive calls with the help of mobile data & WiFi.
It is now possible for users to face-time friends and family by video calling from within the app.
Create Or Join Group Chats
Users can create or join company/friends group chats. They can interact with more than one person at the same time in the telegram clone app script.
Add Or Remove Participants
The admin of the group-chat has the authority to add more members to the group, and even delete them from the chat.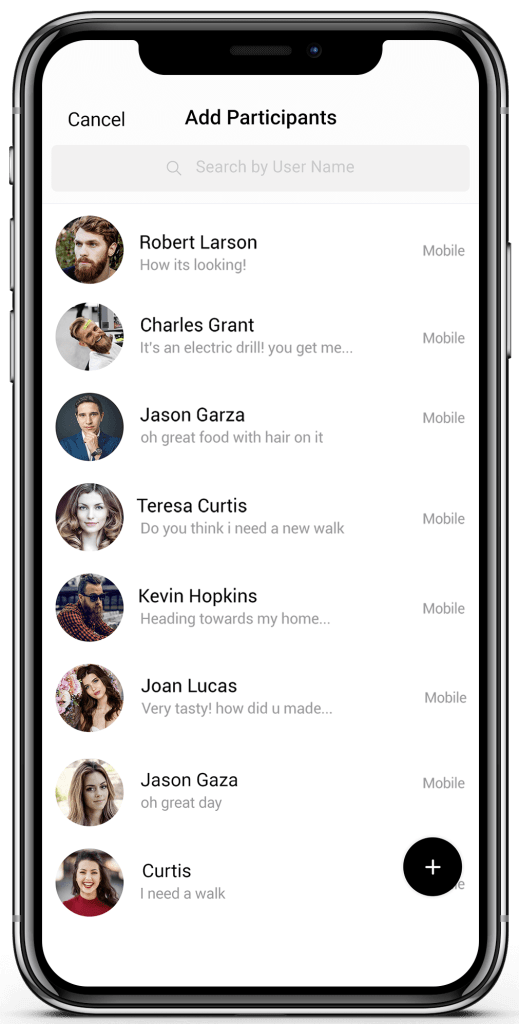 Information Of The Group Participants
Members can view details of the group they are added to, in the telegram clone script. They can also see other participants' profile pictures, statuses, etc.
The group admin has access to all the settings of the group chat. A group chat can have more than one admins.
This feature makes our software stand out of the crowd. One can now create or join private chat sessions with the revolutionary "self-destructive" messages. All information shared will be automatically erased from both parties and the server, either after the session has ended or a set time has passed.
Users can select people from their contacts, and add them directly to a private chat. Secret chats are end-to-end encrypted to ensure that the messages can only be read by its intended recipient.
Our Telegram clone app script allows the users to set a chat destruction time in-app. As and when time elapses, the conversation will get automatically deleted from both the participating devices.
Account Verification & Profile Settings
We ensure safe, easy & fast profile verification to help users come on board without any hustle or hassle.
Uses can quickly join our chat software after providing a 4-digit verification code, sent either through an SMS or an email.
Telegram clone app software provides the facility to fill in basic user details, update profile pictures and statuses, etc.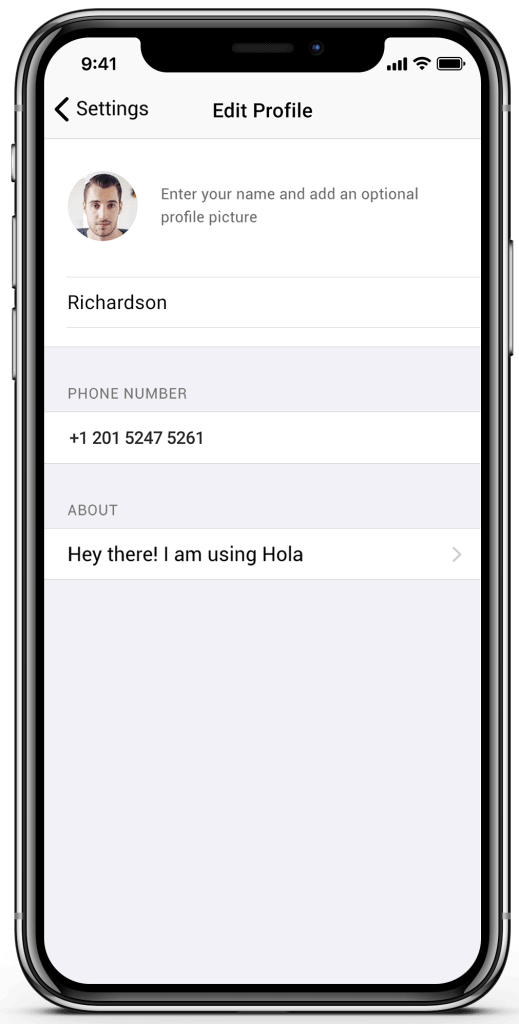 Our chat software supports payments and other transactions within the app. Users can receive or transfer money to their friends & family. The process will be 100% safe, secure & end-to-end encrypted.
Send Money Anytime, Anywhere
Select the contact, fill in the amount, and transfer the money. The process is that simple!
Each time users send or receive money, they will get notified in the telegram clone app software.
The transferred or received amount will be visible to both parties in the chat window.
Users can add money to their in-app wallets via cards. They can check balance and can keep a track of the transaction history.
Manage various user profiles registered on the app.
View & track groups created via admin chat software.
Real-time console to monitor conversations.
Real-time reports of users' activities on the software.
WHAT CAN YOU DO WITH OUR Telegram Clone app Script?
INTERNAL CHAT SOFTWARE FOR CORPORATES
TRENDY CHAT APP THAT IS SAFE & SECURE
QUICK ACCESS MEDICAL CONSULTATIONS
ECOMMERCE CHAT-BASED PAYMENTS
let Blog_img = []; let Blog_title = []; let Blog_link = []; console.log("Blog_Blog_titleimg", Blog_title); jQuery(document).ready(function ($) { // let BLOG_IMG_API = Img_url; var API_url = "https://blog.appscrip.com/wp-json/wp/v2/categories/"; var CAT_ID = 16109; onLoad(API_url, CAT_ID); });