CUSTOMIZABLE SOCIAL VIDEO DUBBING & VIDEO SHARING APPLICATION TO BUILD YOUR OWN DUBSMASH + TIK TOK LIKE CLONE
Dub.ly is the most secure & efficient social video selfie application to build your own trending video sharing platform. #DELETETIKTOK #GOLOCAL and create a Tiktok like app for your own country with the same AUDIO DUBBING features like #TikTok and #Dubsmash
Video dubbing. Self-destructive chats, Social media integration, Business posts, In-app chat transaction & More
Dub.ly – The Best Tiktok Clone Solution
Our TikTok clone app solution helps you build the best selfie video upload platform for the modern generation. It has features similar to and additional to the application TikTok.
What is a TikTok Clone ?
Tiktok clone is a trending video dubbing and video sharing app software solution that is based on the popular video dubbing app business model, Tiktok. It is a prebuilt social video sharing solution and a very powerful social media app idea.
What is a Tiktok Clone Script ?
A Tiktok clone script is a source code that creates a perfect Tiktok clone application. The Tiktok clone script can be modified to add more features as per your unique business model. 

What are the Features of Tiktok Clone App ?
Our Tiktok clone have world class features like select sounds to dub videos on, add special effects to videos, take photos, go live, earn coins, earn real money by converting earned coins to your local currency, chat with other users, transfer money, video and audio calling, sell products by creating a business profile, get a verified profile.
Why Choose Tiktok Clone?
TikTok, the video-sharing app used by hundreds of millions of people around the world is alleged to have multiple 'security vulnerabilities'. Calling the app a cyber threat, the United States military has barred personnel from having Tiktok on government phones.The app has also been put under scrutiny in the UK and Australia. This totally explains why the Tiktok clone is necessary.
THE BEST SOCIAL VIDEO SELFIE SHARING & DUBBING SCRIPT YET
BECOME THE NEXT BIG INTERNET SENSATION WITH DUB.LY
The Dub.ly video selfie, dubbing & sharing clone script is integrated with multiple features for users to record dubbed music videos or performances via the application music video recording & dubbing features.
WATCH VIDEOS IN FULL SCREEN
---
See videos in full screen, double-tap to like, comment, watch other videos of the same sound, click to see tagged location videos
RECORD VIDEOS IN FULL SCREEN
---
Capture videos in full screen, select videos from the gallery, apply time lapse filters, apply special effects, zoom in and out, select a sound or record with an original sound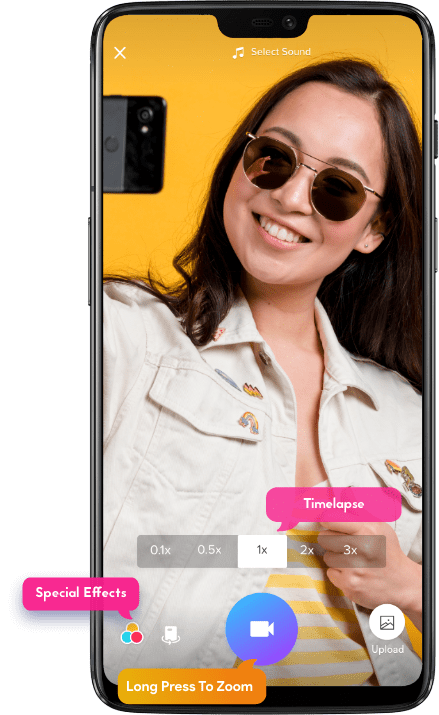 EDIT VIDEOS POST RECORDING
---
Videos can be recorded in segments and special effects can be applied to each segment post-recording
POST VIDEOS
---
Add a description, add hashtags, tag other users, tag location, add to a category, add to a channel. Business users can tag product/service links and can also manage the button text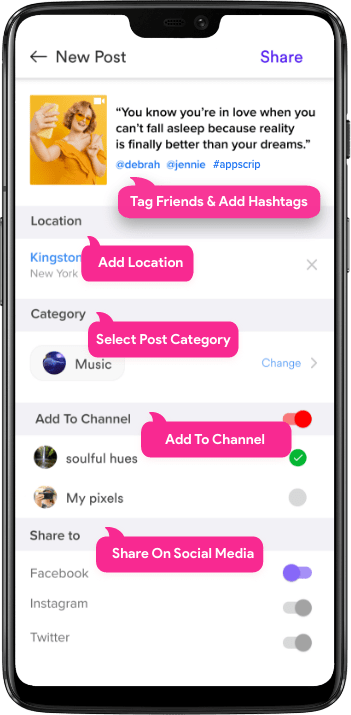 FEATURE-RICH TIK TOK CLONE TO KEEP USERS ENGAGED FOR HOURS
Years of building apps like Dubsmash and integrating the best UI features from the best video selfie, video chatting & video sharing scripts, with designs inspired from Musical.ly (now Tik Tok) have led us to craft the best pre-built & customisable Dubsmash clone / Tik Tok clone. The Dub.ly social video dubbing script provides a feature-rich & seamless UI interface for users.
BUSINESS POSTS
---
Businesses can add links to their product, services, booking pages, etc. These links can be clicked to open web pages inside a web view.
CERTIFIED PROFILES
---
Apply to get a certified profile. Follow certified profiles of stars and have options to chat directly with a star, etc.
POST AND EDIT PHOTOS
---
The product also enable users to post photos. Photos are edited with Instagram like filters. Stickers can be applied and text captions can be embossed on top of the image.
YOUTUBE LIKE CHANNELS
---
Create youtube like channels. Add videos and photos to your channel. Channels can be private or public and other users can follow channels just like how they can follow users.
EXPLORE & ADVANCE SEARCH
---
All trending hashtags will be pushed on top. Users can search for other users, hashtags, locations, and businesses.
TELL YOUR STORY
---
Users can create stories like Instagram stories. The stories posted by your followers are visible on the chat page.
Feature-Rich Chat Module Integrated
Dub.ly, Tik Tok clone script comes with a unique in-app chat module integrated. Apart from starting chats & groups with other users, or sharing a variety of multimedia files during chat sessions, users can additionally start self-destructive 'Secret Chats' with others users as well .
SECRET CHAT LIKE ON TELEGRAM
---
Share ephemeral messages with other users via the secret chat feature on the app.
AUDIO AND HD VIDEO CALLING
---
Initiate audio or video calls with other users like on Whatsapp. All calls are powered by WebRTC, a custom WebRTC gateway, and not any 3rd party paid service like Quickblocks, Agora, etc.