Tiktok Clone - Customizable Social Video Dubbing& Video-sharing App To Build Your Own Local Tiktok Like App
Tiktok clone, Dub.ly is a secure & highly efficient social video selfie application to build your own trending video sharing platform. #GOLOCAL and create a Tiktok like app for your own country with the same AUDIO DUBBING and AR features like #TikTok and #Dubsmash.
Our CEO, Rahul Sharma discusses the unprecedented rise of the TikTok alternatives in the market, in an exclusive interview with the Economic Times.
TikTok clone is a trending video-dubbing & video-sharing app software solution. TikTok clone is our pre-built app with several additional unique features, which makes it the first of its kind.
What Is TikTok Clone Script ?
TikTok clone script is a source code that helps entrepreneurs to build the perfect Tiktok clone application. The clone script is 100% customizable- so features can be added as per requirements, and is highly scalable. 
Features Of Our tiktok clone application
Exclusive price-locked posts by creators.
AR camera to add effects to videos & photos.
Livestream and earn coins, tips & gifts.
Convert the coins into real money.
Integrated wallet to support banking services.
Why is a Tiktok like app necessary?
TikTok had nearly 100 million users. It eventually became a great marketing tool for celebrities & influencers. Until one day, when it was alleged to have multiple 'security vulnerabilities'. The app got banned in 5+ countries, thus paving way for fresh, new apps to steal the show. 
Unique revenue mOdel of Dubly: An euphoric experience for Creators
Subscription Model
Users can subscribe to & follow one or many creators' accounts, and enjoy exclusive posts/content.
Paid Posts
Creators can price-lock their content, while users can simply purchase the posts to view & engage with them.
Brand Endorsements
Creators/ influencers can tag brands & endorse their products via video uploads, pictures & livestreams. TikTok clone is a great tool for influencer marketing.
Send/Receive Money
Like in GPay, users can send or receive money within the app. The integration of the fintech module makes Tiktok clone app the first of its kind.
Coins & Virtual Gifts
Users can send virtual gifts & coins to creators while they live stream. This can be converted into real money, and withdrawn from the in-app wallet.
Integrated Wallet
We have pioneered the development of FinTech products. An integrated wallet supports banking/financial services & improves user experience.
other exhilarAting features of Dubly: BECOME THE NEXT BIG INTERNET SENSATION with the Tiktok/dubsmash/triller clone software
A user can seamlessly sign-up on our Instagram clone application, either through Gmail or any other social media platforms. 
Any star, influencer's profile will be considered as a creator's account. The latter can price-lock their posts and earn a fortune from their exclusive content.
CREATE POSTS ON DUB.LY TV
Users & creators can create videos and post them on Dub.ly TV (Inspired by IGTV). Followers can like posts, share them, and add comments.
Users can explore various videos created by their followers and top creators, on our Tiktok clone software.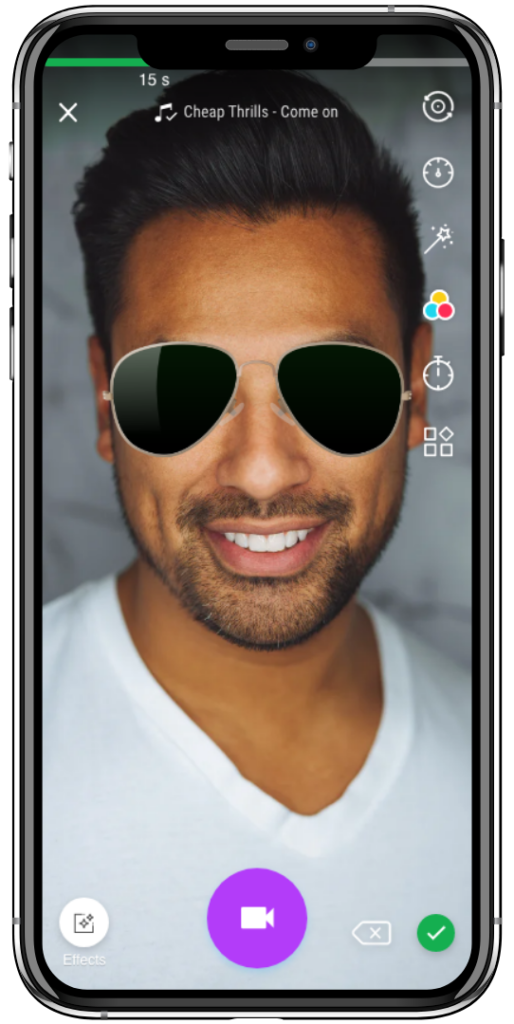 Dubly allows users to add filters to photos & videos, select music/sounds for lip-syncing & enjoy the best of this technology!
Users can explore various exhilarating livestreams conducted by the creators. The former can send virtual gifts & coins during live streams. This can be converted into real money & withdrawn from the in
Users can buy coins, which they can use to unlock exclusive posts, subscribe to creators, and send tips to them during live streams.
Users can add multiple cards and recharge their coin balance. They can then use these virtual coins (also gifts & tips) to engage with a creator's post.
RENEW/CANCEL SUSBCRIPTION
A user can unsubscribe a creator at any given time or can extend the subscription with some extra charges.
TRACK TRANSACTIONS ON TIKTOK CLONE APP
Both users & creators can view all past & present transactions. Whether they send coins or receive them, one can keep a track of everything.
Recharge in-app wallet via cards or other net-banking methods. This will help users to spend coins during unlocking price-lock posts & live streams.
Our Tiktok/Triller clone script comes with a unique integrated chat module. Users can start chats, form groups with other users, share multimedia files, and also initiate self-destructive 'Secret Chats'.
Best Cms For Dubsmash/tiktok Clones
Providing a complete app-level to user-level overview, the Dub.ly CMS & admin panel gives app owners complete management of all users, posts, categories, wallet, live-stream & channels, on their customizable music video dubbing platform.
◇ Centralized Dashboard For Overall Management

Dashboard provides overall view and display of analytics of our customizable Tik Tok clone.
◇ Diverse Posts

View & manage various posts by users. View analytics on each post. Manage business posts / normal posts by deleting or suspending them. .
◇ Live Stream

Manage all live stream activity such as gift logs, duration, earnings, more. Add gifts and manage it.
◇ Wallet

Add, manage and configure payment gateway. Manager user wallet, App wallet, and Payment gateway wallet in-app. KYC verification provided. Recharge, withdraw and transfer revenue.
◇ Chat & Call

Chat & Call details are available for complete information, as in call type, user detail, chat information, duration, etc.
DASHBOARD
A detailed dashboard is integrated into our social video selfie script that showcases app-level analytics.
USER MANAGEMENT
Add/remove user, report or block user with the help of user management module. Reported users get suspended/deleted.
CATEGORIES
There are various categories such as sound, star, post, add & manage on this customizable white label app to create a unique content theme-based video selfie & dubbing sharing platform.
CHANNELS
Manage various in-app channels created by users & brands on your custom video selfie app. These channels can also be deleted.
APP DESCRIPTION
Add a detailed description of the app, its version, company, etc in the 'About Us' section.
JINGLES | TIKTOK CLONE
Upload various sounds that can be included in various videos while dubbing.
STAR USER
A verified profile is a star profile. Admin can approve or decline the user.
BUSINESS BUTTON
Manage business post buttons as in Buy now, View more, Read more, etc. on the TikTok Clone
BUSINESS PROFILE
Manage business post buttons as in Buy now, View more, Read more, etc. on the TikTok Clone
REASONS FOR REPORTING
Various reasons can be provided for the user to choose with regards to reporting another for misdemeanor.
REWARDS
Set rewards that can be doled out to users for likes / comments / new sign up, etc.
HASHTAG
Manage hashtags by adding, editing, deleting, or modifying them.
Why Choose Dub.ly As Your Customizable Tiktok & Dubsmash Clone, Social Video Selfie & Dubbing App Solution?
Instead of spending hours searching for easy to build your own Dubsmash app, Appscrip has spent years developing social media app solutions for a variety of entrepreneurs & their unique niches. Dub.ly has been designed to incorporate the best features from top video selfie apps, video dubbing apps, social video sharing platforms & video chatting applications.
100% Customizable
Our video sharing script can be customized to support a number of unique video-based social media platforms like music & video dubbing social apps, video selfie apps, live video streaming apps etc.
PCI Compliant
For any additional in-app monetization features, we assure PCI compliance, so you will have not legal issues accepting in-app purchases on your customisable Tik Tok clone app.
Prebuilt Scripts
With our proprietary pre-built video dubbing script,video selfie script, best video sharing cms, we move the best social video selfie solution from development to deployment faster than any other app developers out there.
Scalable & Clean Design
We use the state of the art app container technology, clean coding practices, microservice architecture, while simultaneously integrating safety & security features checks on the custom video sharing app.
Multi-Language & Multi-Currency Support
Irrespective of your location or currency preference, Dub.ly can be tailored for various TikTok Clone, Dubsmash clone ideas around the world.
Referral & Promotions
Our clone script can been integrated with a unique marketing module that is equipped with promo, referrals & marketing plan, features. Our underlying scalable tech architecture ensures our video dubbing & sharing script can handle the growth of your userbase.
SEO Friendly Design
All tailored social Tik Tok-like apps and other Dubsmash-like solutions built using the Dub.ly video sharing & dubbing script are designed keeping the best SEO & ASO practices for apps in mind.
App Monitoring & Chatbots
Our pre-built social video dubbing scripts are the only customizable social video selfie solutions that provides chatbot-integrated app monitoring services. This ensures you have on-demand app performance updates for your tailored Tik Tok clone / Dubsmash clone app.
Security
Our pre-built social video dubbing script is not only robust & scalable but extremely secure as well. SSL-powered API's, Keychain, JWT, reverse proxy setup etc ensures that security extends all the way from the app to each individual API.
Demo Video Of Tiktok Clone
Technology used in tiktok clone