Datum – The Best Tinder Clone Software Solution for Your Dating App Startup
Datum, our Tinder clone script for iOS and Android is a quick, wonderful and imaginative route to engage with dates and get to know them better. This is the first Tinder Clone Script in the market built entirely on the MEAN stack leveraging Node.JS as its server side scripting technology, MongoDB as the server database, Socket.IO as the realtime chat engine.
Datum is an all round dating app script if you are an entrepreneur looking to start a dating app solution for any target group or any target market. Datum is a prebuilt solution, you just have to get the app customized based or your requirements or just buy the solution as it is (We will obviously brand it for you ;-p)!
What is a Tinder Clone ?
Tinder clone is a dating app software solution that is based on the popular dating business model, Tinder. The term Tinder Clone is used to give a reference to the kind of app, app development companies are offering to the entrepreneurs.
What is a Tinder Clone Script ?
A Tinder clone script is a source code that creates a perfect dating app solution based on the popular dating business model Tinder. You can modify the Tinder clone script by adding more and new features to the source code. 

What are the Features of Tinder Clone App ?  
Tinder clone app has features like 'Swipe & Match', 'Scheduling Date', 'Adding Preferences', 'Profile Video/Picture', 'Newsfeed', 'Chats', 'Audio/Video Call Feature', 'Advanced Subscription Plans', 'Coins Wallet' and many more!
Why Choose Tinder Clone?
The dating industry has over the years done extremely well with the new generation. Following statistics is the proof of that:
$3 Billion industry, alone in USA (Imagine in the whole world ).
600 million singles have access to the Internet.
Online dating is the most popular way for heterosexual couples to meet.
Our Tinder app clone is absolutely customizable with dynamic preference settings on the admin panel. Build your own dating app script with our Tinder Clone.
WHY CHOOSE DATUM AS THE DATING SOFTWARE WITH EARNINGS MODEL FOR APP USERS?
Datum has been designed keeping the best UI features from top dating apps like Tinder, Grindr, OkCupid, Happn & more. This feature can help your dating app stand out from the rest of the dating apps. The module has 2 wallets as against one in all of the other apps.
Coins Wallet
The coins you purchase or earn by watching advertisement videos gets credited to your coins wallet.
Earnings Wallet
The gifts people send to connect with you goes to your earnings wallet. Some percentage of this gift goes to the app owner as commission.
Withdraw Money
The amount in the user's earnings wallet can now be withdrawn by them. Either via PayPal or whichever means they choose.
CUSTOM SIGNUP
Register via your Facebook account or choose to keep your identity private using your email address.
CARD VIEW
Swipe right to like, left to pass, Superlike, Passport and Rewind just as in Tinder.
Photo & Video Upload
Users can upload multiple photos and also upload videos into their online dating profile.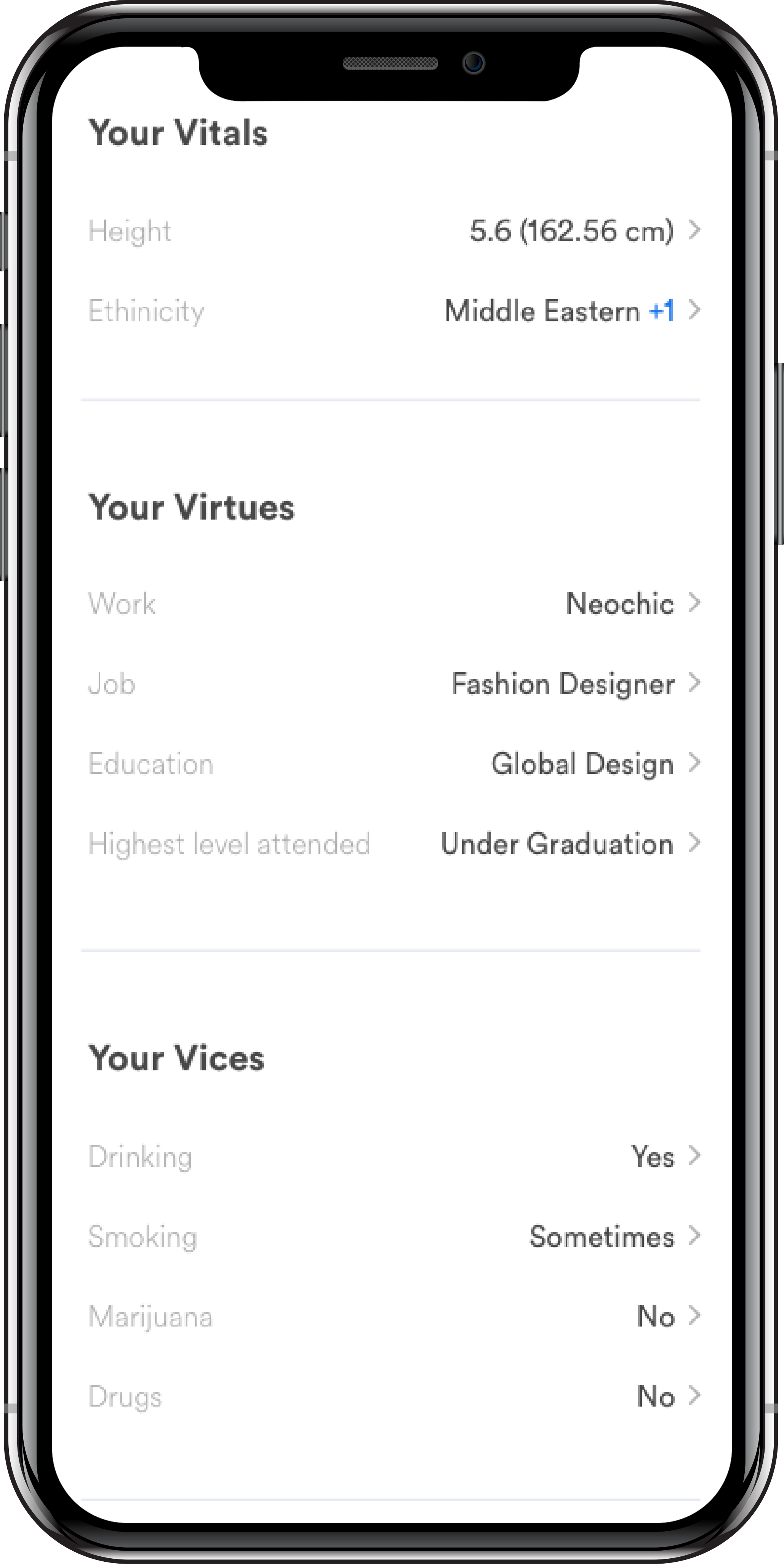 Vitals, Virtues, Vices
Create a user friendly online dating app by letting users include interesting information they wish to share on their profile. Users can enter a plethora of information in this Tinder clone.
DISCOVER PREFERENCES
Dynamic preferences can be configured from the admin interface. This is particularly useful when you want to customize the search settings.
Matches
The Tinder clone /Grindr clone/ Dating app script alerts both users via notifications when they have liked/swiped-right on each other's profile.
Date Scheduling
Using the scheduling feature in our dating clone app, schedule dates with your match.
Chats
Subscribers can initiate conversations with their 'match' under the 'Chat' section. In each chat conversation media can be uploaded or 'block-the-user'. We have also integrated a Snapchat-like feature of self-destruct-message capability.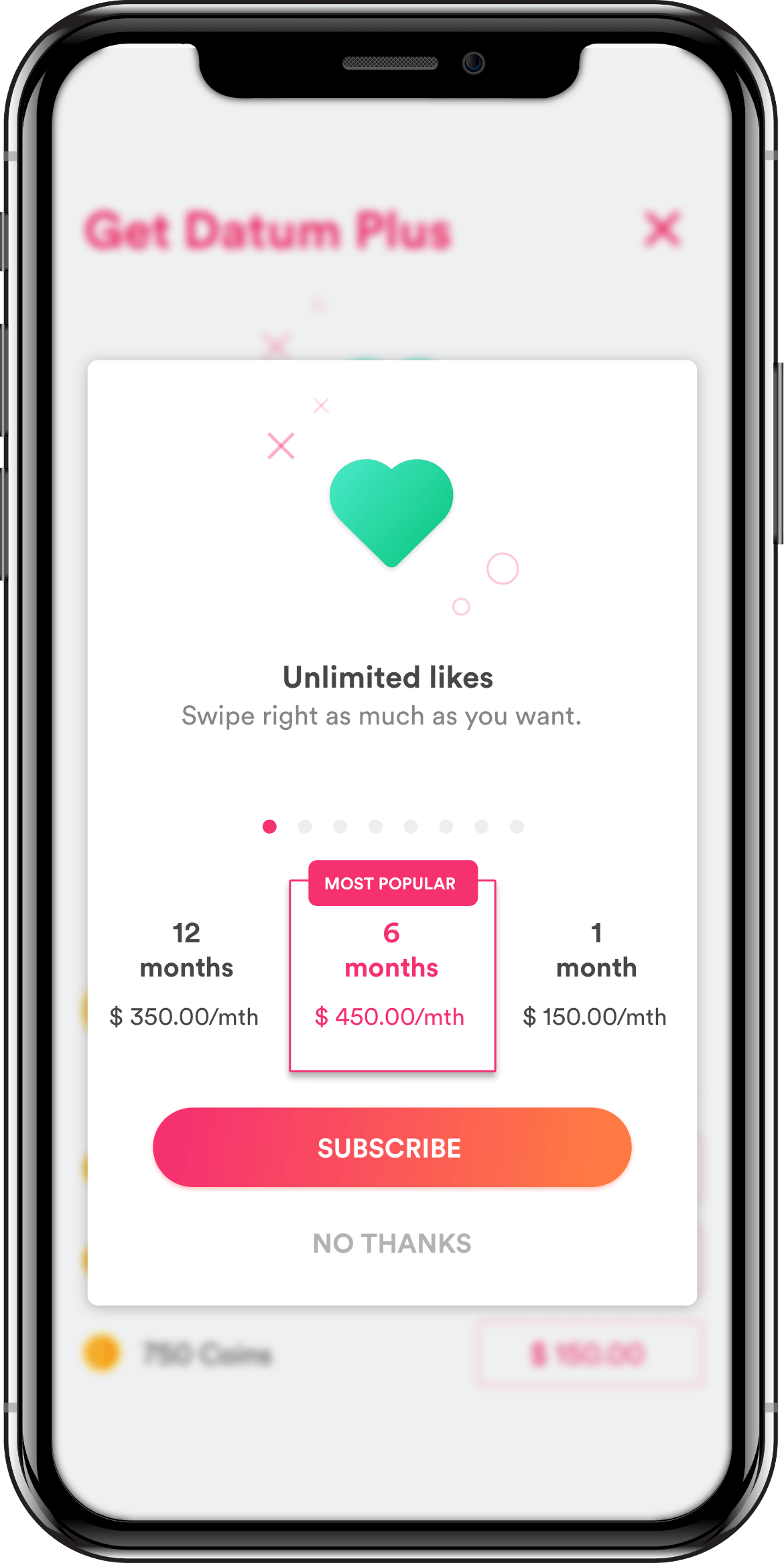 Datum Plus
Monetize the dating app clone through Subscriptions for monthly/yearly: extra Swipes, Likes, Rewinds directly via in-app purchases through credit or debit cards on our Tinder dating app script.
Datum Coins
In-app currency has been integrated in the Tinder clone script to purchase additional features such as physical dates, random matches, chatting with unmatched profiles, extra swipes, & much more.
Instagram Linking
We've integrated Instagram linking into our online dating script. Now users can view Instagram profiles additionally, while browsing for potential matches
Random Video Calling
Users are required to swipe the screen to start the video call with the random match on our video chat dating app.
Add Friends Like in Azar
Users can send friend invites via sms, social media or search for friends using their C.Me Ids
Audio & Video Call Dates
Setup virtual dates on our dating software via audio & video calls
Pending Dates
Users can view dates set-up by their matches. Only upon confirmation is the date set. Users can additionally reschedule their dates on our dating software platform.
Rating
Our dating script lets users can rate their dates they have had in the past.
Random Matches
Instead of playing the 'Swipe & Hope for a Match' game, users can purchase a match with a random user. Think of a blind dating feature integrated into your custom dating app
In-App Advertisements
In-app advertisement module integrated with third-party service providers that pays the dating app owner based on clicks, views or referral-based purchases
HOW TINDER MONETIZES THE APP
Check out the in-app purchases feature on our Tinder Clone App
Extra Swipes, Likes, & Rewinds
Users have the option to purchase extra Swipes, Likes, Rewinds, Passport
Chatting With Unmatched Profiles
Chatting with profiles that don't match can be enabled through a small fee.
Setup Physical Dates
Subscribers can set up physical dates via Datum coins through the app itself. They can set up the location, day & time for the date through in-app reminder notifications alerts to both the matched users.
Random Matches
Another engrossing feature is being randomly matched with other users for a small fee. And you could begin chatting with them right away.
Watch Promotional Videos
Subscribers can watch promotional videos of third-party vendors and earn coins for it. And the Tinder clone app earns commission for the number of videos watched or products purchased via referrals.
In-app Advertisements
Third party vendors have the option to advertise in-app. Your customised Tinder clone app earns commission based on the number of clicks on the advertisement & products purchased via referrals.
TINDER APP CLONE MONETIZATION FEATURES ENABLED BY
DATUM COINS
The in-app currency needs to be purchased via credit/debit cards. This currency is utilized to access premium features on the Tinder clone app.
DATUM SUBSCRIPTIONS
Monthly/Yearly subscriptions and few in-app features such as extra Likes, Swipes, Rewinds, etc
AFFILIATE MARKETING
Affiliate Marketing powered by third-party ad services such as AdMob. You earn revenue through commissions from third-party vendors on your custom Tinder clone app.
DASHBOARD
You can view total registrations done for any particular day, month, year or life-time.
PREFERENCE SETTINGS
Preference settings can be configured from this page and the settings will be updated dynamically on the mobile app.
USERS LIST
This is an easy manner to browse all registered users
PROFILE VIEWS
Easy access to view which profile is being viewed by whom.
PROFILE LIKES
A wonderful analytic tool to track profile 'likes' & to deduce popular profiles on the Tinder Clone.
MATCHES
All 'matches' on the platform can be identified on this page.
REPORTED LIST
All 'reported users' can be analysed so as to identify the reasons. This is a mandatory clause for Apple approval.
PURCHASES
View the list of subscribers who have purchased via the in-app feature.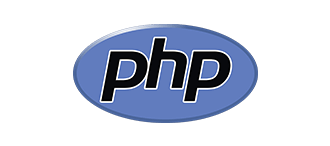 PHP
Web services and Admin Panel
| | | |
| --- | --- | --- |
| FEATURES LIST | Tinder | Datum |
| Custom Sign up | | |
| Video Profile | | |
| Grid View | | |
| Card View | | |
| Recent Visitors | | |
| Image/Video Exchange inside Chat | | |
| Snapchat like image/video exchange | | |
| Giphy keyboard | | |
| Passport | | |
| Rewind | | |
| Superlike | | |
| Customizable preferences and search settings | | |
| In-App Purchases | | |
| Mutual friends and interests | | |