TRUCKING SOFTWARE FOR TRUCK BROKERAGE BUSINESSES
LoadEmUp is an all-rounded trucking software. Complete with a truck booking software, truck broker software, truck dispatcher software, trucking accounting software, truck management & logistics software. Inspired by top trucking software apps like uShip, Convoy, Uber Freight & more.
WHY CHOOSE LOAD'EMUP AS YOUR TRUCKING SOFTWARE SOLUTION?
LoadEmUp has been designed to accelerate truck brokerage businesses to the digital age. The trucking software provides a complete customisable truck-broker software solution for businesses in the freight broker industry.
100% Customizable
Our solution is customizable to build a truck broker software solution for any kind of trucking software need, load moving service and other on demand truck finder apps.
PCI Compliant
We assure PCI compliance so you will have not legal issues accepting online payments on the LoadEmUp trucking software.
Prebuilt Scripts
Using our proprietary Pre-Built IP solution, we move your trucking app from development to deployment faster than any other trucking software developers out there.
Scalable & Clean Design
Using state of the art app container technology, clean coding practices and microservice architecture – LoadEmUp is designed to be future-ready for all your truck-broker business needs.
Multi-Language Support
Whether you want to start a truck booking app / truck brokerage software in German, Arabic, Chinese etc we ensure LoadEmUp can be deployed in any language preference.
Referral & Promotions
Increase your app userbase & overall retention via referrals and promotions features.
Register & View Truck Jobs
Our trucking software allows truck brokers to upload details of the trucking service required, load type & photos on the fly.The trucker on the other side can view a list of nearby truck load jobs.
Broker uploads details such as vehicle type, pickup & drop off dates, load type, rates, payment mode etc
The trucker gets to view a filtered list of available truck jobs near them. The trucker is notified on new load entries placed by the freight broker
Taking ideas from top trucking softwares like uShip, Convoy & more. Our integrated truck brokerage software makes it easier for truck broker businesses to set offers & for truckers to choose between various load offers on-the-fly, or counter them with their price.
Truckers can view the details of the truck job placed by the broker
Truckers can provide a counter offer to the price set by the broker
The truck broker can view a list of truck loads accepted by truckers as well ones that have been newly countered by the drivers.
The truck broker can counter or accept the new price. After both the broker and the trucker have accepted the new price, the load job will be assigned to the trucker
Our trucking software solution is integrated with live truck logistics management. Brokers can view the status of each truckload job posted & are notified on trip status changes. Truckers can navigate the trip journey via Google Maps or Waze. Trip status of the load job is updated by the trucker with just a swipe.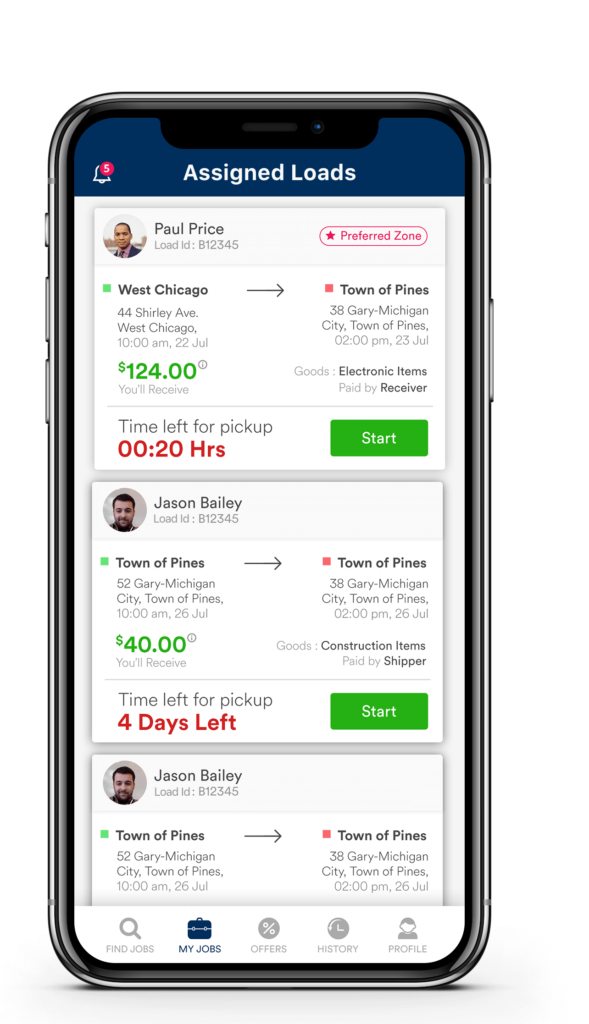 Truckers can view the list of assigned truck load jobs and on the start date, can start the trip.
Our trucking software can route the journey for truckers using either Waze or Google maps. The trip status is updated by swiping the screen which also notifies the truck broker who setup the job.
Live-Track Truck Load Jobs
The truck broker can track the journey and is dynamically updated on the load status in real-time
Upon arrival, the trucker can update the final status & generate the invoice
Job Completion, Ratings & Earnings
Our truck broker software lets truckers generate invoices upon job completion. Our trucking software even provides in-app analytics for the truckers. Truckers can view analytics with regards to their earnings and booking history. We've integrated an rating system within our trucking software so brokers can rate truckers post job completion.
Invoice of the trip undertaken containing images, notes & signature post job completion
Truck brokers are notified on successful load delivery with the documentation. Brokers can rate the driver as well
TRUCK-BROKER WEB DASHBOARD
Centralised Control Center

Manage your bookings, jobs, trip status, offers etc all from one centralised web app.
Live Data & Alerts

Get notified at each stage & view the status of any job or trip, in real-time.
Filters & Analytics

Apply & combine various filters to view specific details regarding jobs & truckers. Information can be exported as well into excel
TRUCKING SOFTWARE ADMIN PANEL
FLEET MANAGEMENT
Manage truckers and the various load-hauling vehicles.
FREIGHT DRIVERS FARE SETUP
Setup and manage trucking fares for different cities and different truck types ( Semi's, 18-Wheeler etc)
PROMOTIONS & REFERRALS
Setup and manage promotion codes and referral campaigns on our trucking software
TRACK BOOKINGS
View all bookings in real time as they are being placed on the trucking app
ACCOUNTING
Complete financial accounting system to keep track of earnings with our trucking accounting software
PAYROLL
Payroll management system integrated in our trucking accounting software to manage cash & card earning for truckers with direct payment to driver bank accounts
MANAGE SERVICES
Setup fixed prices for trucking services in different cities
BIRD'S EYE VIEW
Track your fleet or truckers under you, in real time on a map across cities
ZONE MANAGEMENT
Create zones by drawing polylines on a map and set rates accordingly
MESSAGING
Push messages to drivers and customers directly from the admin
REVIEWS & REPORTS
Keep a tab on truckers and maintain high quality standards using ratings and reviews left by customers
COMMISION
Setup various app commision rates based on truck type, zone, service etc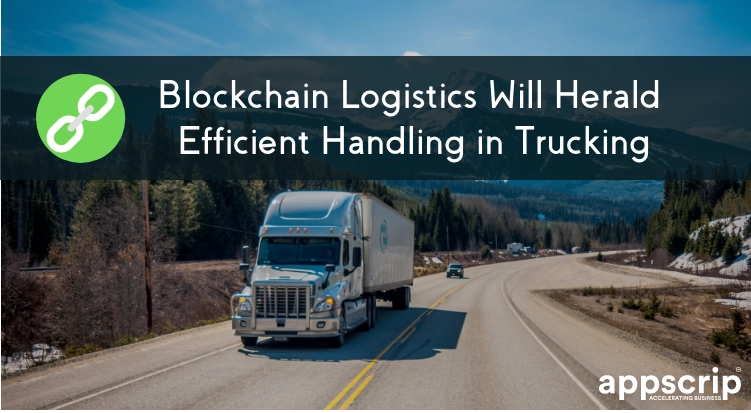 Blockchain Logistics Will Herald Efficient Handling in Trucking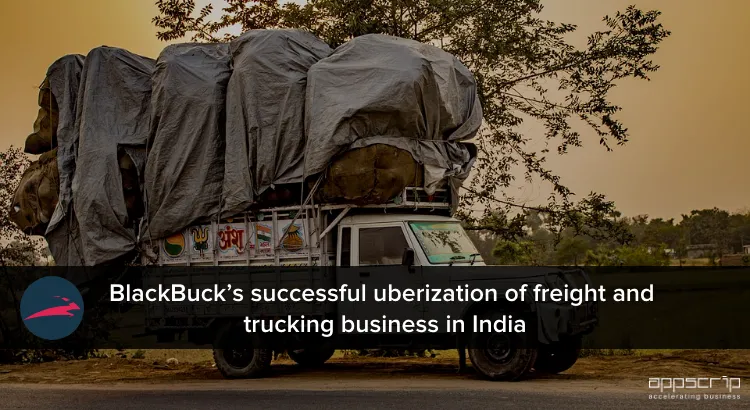 BlackBuck's successful uberization of freight and trucking business in India
Starting A Trucking Business In Australia? 7 Trends You Should Know