RoadYO: The best Uber clone script & taxi dispatcher software for making on demand taxi booking apps & on demand transportation apps.

Get the best Uber clone / MyTaxi clone / Careem clone / Lyft clone / Ola clone / Didi Chuxing clone / SideCar Clone / Flywheel Clone / Easy Taxi Clone  / Grab Clone software here.
RoadYO! Our Uber clone script for iOS and Android is one of the most technologically advanced taxi booking app & the best taxi dispatch system, in the world.
Our Uber clone app, RoadYO comes with 2 Mobile Apps:-
Uber Clone Passenger App – To book cabs now or later, track drivers live, pay via different payment methods.
Uber Clone Driver App – For the drivers to accept mobile and website booking requests, navigate easily between locations, track earnings.
We use state of the art technology & microservice architecture for our taxi booking software & taxi dispatch system such as  MongoDB, Redis, Node.js, Angular.js, RxSwift, RxJava, and powered by cloud-based services like AWS and digital ocean.
Therefore, our Uber clone script, RoadYO is the answer if you need launch the next million $$$ Uber clone, Lyft clone, Careem clone, Didi Chuxing clone, Ola clone etc – That is robust, scalable, PCI compliant and is tailored to your exact business needs.

We have done quite a few customizations to our Uber clone, and are right here to help you build the next big taxi booking business in the mobile taxi booking/ride-hailing universe. So if you want to start your very own Uber-like taxi business or if you already have a fleet of taxis and you wish to get a customised taxi booking software or taxi dispatch system for your business on an app, our Uber clone software, RoadYO is just the thing for you!
To read more about the features we have on the Uber Clone Script  PLEASE CLICK HERE.
Find cabs around you, tap a button & get a ride for now or later.Request a ride with one of your favorite drivers.
Pay by cash or go cash less with credit card/debit card/payment wallets.
Tap and Pay ! Use RoadYo wallet for seamless payments. Top up your wallet with RoadYo money using your credit cards.
Track your payments and cash backs all in one place. View details of all the transaction made through the payment wallet.
Get surge pricing alerts while requesting a ride.
Earn discounts with promo codes & referrals.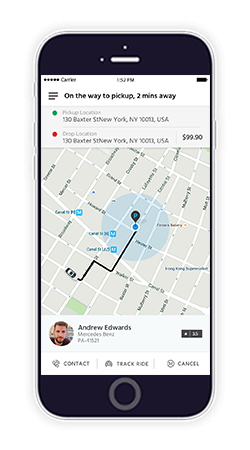 Track your driver live and view ETA in real time.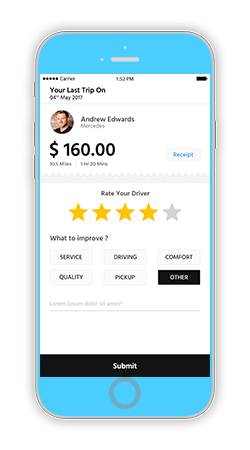 Rate your driver and provide feedback about your trip.
Receive ride requests with trip details. Accept or reject the requests.
Mark availability for requests with the ON THE JOB and OFF THE JOB button.
Google Maps and Waze maps integration for seamless navigation to customer's pickup & drop location.
Generate invoices after completing the trip
Calendar to maintain a record of all trips completed by driver
Financial Summary to keep track of earnings and payouts.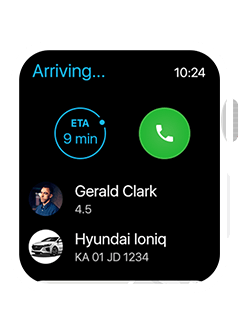 THE BEST TAXI DISPATCH SYSTEM
Intuitive taxi dispatcher dashboard lets you easily schedule & dispatch jobs on the go. Updates are provided on new or active booking via web push notifications in real time.
Personnel managing the taxi dispatcher software can create new bookings via the phone booking form available on the dispatcher.
View your entire driver fleet in real time and book a driver manually or allow the system to auto book the drivers for scheduled bookings.
Track drivers and view their job schedules. You can also track ongoing bookings with all the driver and booking details via our taxi dispatcher software in our Uber clone.
Book a ride for now or later feature in our Uber clone Android & iOS application via our fully mobile responsive taxi booking website.
Choose the pickup and drop off address, select a car that suits you, fill in your details and choose a payment method. Furthermore, you can get a fare estimate and add promo code to get discounts for your ride.
Track your taxi driver live on a map on our website taxi booking software, while he grooves his way to the pickup and drop off location. Also, view the driver's estimated time of arrival.
In addition to viewing the trip invoice with the fare split, you can also add a star rating for the driver on our Uber clone software.
WATCH ROADYO IN ACTION – UBER CLONE APP DEMO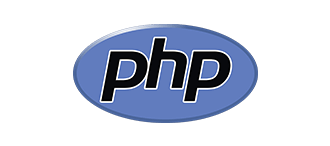 PHP
Web services and Admin Panel
My SQL
SQL based database
BENGALURU (INDIA)
#54, R.B.I.Colony, Anandnagar,
Bengaluru, India, 560024.
US No. @ +1-415-813-5833
India No. @ +91-9902019342
Skype @ appscrip
Whatsapp : +91-9902019342
Email @ dreamer@appscrip.com
ATLANTA(USA)
8530 Colonial Place,
Duluth, GA, 30097, USA.
US No. @ +1-415-813-5833
Skype @ appscrip
Whatsapp : +91-9902019342
Email @ dreamer@appscrip.com