Uber For Business | So Your Business Can Go Places
The only way your taxi app stands different from others is when you have something different to offer to your customers. Karry brings you this new and interesting addition- Uber for business.
Uber For Business: Benefits Of Incorporating

Uber for business has been designed keeping in mind the needs of travel of employees for business purposes. The app owner can provide seamless transportation services to individuals and companies, implying increased source of income
Save Time When Riding for Work.
Separate Business from Personal
Streamline Your Expensing
Auto-Generate Travel Reports
Uber For Business UI Flow
Flow for Uber for business has been kept seamless and easy to follow. Customers can easily choose between personal and company profile based on their requirements. 
Select Billing Method
Choose between corporate and personal profile. Corporate billing is allowed as long as the business's credit line has not exceeded the limit set for it by the app.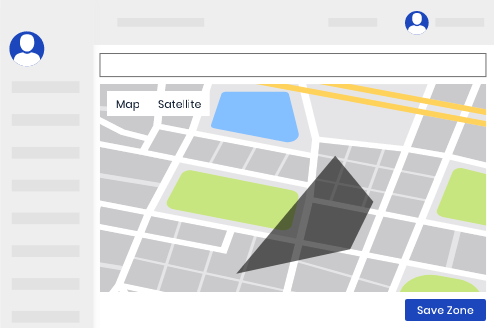 Set Zones
Businesses can mark areas in which they allow employees to take rides hence ensuring that employees only travel for work.
Custom Pricing
Based on volume business's can get custom prices for different vehicle types.
Invoice
At the end of the trip your employees don't have to shell out a dime as the ride will be booked against the business's credit line with the app.
Simple Group Travel Management
Log in to the dashboard to set user permissions, control spending, and handle billing.
iOS
Native Apps with MVVM architecture via Swift 4 & RxSwift. Declarative coding via ReactiveX enables us to describe complex asynchronous workflows at a high level in a few lines.
Android
Native Apps with MVP clean architecture & RxJava. Perfect for asynchronous data streams. Learn more about the benefits of Rx programming in app development here
Node.js
API's are written in pure Node.JS, following the best clean coding & MVC clean architecture guidelines. We additionally use Node.js for our app performance monitoring services as well.
Scalability
Using Docker for our app containers, you can build, ship & run the app, anywhere. Our app containers are based on shared operating systems and microservice architecture. This makes it much more efficient in terms of system resource utilization and additionally, utilizes the server-worker model for super scale and performance.
Real-Time Functionality
Provided via open source message brokers. Ensuring every function call runs immediately and seamlessly in the app. Perfect for any kind of on-demand service provider.
MongoDB
Distributed database with high availability, horizontal scaling, and geographic distribution that is built in and easy to use. This ensures the application can handle large user volumes during userbase growth.
Angular 5
Used for our admin panel. Angular 5 allows us to build state of the art progressive web applications. Using the build optimizer tool, we can reduce the size of our javascript code as well as remove any unnecessary parts or run time code - This makes our application lighter and faster as well.
Security
Most secure app infrastructure in the market where security extends from the mobile app to the API's. Use of keychain in the iOS to store all credentials, SSL powered API's, use of JWT for the API's, reverse proxy setup on the load balancer, proguard on Android etc.
Support
Using our proprietary Node.js Application Performance Monitoring(APM) service, you can can easily monitor your app as well as detect and react to potential issues beforehand. By monitoring the app on a service/host/instance level - Our APM services ensure that your app is always on the top of its game.
Analytics
We've integrated our APM features with a Slack bot. You and your team can receive immediate updates on the status of the application, at any given time. You can additionally request the Slack bot to give you app performance updates.
Best DevOp Practices
We ensure that the app is completely functional at the end of the day with each milestone depvered to you as quickly as possible and clear communication between you and our team. We implement Jira for project management, Bitbucket for version control, Slack for monitoring and communication, Skype for conferences and quick chats, Scrum board/Sprints for task management and Crashyltics/Fabric.io for bug reporting etc.