Shypr: Uber for Couriers Script & Dispatch Software for On-Demand-Delivery software solution
The Uber for Couriers is a software solution designed and crafted for entrepreneurs to launch their own courier service for hyperlocal delivery at their preferred location.
The 100% customizable, PCI compliant for multi-currency & multi-language support on demand delivery software solution is tailor-made for any region of operation. The Uber for Couriers script with source code, for iOS and Android is a one of its kind & technologically proven courier delivery solution that beats all competition.
What is Uber for Couriers App?
The Uber for Couriers app serves to deliver packages / couriers / articles that arrive at a local collection center through various means such as road, rail or air. This is then delivered to the addressee with the assistance of a group of delivery personnel. The entire cycle from collection of the courier to its delivery is accomplished at the shortest possible time.
What are the features of an Uber for Couriers App?
Credit wallet included for drivers & shippers to track cash transactions. Payment can be paid either by the shipper / receiver. Shipper / receiver can track the courier in real-time. Cash / card accounting integrated. Courier shipped after receiver's confirmation. Accounting system incorporated to manage driver pay out and shipper settlement.
Uber for Courier clone script inspired by Bringg / Lalamove / Shyp / Lugg / Deliv / Uber Freight
Our Uber for Courier software solution is unique with separate apps for shippers and drivers. It can be designed, developed, & deployed quicker than any other software solution or by any other developer.
Essential features of a Courier Clone Script
1) Credit Wallet for shippers to track of cash/card expenses.
2) Credit Wallet for drivers to track of cash collection.
3) Shippers can enable drivers to collect payment. This is ideal for small merchants. Drivers can hand over the cash after their delivery run.
4) Delivery fee can be paid either by the shipper/receiver.
5) Shippers can opt to take receiver's confirmation before shipping the goods.
6) Receivers get a link to confirm the shipment and can pay for it after adding card details.
7) Receivers get a link to track the delivery timing.
8) Shippers can track delivery in real-time.
9) Accounting system has been inculcated to manage driver pay-outs and shipper settlements.
10) Cash / Card accounting integrated.
 In addition we assure PCI compliance to ensure no legal hassles for accepting online payments on Uber for courier script. Furthermore, the app comes with multi-language and multi-currency support. Hence Uber for courier software solution can be deployed in German, Spanish or Arabic languages. Any currency preference also can be enabled.
Active loads that are awaiting customer confirmation or dispatch are displayed here
Uber like experience has been enabled to view all available vehicles for bookings
Configure if customer confirmation is required, security code to be included and who makes the delivery fee payment (shipper / receiver).
Configure if driver needs to collect payment for the shipment during delivery, includes images and description of the load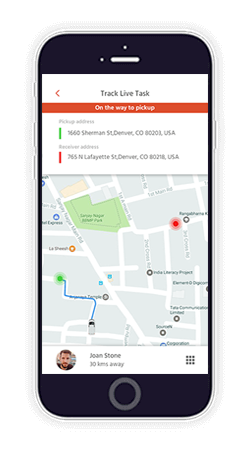 Live tracking of the driver while he is enroute to pick-up the load from the designated location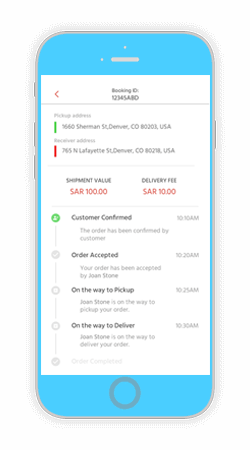 Receive live status updates for each order in real-time from the driver via notifications
Manage cash/card payments through the shipper wallet
Uber like experience has been enabled to view all available vehicles for bookings
Receive an invoice at the end of the assignment. Provide a rating and review of the driver.
The driver app opens automatically whenever a new load request has been logged-in.
Swipe to update the status of the job as it progresses with credible notifications such as 'I have arrived', 'Vehicle Loaded' 'Trip Commenced', 'Vehicle Unloaded' and 'Invoice Generated'.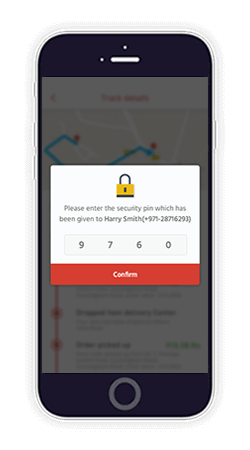 Driver to enter the security code provided by receiver to confirm authenticity.
Receiver to endorse their signature to confirm accomplishment of delivery assignment on the Uber for courier delivery app.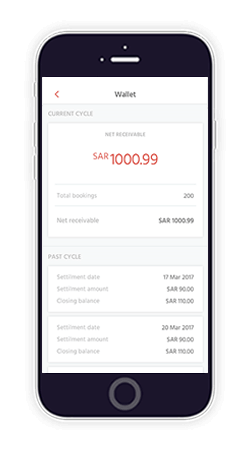 With the assistance of the wallet you can view current net receivables & past settlements with all necessary details.

Please note that the use of the terms "EasyVan Clone", "Bringg Clone", "Lalamove Clone", "Shyp Clone", "Lugg Clone", "Deliv Clone", "Uber Cargo Clone" is for marketing purposes only. This is how the web & app development industry refers to building a(n) courier/transport booking app/website similar to EasyVan, Bringg, Lalamove, Shyp, Lugg, Deliv, Uber Cargo or another brand. Appscrip ensures that the entire design and code is built by our own team of designers and developers. No code, design or graphics has been or will be used from the official EasyVan/Bringg/Lalamove/Shyp/Lugg/Deliv/Uber Cargo app/website. Appscrip custom-made solution enables owners to run an app/website similar to EasyVan/Bringg/Lalamove/Shyp/Lugg/Deliv/Uber Cargo based on our standard structure and technology blueprint, however we are not an exact copy of EasyVan/Bringg/Lalamove/Shyp/Lugg/Deliv/Uber Cargo as we provide our unique modifications to our solutions. Learn more on what is app/website cloning.