VaidG has been designed to satisfy the needs of healthcare professionals and people looking for the service of these professionals. Healthcare startups can personalize their own doctors on-demand app as a standalone app or combine it with their existing healthcare business models.
Record Data
We record all Telemedicine appointments and store them for future reference.
Data Encrypted
End to end encryption of all patient data.
Chat Encrypted
Chat is end to end encrypted.
Diagnosis Questionnaire
Pre appointment survey to gather more info on patient's symptoms for better diagnosis.
Tele Medicine - Schedule Remote Video Call Appointments
Users have the option to book for a remote consultation with a specialist via the video call facility available on the App for themselves or their dependents. All interactions are encrypted and stored for future reference. Doctor – Patient confidentiality is maintained such that the data can be viewed only by the doctor or patient (and not even by the App).
Jump To - TELEMEDICINE APPOINTMENTS
Clinic Visits - Schedule clinic visits
Clinical appointments can be booked with a specialist after viewing professionals available based on various filters and viewing all information such as location, specializations, reviews, rating, charges, etc. User can fix the appointment for an available time slot and pay through diverse options including insurance.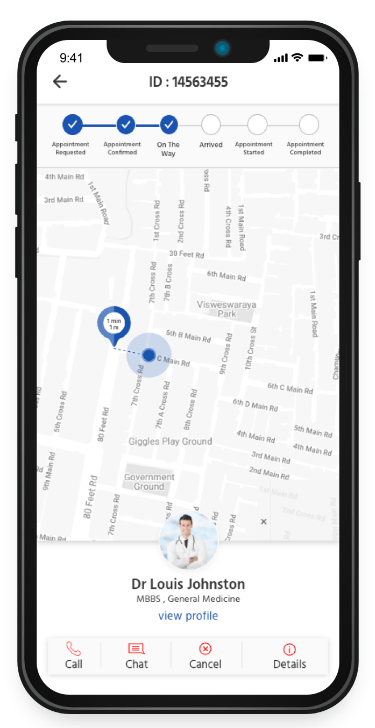 Home Visits - Request doctors / care givers for home visits
Clients have the option to book for a preferred healthcare service directly from their mobiles. In here the user can key in all necessary details and book for a Doctor to visit them to provide healthcare services in the comfort of their home. Patients can also track the doctor arriving for the scheduled visit.
On Demand Healthcare App Graphical Flow
CHOOSE THE APT MODE OF SERVICES
VaidG our customizable Uber for Doctors App helps you fix an appointment with a Doctor or call a Doctor home or have a tele-appointment with a Doctor.
Preferred Mode Of Treatment
---
Users can book for a preferred mode of treatment: Doctor At Home or Visit A Doctor or Tele-Appointments for Telemedicine. Further option to select a particular professional is provided.
Select A Specialist
---
Schedule the appointment based on your present ailment and then narrow down to a specialist based on diverse options provided. Even add a note regarding your ailment.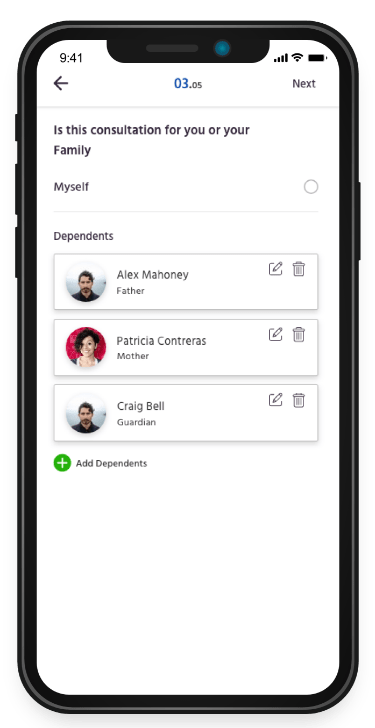 Schedule The Appointment
---
Schedule an appointment either for yourself or for a dependent.
Add Dependents
---
Add any dependent to your account and fill in all necessary details.
HEALTHCARE SERVICES BY SPECIALIZATION
To have an intuitive user experience, advanced filtering features have been included in the on demand healthcare app based on various factors.
Key In All The Details
---
Provide all necessary details of ailments from the selection and add notes as well.
Provide Information On Symptoms
---
Give all necessary information on symptoms also add images.
Filters To Select A Doctor
---
Choose a healthcare professional using filtering option on the on-demand healthcare app with respect to your requirements.
Profile
---
A selection of doctors available with reference to your choice is provided to book a consultation.
Detailed Profile Of Doctors
---
Detailed profiles of doctors are provided such as reviews, ratings, certifications, specialization, fees, etc.,
Select A Time Slot
---
Users are also provided the available time slots to book a consultation with their preferred doctors.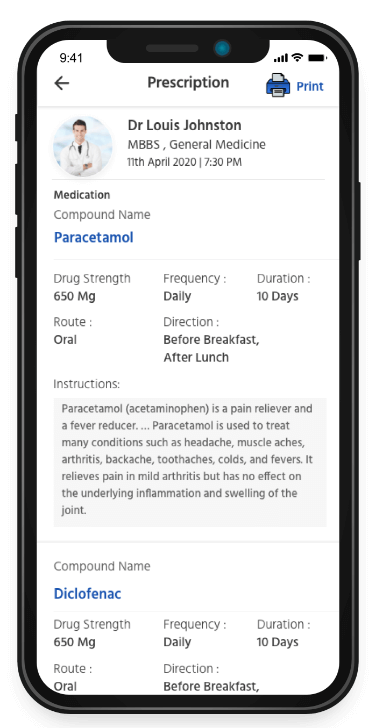 View Prescription
---
The patient can view the prescription raised by the doctor after the consultation and invoice being raised.
Favorite Doctor
---
Users have the option to save their favorite doctors on their profile to easily access when they make an appointment.
PAYMENT & COMMUNICATION
Our on demand healthcare app is all about providing efficient healthcare services. Users are equipped with communication features & various payment modes.
Mode Of Payment
---
Select a mode of payment that has options such as cash, from the wallet or from insurance.
Telemedicine - Chat With Media Attachment
---
Clients can chat with Doctors and information can be shared through media attachments like pictures, scans, prescriptions can be sent.
Video Call With Doctor
---
Users can have a Telemedicine consultation with their doctors using live video facility in the App. The entire consultation is recorded and stored as per law. This data is encrypted so that it can be viewed only by the doctor or patient.
Live Track Your Doc
---
Users can track their Doctor while he is in the process of completing the appointment. This facility is useful for both doctor and patient to have information on each stage.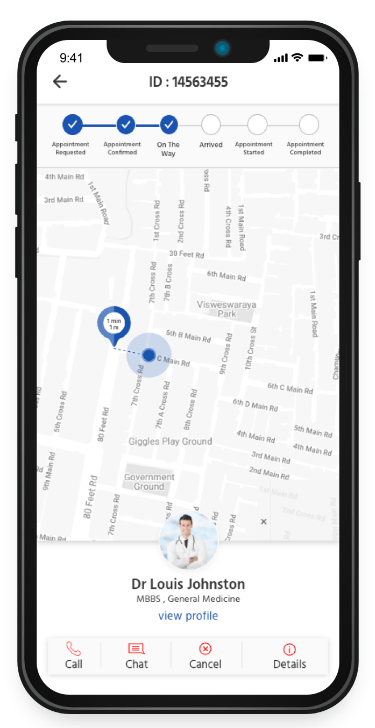 History Of All Visits
---
Check details of past, present and open consultations with your healthcare professional and invoice raised.
Receipt & Rating
---
View the receipt of total amount paid for the consultation. Rate your experience via feedback on various factors.
UBER FOR DOCTORS GRAPHICAL FLOW
CHOOSING HEALTHCARE SERVICES
Our customizable Uber for Doctors application makes it easy for users to select their preferred healthcare service at their own pace, location & tim.
Booking Healthcare Has Never Been Easier!
Users can book their preferred healthcare services with Uber-like efficiency via our intuitive Uber for Doctor's UI.
Few Questions To Get Started
To improve overall user experience, a customizable set of user-related questions are asked. These questions can be customised based on the on-demand healthcare solution required.
Easy Scheduling
Whether its an immediate house call visit, or a scheduled clinic appointment, our healthcare software solution lets users easily schedule their preferred healthcare services.
Confirm Booking Address
In-case of house call doctor visits, users need to specify and confirm their booking address.
---
HEALTHCARE SERVICES BY SPECIALIZATION, LOCATION, TIME SLOTS OR FEES
In order to maximise user experience, we've integrated advanced filtering features to let your users select their 'Uber Doctors' based on a variety of factors.
List View
Users are displayed a list view of healthcare professionals with the option to filter the list based on profession. Individual ratings, availability, avg fees are also displayed to the user.
Live Map VIew
Based on the users location, our Uber for Doctors application provides users a live map view of available health care professionals near them.
Filtered View
For users with specific preferences, our on-demand healthcare solution offers an advanced filtering option that allows users to find healthcare providers based on their exact requirements.
Profile
Once a doctor is selected users are provided with a detailed profile of the doctor to go through before making a booking.
Available Time Slots
Users are also provided with time slot availability for bookings with their preferred doctors.
Certifications & Reviews
To improve user trust with the service, our on-demand healthcare software solution displays various healthcare-related certifications, ratings and user reviews under each doctor profile.
---
LIVE TRACKING & COMMUNICATION
Our Uber for Doctors application is all about providing an Uber-like efficiency when it comes to booking healthcare services on demand. Users are equipped with features to easily track, communicate and share information pertaining to their booked healthcare service.
Live Tracking & Notifications
VaidG is equipped with an in-app live tracking features for users to live map track their booked healthcare professionals with in-app notifications sent at each status change. This features is especially useful during house call doctor visits.
Telemedicine - Saving Time & Overhead Costs
We've integrated live video consultations as part of the available healthcare services. This allows Doctors to remotely connect with users thereby saving time and costs for both customers and healthcare providers.
Telemedicine - Chat With Media Attachment
Users can chat with their preferred doctors even during live video consultations. Information as well as media attachments like pictures, scans, prescriptions can be sent between users and Doctors easily.
Reviews
Users are urged to review their booked healthcare providers to maintain high quality standards on your custom Uber for Doctors application.
HEALTHCARE PROVIDER MANAGEMENT
Manage various on-demand healthcare providers registering on your Uber for Doctors App –  Accept or reject as necessary.
VIEW RECORDED VIDEO CALLS
View Telemedicine consultation recordings after they are completed which is an important security feature.
PROMOTIONS & REFERRALS
Setup and manage promotion codes and referral campaigns on your customized on demand platform.
TRACK APPOINTMENTS
View all healthcare consultations being placed in real-time.
ACCOUNTING
Complete financial accounting system to keep track of earnings for various healthcare professionals registered on the app.
PAYROLL
Payroll management system integrated in our software, to manage cash & card earning of healthcare providers with direct payment to their accounts.
MANAGE SPECIALIST
Manage various on demand doctor categories present on your customised application.
BIRD'S VIEW
View all appointments & consultations in real-time on a map across cities or zones.
Pre Appointment Survey
Create pre-appointment questions for various symptoms
SEND REAL TIME PUSH NOTIFICATION
Send push notifications to healthcare professionals and customers directly from the app regarding updates.
RATINGS & REVIEWS
Keep a tab on the healthcare providers and maintain high quality standards using ratings and reviews of customers.
COMMISSION SETUP
Setup the app commission for various healthcare professionals.
iOS - Swift 5
Native Apps with MVVM architecture via Swift 4 & RxSwift. Declarative coding via ReactiveX enables us to describe complex asynchronous workflows at a high level in a few lines.
Android - Java
Native Apps with MVP clean architecture & RxJava. Perfect for asynchronous data streams. Learn more about the benefits of Rx programming in app development here
API - Node.JS
API's are written in pure Node.JS, following the best clean coding & MVC clean architecture guidelines. We additionally use Node.js for our app performance monitoring services as well.
Scalability
Using Docker for our app containers, you can build, ship & run the app, anywhere. Our app containers are based on shared operating systems and microservice architecture. This makes it much more efficient in terms of system resource utilization and additionally, utilizes the server-worker model for super scale and performance.
Real-Time Functionality
Provided via open source message brokers. Ensuring every function call runs immediately and seamlessly in the app. Perfect for any kind of on-demand service provider.
WebRTC
On premise setup of WebRTC gateway with recording features enabled. All calls are routed through secure servers and the data is stored securely.
MongoDB
Distributed database with high availability, horizontal scaling, and geographic distribution that is built in and easy to use. This ensures the application can handle large user volumes during userbase growth.
Angular JS 6.0
AngularJS is an open-source, JavaScript-based, front-end web development framework that aids in developing single-page applications. After the release, AngularJS has been incorporated by some of the biggest brands for their web app development.
Security
Most secure app infrastructure in the market where security extends from the mobile app to the API's. Use of keychain in the iOS to store all credentials, SSL powered API's, use of JWT for the API's, reverse proxy setup on the load balancer, proguard on Android etc.
Support
Using our proprietary Node.js Application Performance Monitoring(APM) service, you can can easily monitor your app as well as detect and react to potential issues beforehand. By monitoring the app on a service/host/instance level - Our APM services ensure that your app is always on the top of its game.
Analytics
We've integrated our APM features with a Slack bot. You and your team can receive immediate updates on the status of the application, at any given time. You can additionally request the Slack bot to give you app performance updates.
Best DevOp Practices
We ensure that the app is completely functional at the end of the day with each milestone depvered to you as quickly as possible and clear communication between you and our team. We implement Jira for project management, Bitbucket for version control, Slack for monitoring and communication, Skype for conferences and quick chats, Scrum board/Sprints for task management and Crashyltics/Fabric.io for bug reporting etc.
DB - Elasticsearch
Elasticsearch is a highly scalable open-source full-text search and analytics engine. It allows you to store, search, and analyze big volumes of data quickly and in near real time. It is generally used as the underlying engine/technology that powers applications that have complex search features and requirements.
REAL USE CASES FOR A CUSTOMIZABLE HEATHCARE ON DEMAND SOFTWARE
Uber for Physiotherapists
Uber for Medicine Delivery