UBEREATS Clone App Script
The Best Online Restaurant Delivery Management Software
Our UberEats clone app can help your restaurant, fast food chain or catering business boost sales and make more money. Build a white label food delivery platform. Get your restaurant and its culinary creations in front of hungry online customers. Appscrip offers a comprehensive suite of on-demand delivery mobile app solutions, which is technologically superior and commercially viable. Start a new trend. Become the next big unicorn!
CUSTOMER APP | THE FINEST FOOD DELIVERY SOLUTION
With the competition heating up in the online food delivery market, our restaurant Ordering System has been crafted with unique and powerful features that give you an edge over competition. The user friendly UI has been designed to provide a seamless food delivery experience for users. Users can easily identify with the features on this UberEats clone app. With Search & Filtering & live tracking options - Users can now order food from their favourite restaurants with just a few taps!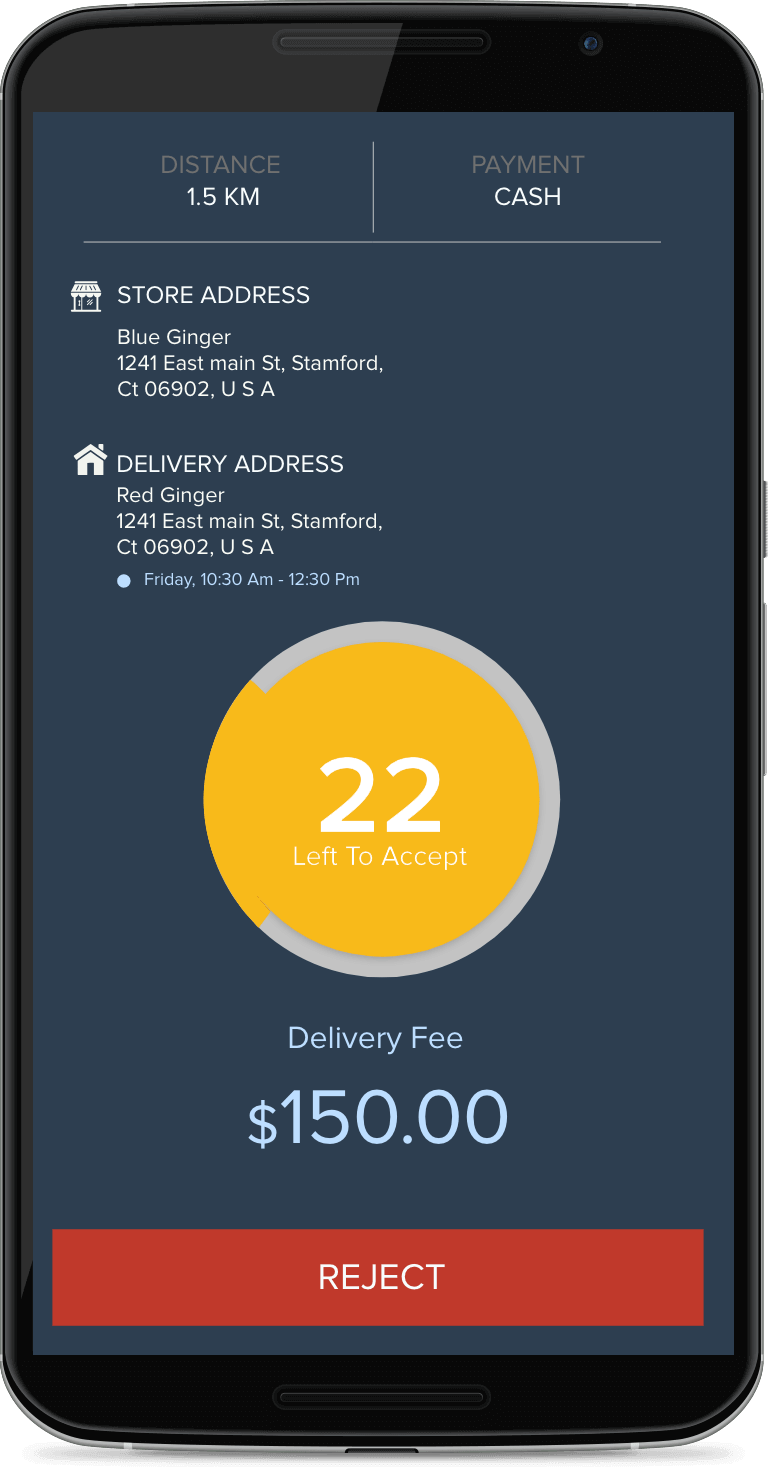 DRIVER DELIVERY APP | EASIER DELIVERY WITH THE UBEREATS CLONE APP
For coordination with Delivery Agent, the Customer gets the facility to make calls to the Rider from within the App. The Customer always gets one-on-one chat in-app with the Restaurant Admin for sorting out any issues pertaining to Delivery or Food or any other related matter. The driver agent apps includes features such as in-app chat, easy job status updates, analytics & earnings reports.
STORE OWNER APP | ORDER MANAGEMENT ON THE UBEREATS CLONE APP
The UberEats clone script store app gives store owners/admins a simple and intuitive dashboard to manage all orders placed on the customer app and accordingly assign them to riders or delivery agents manually or to the next available one.
RESTAURANT DISPATCHER | ORDER OVERVIEW
Comprehensive tool designed to manage orders placed by the customer on the app & website. Restaurant dispatch personnel are provided with a real-time view of all active orders placed on the app. Provision to automatically or manually assign orders to riders, bikers or delivery agents. Editing details of certain orders as well on the UberEats clone app.
CENTRAL DISPATCHER | OVERALL ORDERS & RESTAURANT OVERVIEW
City managers set up on the backend, will have access to the web central dispatcher enabling them to have an overview of all active restaurants and orders in real time. Central dispatchers can also auto/manually assign orders to delivery agents on the food delivery service software
WEB ADMIN PANEL | OVERALL ACCESS AND CONTROL ON THE UBEREATS CLONE APP
App owners and assigned representatives can use the admin panel to setup and configure cities, zones, pricings, stores, franchises etc on the web admin panel of the food delivery dispatch software solution.
DOORDASH CLONE SCRIPT – GRUBDASH RESTAURANT FOOD DELIVERY SYSTEM
Inspired by the success of DoorDash,and other online food delivery software solutions – GrubDash has been designed to provide your customers a feature-rich and seamless food ordering system experience.
GRUBDASH - DOORDASH CLONE SCRIPT | FOOD DELIVERY APP GRAPHICAL FLOW
Your custom delivery service software will allow customers to order food from their favourite restaurants near them. Restaurants available on your custom Doordash clone script can be integrated from the back-end delivery business software.
Attractive Opening Screen
---
Dazzle the user with a rich display of the opening screen. A snapshot of restaurants nearby gives them an idea of what to expect from the app.
Explore Various Restaurants
---
Browse from a tempting array of restaurants from around the area. The doordash clone source code offers variety in food delivery making it a delightful experience for the user
DELIVERY MANAGEMENT SOFTWARE: DELIVERY AGENT APP
Our delivery service software development includes an easy-to-use delivery agent app for delivery agents to view and accept live job requests, track to various pickup and drop off locations, edit orders, view earnings and more. Various individual store delivery agents or your own delivery service agents can be integrated via the backend delivery business software.
View Status of Delivery Jobs Nearby
---
Delivery agents can view the status of supermarket or restaurant delivery jobs available near them. If an agent is unavailable to receive job requests, they can switch their status from 'Online' to 'Offline' by simply clicking the associated button.
Live Delivery Job Alerts
---
Delivery agents can receive live job sent by the store app or dispatcher software. Delivery agents can view details of each job such as type of job, payment method etc before choosing to accept it or pass it on. Agents can also be manually assigned delivery jobs via the backed delivery dispatch software.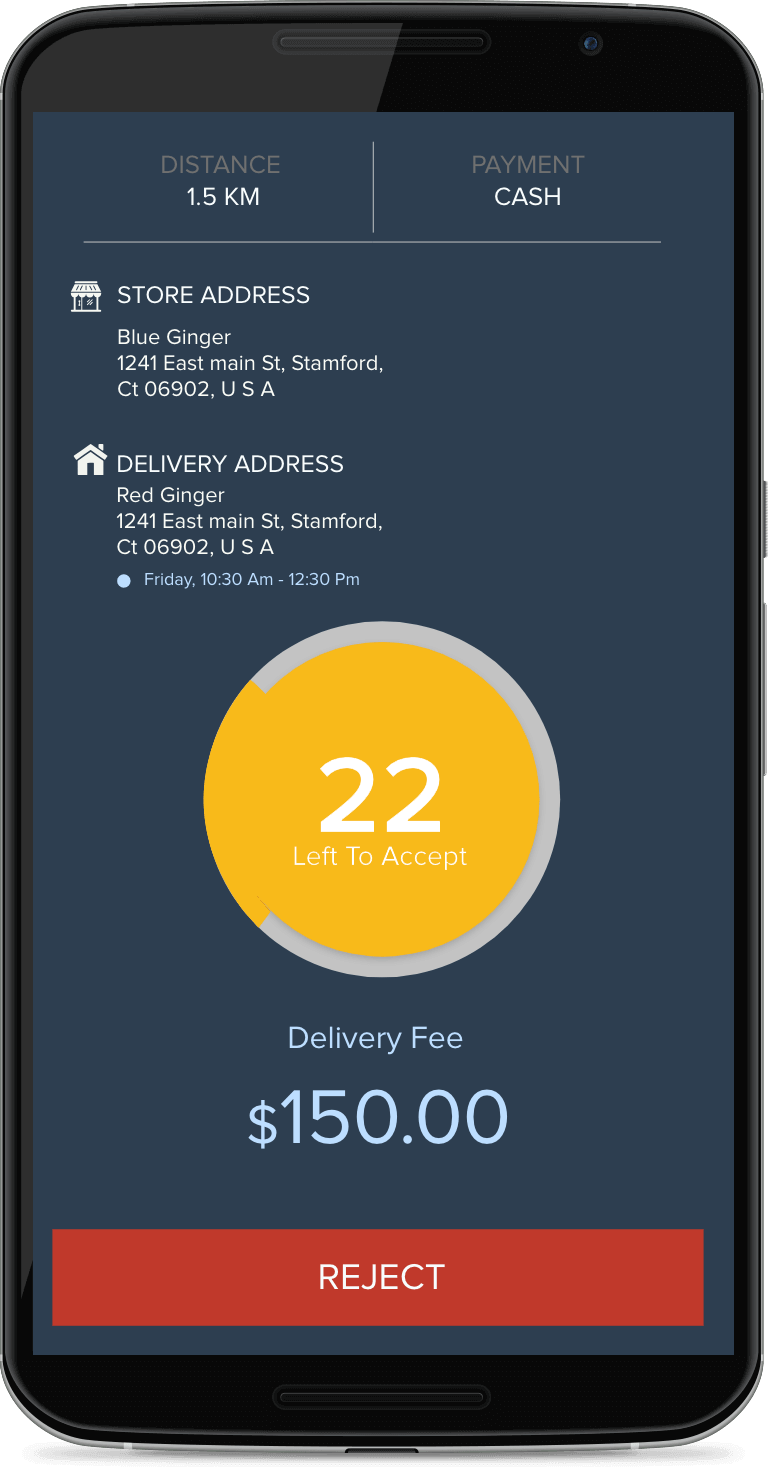 TECHNOLOGY USED ON THE UBEREATS CLONE APP
iOS
Native Apps with MVVM architecture via Swift 4 & RxSwift. Declarative coding via ReactiveX enables us to describe complex asynchronous workflows at a high level in a few lines.
Android
Native Apps with MVP clean architecture & RxJava. Perfect for asynchronous data streams. Learn more about the benefits of Rx programming in app development here
Node.js
API's are written in pure Node.JS, following the best clean coding & MVC clean architecture guidelines. We additionally use Node.js for our app performance monitoring services as well.
Scalability
Using Docker for our app containers, you can build, ship & run the app, anywhere. Our app containers are based on shared operating systems and microservice architecture. This makes it much more efficient in terms of system resource utilization and additionally, utilizes the server-worker model for super scale and performance.
Real-Time Functionality
Provided via open source message brokers. Ensuring every function call runs immediately and seamlessly in the app. Perfect for any kind of on-demand service provider.
MongoDB
Distributed database with high availability, horizontal scaling, and geographic distribution that is built in and easy to use. This ensures the application can handle large user volumes during userbase growth.
Angular 5
Used for our admin panel. Angular 5 allows us to build state of the art progressive web applications. Using the build optimizer tool, we can reduce the size of our javascript code as well as remove any unnecessary parts or run time code - This makes our application lighter and faster as well.
Security
Most secure app infrastructure in the market where security extends from the mobile app to the API's. Use of keychain in the iOS to store all credentials, SSL powered API's, use of JWT for the API's, reverse proxy setup on the load balancer, proguard on Android etc.
Support
Using our proprietary Node.js Application Performance Monitoring(APM) service, you can can easily monitor your app as well as detect and react to potential issues beforehand. By monitoring the app on a service/host/instance level - Our APM services ensure that your app is always on the top of its game.
Analytics
We've integrated our APM features with a Slack bot. You and your team can receive immediate updates on the status of the application, at any given time. You can additionally request the Slack bot to give you app performance updates.
Best DevOp Practices
We ensure that the app is completely functional at the end of the day with each milestone depvered to you as quickly as possible and clear communication between you and our team. We implement Jira for project management, Bitbucket for version control, Slack for monitoring and communication, Skype for conferences and quick chats, Scrum board/Sprints for task management and Crashyltics/Fabric.io for bug reporting etc.
ReactJS
Javascript library that combines uses new ways of rendering webpages combined with speed of Javascript. Using ReactJS, developers can re-use code easily making apps easier to develop & maintain. Additionally, the Virtual DOM in ReactJS makes user experience better and the developer's work faster.
FROM THE ONLINE FOOD DELIVERY INDUSTRY
LEGAL INFORMATION
Please note that the use of the term "Uber Eats Clone" is for marketing purpose only. This is how the web & app development industry refers to building a(n) service booking app/website similar to UberEats or another site. Appscrip ensures that the entire design and code is built by our own team of designers and developers. No code, design or graphics has been or will be used from the official UberEats app/website. Appscrip custom-made solution enables owners to run an app/website similar to UberEats based on our standard structure and technology blueprint, however we are not an exact copy of UberEats as we provide our unique features & modifications to our solutions.
Learn more on what is app/website cloning.