BUILD AN APP LIKE THE VIA TAXI APP - DISPATCH SOFWARE AT IT BEST
The VIA taxi app is a successful on-demand transit company & allows its riders to share a taxi with others going towards the same direction. Build a successful Taxi dispatch app with KARRY. Read the complete technology solutions we use to Build an Uber Like App
What is the VIA TAXI APP all about?
Via is an on-demand transit provider primarily focused on shared rides. For riders who choose a shared vehicle, Via's algorithm matches multiple passengers heading in the same direction and books them into a single vehicle.
Via drivers get paid to shuttle multiple passengers who are headed in a similar direction to streamline vehicle routes, only stopping to pick-up and drop-off on a corner to corner basis. Passengers then walk the last block or two to their destination to avoid unnecessary detours while making the rides more efficient. Most rides are shared rides on Via.
CUSTOMER APP | FEATURE-RICH & SEAMLESS
The Karry is a white label taxi booking app has been designed to hassle-free taxi booking solution for your customers. Equipped with live tracking, card payments, in-app wallets, driver preferences, referrals, ratings, multi-trip booking options, multi-language support & more features inspired from the VIA taxi App.
DRIVER APP | EASY-TO-USE & INTUITIVE
The Karry driver app is similar to the VIA Taxi App,designed with an easy-to-use UI for drivers to quickly on-board themselves and start accepting booking requests. Drivers can view analytics on trips undertaken and connect their bank accounts directly with the app as well. Karry Driver is also integrated a unique meter-based booking request for drivers to make manual trips as well
RIDE SHARING TAXI DISPATCH SYSTEM
Seamless web dispatcher dashboard crafted for assigned personnel to easily switch between assigning booking requests on demand and monitoring trips in real time.
FLEXIBLE RIDE SHARING BOOKING WEBSITE INCLUDED
integrate featureS that allows riders to share a taxi and increase the affordability of your taxi-hailing services. Along with the app, we provide craft an online taxi booking website for your customers.
Karry has been designed to be an all-rounded scalable & robust transport booking software solution for businesses all over. The software comprises of
Admin Panel for School Partners
Admin Panel for Van Partners
Admin Panel for Airports
Admin Panel for Travel Agents
Admin Panel for Drivers
Super Admin Panel for App Owners
RIDE SHARING TAXI BOOKING SOFTWARE UI FLOW
ON-DEMAND TRANSIT PROVIDER SOFTWARE UI FLOW
Taking the best features from the VIA taxi sharing booking applications, Karry is designed to be the perfect ride sharing booking app cript with a feature-rich yet seamless UI experience for on-demand ride bookers.
Register with profile details & login via email ID, phone number or social media account.
Pick a date for your ride.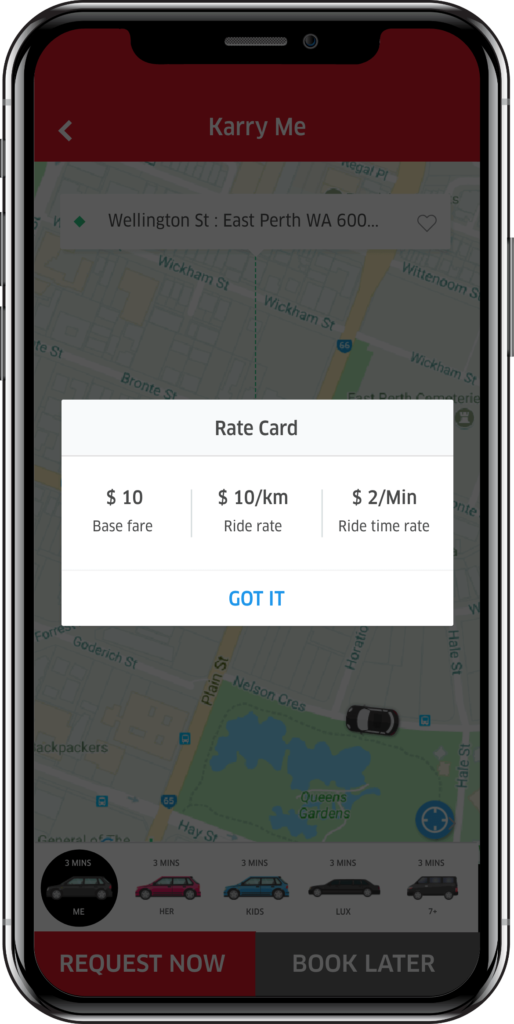 View the rate card for each individual vehicle type before booking.
Book a ride for yourself or a friend.
View & Update Ride Details
Enter drop location & various other ride details on the Karry taxi dispatch software app.
Choose your preferred mode of payment on your on-demand taxi script through cash, card & wallet options.
We've updated our driver preferences giving the users more flexibility during ride bookings. Options provided can cater to the individual or for additional passengers.
Check for promo codes & offers running. Just select the code to avail a discount from the total fare. Promo codes & loyalty programs are managed on the white label taxi management software/Karry admin.
Once a cab driver has been assigned, The taxi booking app white label & taxi dispatch software provides users with both live map tracking & real-time in-app notifications regarding their status of their booked ride.
Once the customer preferences have been entered, the taxi booking app then searches for the nearest available driver that matches the user's preferences.
Real-time map view of your booked taxi service integrated into our taxi booking software. Users can additionally view their load details call their drivers for additional route or load details.
View a detailed invoice of the booked taxi service.
Rate your cab driver on a number of factors. This ensures high courier delivery quality standards are maintained by the admin & the business.
Keeping the VIA taxi app booking app software feature-rich with options such as setting up emergency contacts providing referral codes, updating details & favourites, registering corporate profiles, etc to overall increase user engagement & retention.
Various profile options to further enhance user experience.
Increase your customised taxi app userbase by providing referral codes that can be shared with people.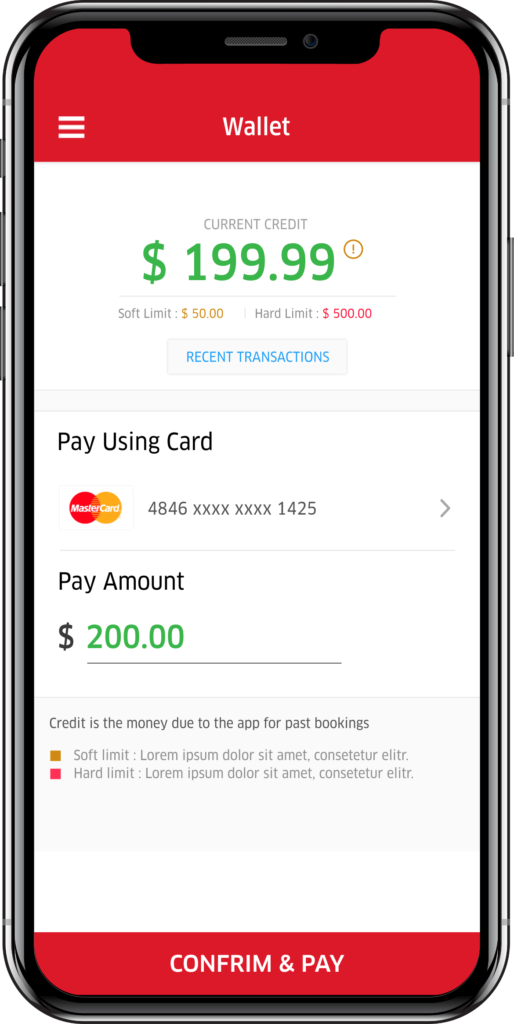 In-app wallet module integrated in the VIA taxi app like solution, for quick payments during bookings. Soft & Hard limits are setup by the admin to prevent the customer from making cash bookings, if a certain credit amount is due to the app.
View all prior bookings & payments done on the white label taxi booking app.
VIA TAXI APP | RIDE SHARING BOOKING SOFTWARE UI FLOW
The ride sharing app software includes an online taxi booking website portal for customers to book from. The online taxi booking portal encompasses most of the functionality of the Karry taxi app such as ride scheduling, driver preferences, wallet recharge, live tracking & more.
Seamless Login Process

Register with profile details & login via email ID, phone number or social media account.
Book A Ride

On-demand taxi booking or schedule a taxi ride. Add driver preferences, promo codes, payment methods etc while booking online.
Live-Track

Real-time ride tracking with booking status updates.
Past Trips

View details of all past trips booked on the taxi booking software.
Payments & Wallet Recharge

View all past payments done on the Karry software & recharge your wallet directly on the website itself.
BEST APP FOR RIDE-HAILING/TAXI DRIVERS
The VIA Taxi App like software makes its easy for drivers to register themselves on the application, start accepting booking requests, track their earnings, integrate their bank accounts, refer other drivers & more. Drivers need to be approved by the admin before receiving booking requests.
Karry drivers need to enter details regarding the vehicle in use during ride bookings.
Upload Necessary Documentations
Before submitting the registration for admin approval, the karry driver needs to upload the appropriate valid licenses and certificates. This ensures high standards are kept for drivers before registering themselves.
The Karry taxi booking script enables drivers to find customers nearby to their location looking to find a taxi on demand. Drivers can choose to accept or deny request unless manually assigned by the taxi dispatch system.
Live-Tracking & Trip Status Updates
The karry taxi script comes with live-tracking features powered by Google Maps or Waze. Drivers can additionally update the status of the booked trip with a single swipe.
We've integrated our Karry taxi driver software with a manual booking feature as well. Drivers can set up manual trips by themselves.
Manual Bookings: System Calculated Fares
Fares are automatically calculated & displayed to the driver. The driver can then mail the invoice to the clients email ID.
View a detailed invoice of the trip undertaken on the white label taxi driver app.
Drivers can rate their passengers as well on the customized taxi driver app.
We've integrated a detailed Driver Portal on the Karry Driver app. Drivers can view analytics of their trips undertaken and earnings.
Taxi drivers can add their bank details to directly receive payments from their business owner.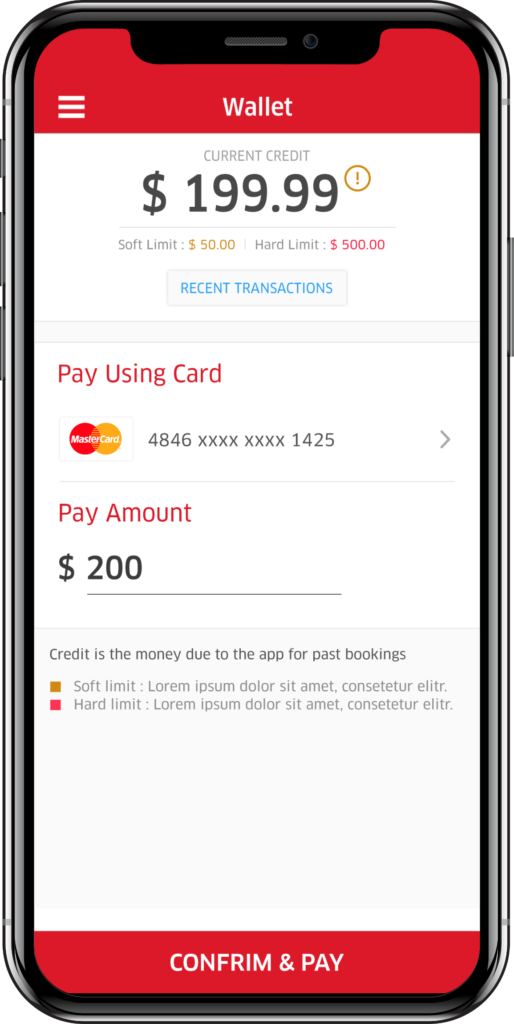 In-app wallet account to ensure the driver cannot make any further cash bookings if credit via cash bookings is due as app commission.
Support section incase drivers have any issues during their service.
Customer Taxi Booking App + Taxi Driver App Demo
Taxi Dispatcher Software Demo
Customer Taxi Booking Website Demo