VIND– Vine Clone / Youtube  Clone / Vimeo Clone.
Build your own online mobile video-sharing, and social networking service using our Vine cone for iOS , Instagram clone for Android and also the Vine clone for web
Vind! Our Vine Clone for iOS , Android and Web is one of the most technically advanced social media app source code in the world. The Vine Source Code uses state of the art technologies like NodeJS , Neo4J , MongoDB , Pubnub and Angular JS 2.0 and hence assures web-scale!
Record a video by holding your finger on the camera just like on Vine, choose a filter to transform its look and feel, then post to Vind— it's that easy. You can even share this on facebook and email. It's a new way to see the world! The Vine Clone is available on Web,Android and iOS and also comes with an Admin interface!
The technology used is next to none. Vind is your answer if you need a Vine Clone to kick start your big social media idea.
To read more about the features we have on the Vine Clone Script  PLEASE CLICK HERE.
Sign up using Twitter account or keep your identity private by using your email address and phone number.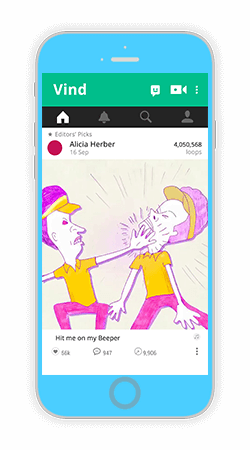 Newsfeed to view videos on the Vine Clone from profiles that you follow , like and add comments.
Separate Search tab to find out popular and featured videos and view videos in different channels on the Vine Clone
Get push notifications and view all updates on your activity feed
Edit your own profile on the Vine Clone with the overview of posts and likes on your videos.
Chat directly with users using the Vine Clone direct chat feature.