BEST WHITE LABEL DATING APP FOR BUSINESSES
White Label Dating Apps power 25,000 sites worldwide. Here's the most innovative of all on a platter – Datum. Our white label dating script has been inspired by apps such as Tinder, Grindr, OkCupid, Match, Zoosk, etc & with few additional amazing features thrown in.
WHY CHOOSE DATUM AS YOUR WHITE LABEL DATING APP?
Our dating software has been crafted infusing the best UI / UX features from successful dating apps like Tinder, Grindr, OkCupid, Happn & more. Datum can be customized giving subscribers ease of navigation through the App & entrepreneurs umpteen options to monetize.
Entrepreneur
To be a successful entrepreneur it's both imperative to be in a sunshine niche & a domain with high returns such as Social-Dating to zip your way to the bank.
Business-Owner
A Tinder-like networking software built on the lines of dating scripts that have been prosperous will enhance your success.
Consultant
A judicious search for success will be enabled utilizing white-labelled dating app for your clients
Our white label dating software solution has been crafted to create dating apps for diverse & imaginative dating idea apps.
We assure PCI compliance that will ensure no legal wrangling in accepting in-app purchases on our white label dating script.
With our proprietary Pre-Built IP solution, we move our white label dating app from development stage to deployment faster than any other dating app software development firm out there.
Using state of the art app container technology, clean coding practices, microservice architecture & more – Datum has proved to be one of best white label dating app for social dating.
Launch your social dating app in any language of preference such as German, Arabic, Spanish, etc as our dating script can be deployed in any language of choice.
The white label dating script includes referrals and promotion features to improve user base and retention of clients.
DATUM DATING SCRIPT GRAPHICAL FLOW
Verification & Profile Details
To provide an innovative & satisfying UI experience on our white label dating app, we have simplified the registration process, included profile details & other necessary information. But users do have the option to pass certain info they do not wish to add on the app.
Social Login / Phone number
Our white label dating script allows users to login to the dating app via phone number or via their social media
The Datum script permits users can upload multiple images and even upload videos on their social dating profile.
Make your social dating business user-friendly by allowing users describe interesting information that they wish to share on their profile. Our white label dating software offers a wide variety of user details to complete.
We have integrated Instagram linking with our online dating script. Now users can view Instagram profiles on-the-go while browsing for potential matches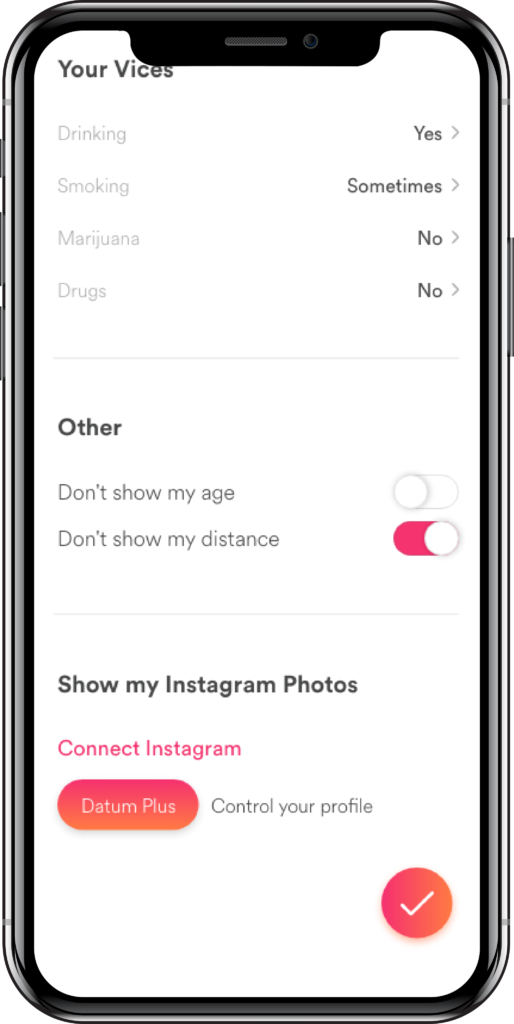 Datum the white label dating app has been inspired by the Tinder UI functionality. The entire matching process has been designed in a simple fashion with the 'Swipe & Match' feature. Perfect for any social dating platform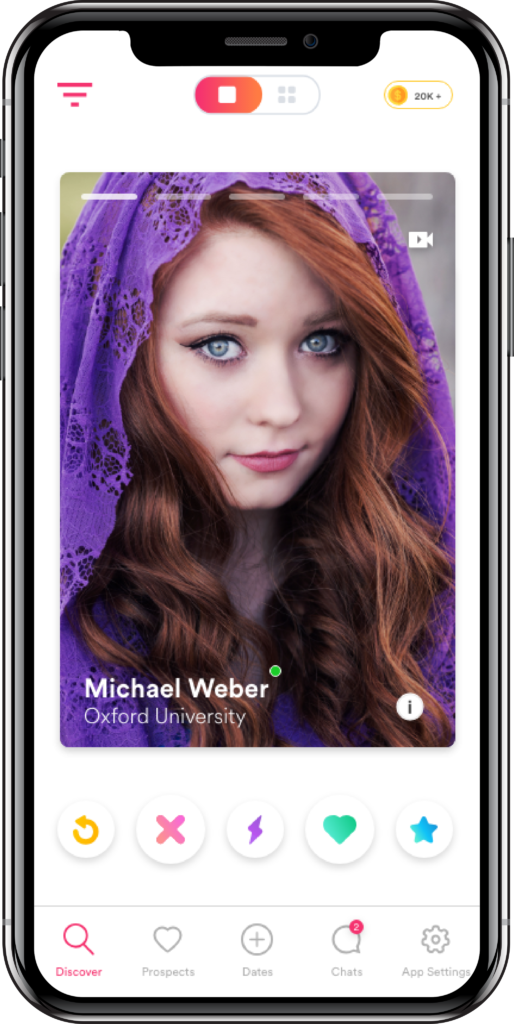 Browse through the profiles while viewing details such as like/reject. Then go ahead and super-like users or report profiles in case of anomalies. You can optionally 'Swipe & Match' or view a grid-based view of profiles
Our white label dating script offers a range of filtering options. You can personalize the filters to add your own unique set of filters during development of your social dating app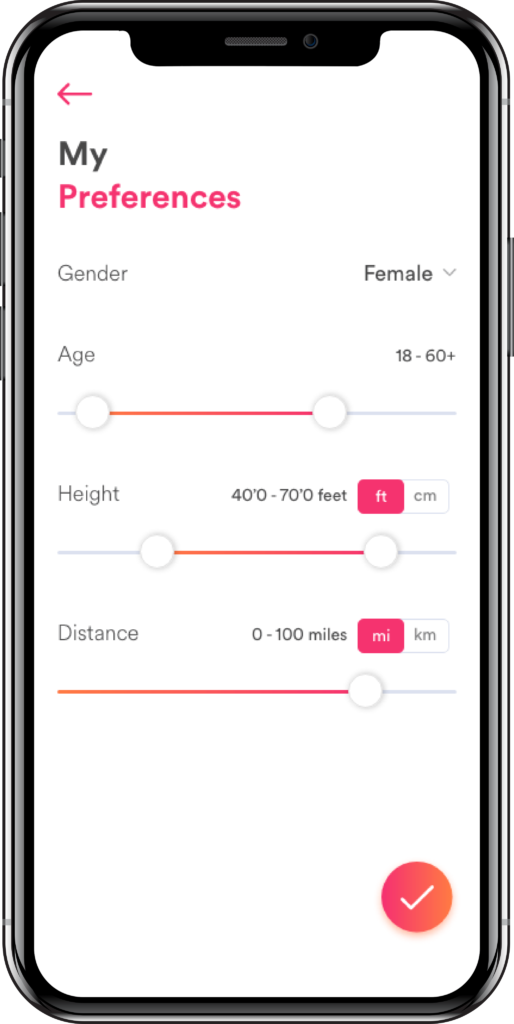 Our white label dating app communicates info to users via notifications after two profiles have liked/swiped-right to each other.
The Datum white label script has an in-app chat feature included with media upload.
We have created a unique scheduling feature on our social dating script. This enables users to schedule virtual / physical dates with their matches.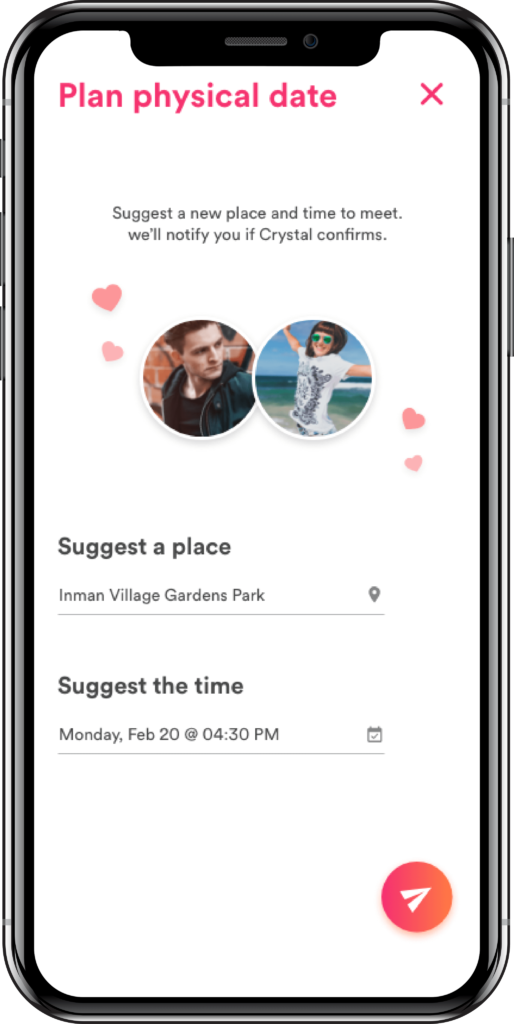 Using the scheduling feature on our white label dating app, users can schedule dates on with their matches.
Enable virtual dates on our dating scripts via the option of video and audio calls
You can view the dates scheduled by your matches. Once the date is confirmed the two of you can decide and accept the location, date & time. If users are not satisfied they can go ahead and reschedule the arrangement set.
Our white label dating app also permits users to rate their previous dates to enhance total quality
Datum would not be one among the top white label dating software by just having a simple social dating app but for UI / UX & monetization features that would assist in the growth of a business.
Users can get ahead in the dating-game by making in-app purchases for additional features. Datum Plus includes unlimited rewinds, monthly profile boosts, visibility control, additional super likes & much more.
In-app advertisement integrated in our white label dating script assisted by Admob
DASHBOARD
View total registrations done for a specified date or for a period of time, purchases, monitor user activity & more
PREFERENCE SETTINGS
Preference settings can be configured from the admin dashboard itself. Our dating software dynamically updates these settings on the mobile app
USERS MANAGEMENT
Manage various user profiles registered on your social dating app
PROFILE VIEWS
You can view the number of profile views of users and schedule notifications accordingly
LIKES & SUPER LIKES
An analytics tool is integrated in our white label dating script that assists to track profile likes so as to deduce popular profiles on the dating software app.
MATCHES
All the matches on the platform can be identified via the admin panel on the Datum script
REPORTED LIST
List of all reported / blocked users and reasons for reporting. This feature has been integrated in our dating app script as it is a requisite feature for social dating apps that needs to be displayed on the Apple App Store.
PURCHASES
You get to view a display of the list of users who have purchased Datum Plus add-ons via in-app purchases. Craft your monetization / advertising strategies effectively.

REAL USE CASES FOR A CUSTOMISABLE DATING SOFTWARE
Tinder for Specific Groups